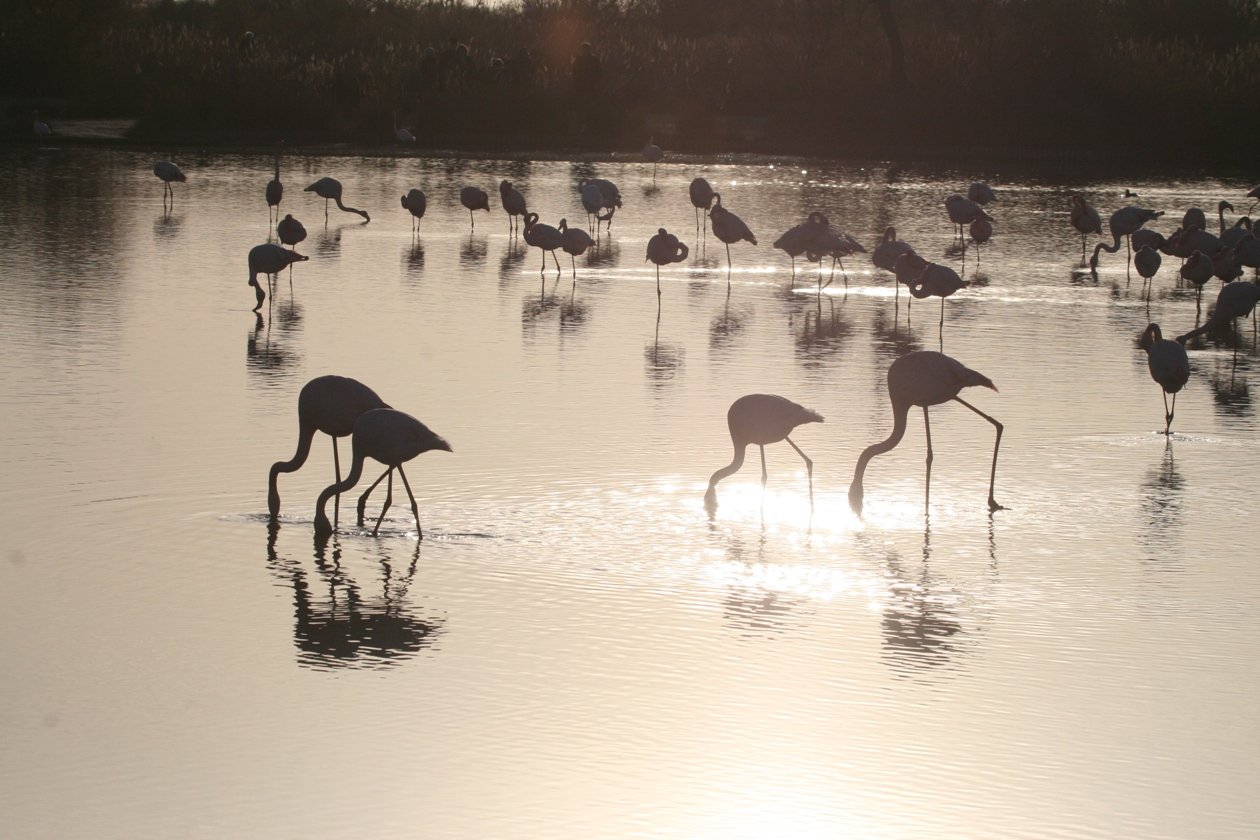 Outlook and goals for 2014
Repetitions, repetitions, repetitons. In a funny twist of fate, it seems that 2014 will be much the same as 2012 and 2013 have been, with family trips to somewhere in France and business trips to Indonesia and Kazakhstan. I am certainly not complaining though, as a repetitive working routine that will lead to around 500 species a year is better than the working routine I had in the late 2000's, where seeing more than 250 species a year would have been extraordinary.
The year 2014 started out as 2013 did, with a family holiday in southern France, where I was able to spot a few species I am very unlikely to see anywhere else this year. Furthermore, I have business / bird survey trips scheduled (nearly definite) to the following locations:
Indonesia: West Java and South Kalimantan, probably in October
Kazakhstan: Mangghystau province at the Caspian Sea shore, probably in May
Germany: extensive trips comparable to 2013
Beyond that, I will try and initiate a business trip to northern Sumatra (Indonesia), and there is a certain chance (although the probability is below 50%) that work might take me to Africa somewhere south of the Sahara.
If all my almost-definite travel plans actually work out (not including Sumatra and Africa), I should see around 550 species again in 2014, just as I did in 2012 and 2013. However, I really want to focus more on lifers instead of year birds, particularly in Indonesia. I will also likely scale back on my birding madness in Germany, and might therefore see less species than I did in the last two years. What about the competitive element in my 2014 year list? Well, to be honest, I have beaten Corey (my list nemesis) twice now and initially had little ambitions of going for a hat-trick. But when the gauntlet is thrown, the king must defend his throne.
I have therefore set the following birding goals for 2014:
Beat Corey in the year list competition to complete the hat-trick
See more than 500 species
See more than 20 lifers
The overall lay-out and structure of this year list follows the previous 2013 list.
.
The Birding Diary
January
Jan 1: Sunshine and blue skies lure us out of our cottage in Provence / southern France for a day at the beach near Les-Saintes-Maries-de-la-Mer. On the way there I check off nice species for the year, like Iberian Grey Shrike, White Storks and – rather surprising – a flock of 5 cranes somewhere in the northern Camargue. The time at the beach is mostly spent building castles with my wife and son (at 6 years old, sand castles still beat gulling), but nevertheless I am allowed some binocular-peaks out onto the Mediterranean and the lagoons behind the beach, where highlights are Northern Gannets and Slender-billed Gulls. A very good start into 2014.
Jan 2: Another late start (around noon) to the same beach again – mostly to complete construction works on our castles – and some small-scale birding. The biggest surprise is a small group of 4 Snow Buntings, very unusual for the Mediterranean coast but apparently not unheard of in the Camargue. About an hour before sunset we visit the "Parc Ornithologique Pont de Gau" to enjoy the flamingos and search for the park's two specieals, Moustached Warbler and Greater Spotted Eagle, successfully!
Jan 3: We spend the day at Nimes – no birding.
Jan 4: The looooong (830 km = ca. 550 miles) drive back to Heidelberg/ Germany where we arrive around 18:00.
Jan 5 / 6: Two days of unpacking, laundry, relaxation, playground tours, etc. where I add some common German garden birds.
Jan 11: The family gives me half a Saturday off to chase a long-staying Griffon Vulture in nearby Rheinland-Pfalz, about a 30 minutes drive from home. The bird is very mobile and it requires long walks on extremely muddy farm roads until we – I had coincidentally met Michael Schmolz there, a birding friend from the mid-1980s! – finally find it on a corn field just before sunset. I feel old due to the strenuous walk and the fact that a friend I hadn't seen in 30 years and known as a mid-teenager now has grey hair while I am losing mine.
Jan 14: A business trip to Wetzlar in Hessen allows for some quick roadside birding in the Lahnaue where I am lucky to encounter a fine flock of geese (fine for the deep hinterland) that includes Greater White-fronts and even two Barnacles. A Willow Tit is also noteworthy. This is not an uncommon species in Germany, but it is not frequently seen in the areas and habitats I mostly bird my way through.
Jan 18: A short walk with the family in the Odenwald mountains above Heidelberg is essentially unspectacular yet surprisingly pleasant, with some nice species I get to see frequently but not too often, like Northern Goshawk, a close fly-by of a flock of 230 Wood Pigeons, Yellowhammers and my first-of-the-year Coal Tits. We discover a local farm that sells apples and buy 10 kilograms – they taste spectacular!
Jan 25: We visit a museum in Speyer that hosts a playmobil exhibition – childhood memories for me & current interest of my son. Afterwards, we go for a short walk along the Rhine just South of Speyer. Nothing special, but my first Goldeneye of the year. During the drive back, a Black Woodpecker crosses the road in front of us.
A slow start into 2014 in Germany means a picture from southern France will signal the end of January birding, like this fine Cattle Egret at the Parc Ornithologique
.
February
Feb 01: Driving up into the Odenwald to get a new box of apples (see Jan 18) I peek off the bridge from the driving car into the usual Eagle Owl nesting nische and discover it to be occupied again.
Feb 02: Taxi-Dad bring his son to a kindegarten friend and decides to re-visit a known day-roost of Tawny Owls. I failed there twice last winter, but strike gold this time – my first visual encounter with this often-heard species in what may very well be close to 15 years!
Feb 6: A short one-day business trip to Wetzlar. I recently realized that I haven't seen any Jack Snipes since probably 2000 or 2001, and by lucky coincidence two had been seen just two days earlier at a site called "Klosterwiesen von Rockenberg" right next to the highway on my way to Wetzlar. A very short 20 minute visit does not produce the snipes, but is rather pleasent with Great White Egrets, and a few songbirds – amongst them my first Tree Sparrows of the year.
Feb 7: Scanning the tree lines outside my office window finally produces the first Mistle Thrush of the year, my favourite European thrush. Hearing a Crested Tit outside my office means I am through with tits for the year. Nice.
Feb 11: After work, I begin the 4-hour drive North towards Hannover for a 2-day business trip.
Feb 12: At first light in the morning, I am in a small pine forest near Höfer, a site that had hosted more than 80 Parrot Crossbills during the previous weeks. Numbers had dropped considerably just before my visit, so I am rather anxious if I will manage to find some of the birds that hopefully remain. I needn't have worried, and am soon face to face with three Parrot Crossbills, my first since a trip to Scandinavia in 1992. I also finally get my Brambling for the year, not without a sigh of relief. Driving over to a forest area south of Wietze nearby to check a stand of larch trees that had hosted a Two-barred Crossbills a few weeks (oh-oh!) ago, I flush a small group of Parrot Crossbills while getting out of my car! Wow, what an invasion. Arriving at the larch area, the first bird I spot and unfortunately flush is my life Two-barred Crossbill. Unbelievable! It is only 15 minutes later that I encounter my first-of-the-year Common Crossbills – the last crossbill species of the Euro three! A fine male Northern Harrier passes me while I walk back to my car to get to my meeting in Hannover on-time. What a morning!!
Feb 13: An early morning visit to the Rieselfelder Braunschweig – I don't have much time, and hence fail to find the three target species (Baltic Lesser black-backed Gull, Heuglin's Gull and Long-eared Owls), but it is okay, I have higher goals: I need the extra time for a short detour into the eastern Harz mountains where one of the winter's most amazing invasion species has been very reliably seen for a few weeks already. Getting out of my car, I see a group of birders with scopes fixed to a certain spot in the trees. I join them, line up my scope and am treated to the best bird in a long, long time: a Northern Hawk-Owl!
Feb 18: A short business trip to Wetzlar provides an opportunity to – successfully – twitch two Velvet Scoters at a lake next to the highway south of Frankfurt.
Feb 24: A few first-of-the-year species around Neupotz, about an hour's drive south of Heidelberg.
Feb 25: The first day of a short business trip to the north-west of Germany. I fail to see a Ring-necked Duck that had been seen for two days near Bonn but strike gold with the returning Ring-billed Gull at Hitdorf. An eider is also nice there, and so is a Black Swan, a species likely to become established in Germany within the next few years.
Feb 26: An enormous birding day along the Niederrhein between Wesel and Emmerich, and while I fail to find the hoped-for Red-breasted Geese (seen for days and days before and after my visit, but not seen on the 26th, neither by myself nor by at least three other birders), I do connect with specials like Pink-footed Goose, and Spoonbill. A short drive into the Netherlands leads to my life Brown Shrike, a long-staying enormously rare vagrant from Siberia. Along the road to Hannover, I immediately find the vagrant Glossy Ibis near Gronau.
Feb 27: Work and meetings in Hannover, and a completely unsuccessful owling trip to Unterlüß.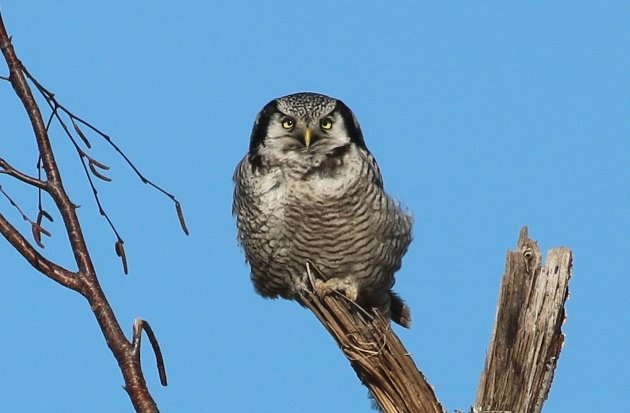 This Hawk-owl in Germany, the first I saw since 1992 and my first ever adult, is a very fine candidate for "bird of the year" – in February!
.
March
Mar 7: We depart on a weekend family trip to the snow of the high Black Forest – as  there hasn't been any snow in Heidelberg this winter, a frustrating situation for a six-year-old boy. Arriving at our hotel in Hinterzarten during the late afternoon, we take a short walk through the village. It feels so good to be back in the southern Black Forest, after almost 20 years!
Mar 8: The entire day is spent on top of our sled in the snow next to the Feldberger Hof. Not much birding, but amazing landscape – we can even see the Alps. A short walk through the Hinterzartener Moor in the late afternoon produces a nice assembly of tits.
Mar 9: We spend the morning again at the Feldberg. This time there is considerable bird migration, with hundreds of Chaffinches, larks, and White Wagtails. Very neat is a small group of Citril Finches, while a fly-by male Smew nearly manages to blow my mind! Surely one of my most unexpected bird encounters ever!
Mar 11: A business trip to Schelklingen provides enough time to twitch a Wallcreeper and check out the dippers at the Blautopf. A late afternoon survey produces my first Stonechat of the year and I manage a very fine encounter with an Eagle Owl.
Mar 12: A long drive from Schelklingen to Wetzlar for a meeting, interrupted by an unsuccessful try to find the Jack Snipes that had been recorded at the velvet scoter site near Zeppelinheim/Frankfurt. After the meeting at Wetzlar, I begin a long drive north towards Neubrandenburg.
Mar 13: I scout the meadows near Galenbecker See for "yellow-billed" swans, geese and Rough-legged Hawks, and fail only with the swans. A quick check of a site at the Tollensesee at Neubrandenburg does not produce the hoped-for Arctic Redpoll as the large flock of Mealies has apparently left. Still, the Lesser Redpolls I see are the best redpolls since around 2006, so I am not really complaining.
Mar 14: I spend the morning with a very successful sea-watch near Boltenhagen, but sadly fail to find the Northern Hawk-Owl there – I just don't have enough time for a thorough search. My long drive south is interrupted near Amt Neuhaus with an unsuccessful search for Whooper and Bewick's Swans, but I do locate a large flock of Twite.
Mar 21: Luckily, a fine male Ring-necked Duck sticks around on a pond near Karlsruhe long enough for me to include the site into a short business trip to nearby Neupotz. I also manage to visit Waghäusel for the first time this year, with around 70 species recorded. Firsts for 2014 are – springsprangsproing – Barn Swallows and Sand Martins. Penduline Tits also make me happy, but I'd really like to see one again for a change – having exclusively heard them for the last few years…
Mar 23: A Lesser Black-backed Gull passes the autobahn in front of my car while we (family) go on a day trip to Frankfurt's Senckenberg museum. Very good species for Baden-Württemberg!
Mar 31: I finish the month with a short trip to nearby Kronau and include a quick stopp-over at a flooded field south of Wagbachniederung into the drive to check the mud for early waders/shorebirds. Not too much going on, but three Little Ringed Plovers, my first two Ruffs, my first Willow Warbler and 9 Water Pipits sure are nice.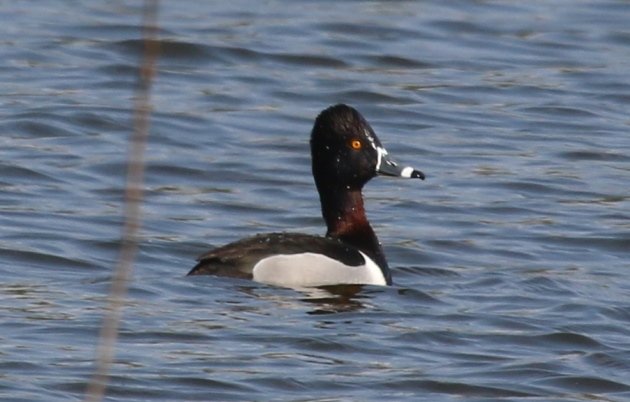 Continuing with the blue background theme, the Ring-necked Duck I saw near Karlsruhe in March
April
Apr 3: A day-trip to Wetzlar. Sadly no Black Stork somewhere over the autobahn. A short birding walk through the Lahnaue leads to some nice encounters, e.g. Goshawk, Sparrowhawk, many Red Kites and close White Storks, but I only score one new species for the year: Blue-headed Wagtail.
Apr 4: After anxiously watching the skies for the last few weeks, I finally see my black stork for the year when one flies low over the highway on my way to yet another day at Wetzlar. Wetzlar itself is rather uneventful.
Apr 6: We (family) take part in a "kid's excursion" to look for amphibians in a forest area near Boxberg, just a 15-minute drive from home. The event is fun, and I see my first Salamander since the late 1980s! They are not so rare, but do not occur in NE Germany or in the vicinity of my usual survey sites. I am thrilled, indeed!
Apr 8: An evening survey at Neupotz (calling Natterjack Toads) leaves some time at Waghäusel where I successfully twitch a Moustached Warbler and get a few expected firsts for the year (e.g. Purple Heron, House Martin) plus an unexpected Merlin.
Apr 17: Long time no birding… A two-day business trip finally allows me to catch a glimpse of spring migration. A short visit to the Kleiner Feldberg near Frankfurt on the way to Wetzlar is very successful with Ring Ouzel and the vagrant Alpine Accentor that had been around for a few days already. I'm very lucky with Alpine birds this year – even without visiting the Alps. Wetzlar produces my first Lesser Whitethroat of the year. A long evening drive to Sermuth near Leipzig takes twice the normal time due to traffic jams – Eastertime. The evening survey at Sermuth is uneventful, but the night sky is the best I've seen in a long time.
Apr 18: I wake up in the morning to the first rain in a long time. Well, great. The morning survey of Sermuth is nice, with an Osprey and Woodlarks, but nothing too extraordinary. On my way back home, I quickly visit Wallendorfer and easily find my tarket species: Little Gull.
Apr 29: I start into a business/birding trip that will eventually become the most exciting 4 days I've ever had in Germany. The day starts out fine at a survey site in Schelklingen, where I map some fine forest dwellers. Around noon, I depart for the Gundelfinger Moos, where I see some shorebirds/waders, a Phylloscopus warbler that sings like Willow and Chiffchaff (a hybrid?), and a well-known duo of Roseate and Chilean Flamingos, likely of the feral and (arguably) countable German breeding population. A short visit near Utphe in Hessen allows me to twitch a splendid White-tailed Lapwing! Then follows a long drive into Sachsen, well into the night.
Apr 30: An early morning survey produces very nice observations of rather scarce breeding birds, e.g. Greater Reed Warbler, Golden Oriole, Woodlark and Northern Wheatear. I depart around noon for the long drive north. On the way, I stop at the birding sites around Kloster Lehnin: Belziger Landschaftswiesen, Reckahner Teiche, Streng, and Havelländisches Luch. The birding results are just spectacular, with Ortolan Bunting, Bittern, Red-throated Pipit, more than 100 Wood Sandpipers, Redshanks, Montagu's Harriers, amazing views of Corn Buntings, a breath-taking show of displaying Great Bustards, and a Hoopoe. Birding doesn't get much better than this afternoon! I depart on a long drive well into the night again towards Langhagen.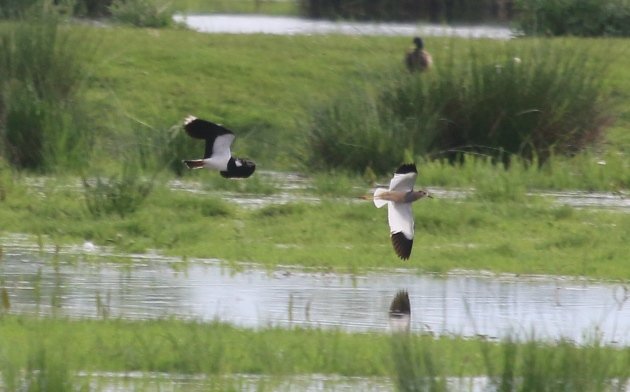 So many species in April were worthy of being featured as "bird pic of the month" that it was hard to choose. This White-tailed Lapwing therefore represents the roughly 200 species I saw in one of the best birding months I've ever had in Germany. Clap along if you feel that watching birds is the truth!
.
May
May 1: As always, the breeding bird survey at Langhagen is great fun, with Osprey, White-tailed Eagles, Goldeneyes, Northern Wheatears, Woodlarks, Barred Warbler and Common Terns providing great entertainment. I have the mid-day hours off and visit the island Langenwerder for my annual tern fix as well as the Große Rosin, where I find plenty of Little Gulls and hear a Little Crake, but sadly the Chlidonias terns haven't arrived yet. An evening visit to Zarnekow-Upost yields highlights in the form of a calling Spotted Crake and a fly-by Jack Snipe, the first in a long, long time.
May 2: A very early departure allows me to twitch my life Sociable Lapwing and find a bonus Great Snipe near Bojendorf. North of Hamburg, I manage to twitch the long-staying fine male Pallid Harrier, but not after a lengthy search. The observation is just grand, with the bird chasing around a pair of Marsh Harriers. My first ever good observation of an adult male Pallid, so it kind of feels like a lifer. At Braunschweig, I find some waders/shorebirds at the Rieselfelder and the Okeraue, and also finally see a Penduline Tit again. Another calling Spotted Crake is a surprise, considering how difficult they were last year.
May 3: A family day at Hannover, visiting the zoo (Pied Flycatchers and Black Woodpeckers) and the inner city.
May 4: A quick visit of the Okeraue is uneventful. The trip finishes with yet another long drive, this time south towards home, where I arrive around 4 p.m., having seen around 170 species of which 40+ were new for the year.
May 15 – 23: A business trip to Shetpe in Kazakhstan's Mangghystau province in search of birds & herps & mammals is as good as birding trips can get, with all the expected breeders (I had conducted a breeding bird survey there in 2011 and knew exactly what was in wait for me), but also an unexpected amount of migrants. Highlights are Saker Falcon, amazing observations of Golden Eagles, Egyptian and Griffon Vultures, all sorts of small brown warblers, larkslarkslarks, a chukar nearly running me over to protect her chicks, Eurasian Rollers and a breath-taking mixed colony of Blue-cheeked and Euro Bee-eaters. It all comes at the price of hiking more than 120 kilometres in 6 days though.
May 29 – 31: Realizing my son hasn't seen his grand parents in almost a year, we use the looooong weekend for a quick visit to Stralsund. Not much birding, but still fun. I manage to see a Greater Rhea from the Autobahn, which is a good one to have "under the belt", and hear my first Icterine Warblers of the year.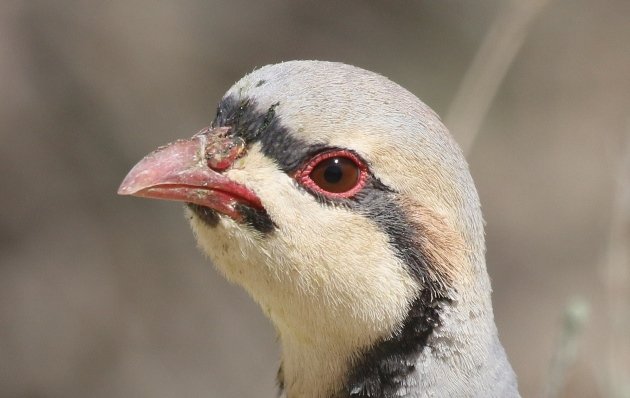 Just another Chukar Situation out West in Mangghystau

June
Jun 1: The long drive back from the Baltic to Heidelberg takes approximately 14 hours, including breaks. I see a pale male Harrier somewhere in Bavaria that is likely a Pallid, but cannot nail the identification. One that got away…
Jun 13 – 15: Dang, birding is slooooow this month. Well, not birding itself, but work and preparations for our move to a neighbouring part of town at the end of the month mean there's almost no space for the big outdoors. As I have a guided tour near Burglengenfeld on Saturday, it is decided that my family will accompany me for a combined work/holiday weekend. The family part is nice, and the birding during the tour is also not too shabby, with singing Woodlarks, Little Ringed Plovers and a nice Little Grebe. A great surprise, and the only addition to the year list since Kazakhstan, is a Western Bonelli's Warbler singing at our rental appartment. They are not unknown in this part of Bavaria, but records away from the Alps are few and far between. Good find!
Jun 22 – 25: A short business trip to Schelklingen and Trichtingen finally allows for some birding again. On the way to Schelklingen, I am able to hear but not see a fine male Little Bittern near Heilbronn, next to the Autobahn. The survey at Schelklingen is nice, with some fine Black Woodpecker encounters, two Eagle Owls, and a very surprising escape Cockatiel in the middle of the forest. The drive towards Trichtingen takes well into the night, which is good when a Woodcock flies over the Autobahn. On my return journey, I visit the Schliffkopf and Ruhestein areas in the Northern Black Forest where I find Three-toed Woodpecker and great Red Crossbills, but fail to locate any Spotted Nutcracker – could this be my year's nemesis? A quick visit of some vine yards near Baden-Baden doesn't go as well as planned, and only produces a short song phrase of the hoped-for Cirl Bunting, and no Wryneck whatsoever. I also fail to find a Turtle Dove at Waghäusel, but a Spoonbill and some Purple Herons are always nice.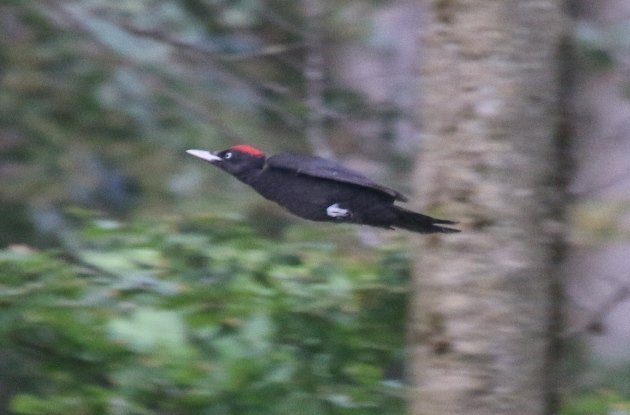 Corey is not going to like this picture of a Black Woodpecker
July
Jul 11: I am experiencing a slight losing streak, which is frustrating as I am so very close to overtaking Corey. Anyway, so I depart on a three-day business trip to my survey site near Schelklingen. I visit a breeding colony of Black-crowned Night-herons near Stuttgart with easy success – not too hard at a colony on a lake the size of half a football field. I then visit a known site for Grey Partridge afterwards and fail.
Jul 12: An early morning visit to the Fetzer Flachsee, where a few nice herons have been reported recently, amongst them my target Squacco Heron – seen for the three previous days. I fail in finding the Squacco, and must say quite frankly that the Night-herons and the Purple Heron I see are of little consolation. I conduct my surveys well into the night until close to midnight.
Jul 13: I contemplate an early morning re-visit to the Fetzer See, but decide against it as my plan is to try for four other species: Yellow-crowned Amazons at Stuttgart and Wryneck and Turtle dove at another survey site of minde near Forchheim, plus Mandarine Ducks at Mannheim. My short visit to Stuttgart leads to an unsatisfying but countable single call of the amazon, while the Forchheim site leads to a single and unsatisfying call of a turtle dove. No wrynecks. I also run out of time and can't visit the Mandarine Ducks at Mannheim. With just two out of four target species, I feel highly dissatisfied. At home, I learn that the Squacco Heron had been seen again at the Fetzer Flachsee that morning, in addition to a freaking Pratincole, an extreme vagrant to Germany. Darnit!  – Corey and I are now even on 300 species, because I only get 3 out of 7 target species for that trip. A trip so fair and foul I've never seen…
Jul 18: A visit to an area near the village Nussloch to survey fire-bellied toads is rather nice. We hear Bee-eaters, have kites and buzzards circle overhead, and the return-drive yields a first-of-year Wryneck flushed from next to the road. Finally Wryneck! I am ahead of Corey for the first time (a position I will lose on Jul 20th after Corey gets a Euro Golden Plover to make the score even again).
Jul 31: A short visit to Neupotz is rather uneventful. A few Common Terns are nice, as is a Black Kite catching and eating a rodent on the wing next to my car.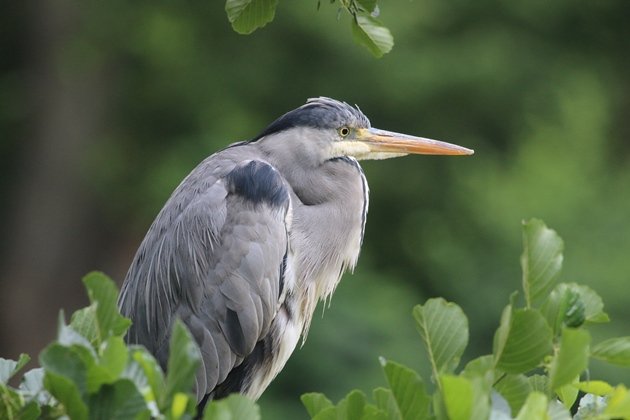 You know the birding is slow when the "picture of the month" is a Grey Heron pic, taken at a Stuttgart city park
August
Aug 01 – 22: what a sad, sad birding summer. No noteworthy birding since the middle of July. Well, actually since I returned from Kazakhstan in May. This is about to change as I pack our car for a family holiday in Tuscany / Italy!
Aug 23: The long 870 km drive South. Crossing the Alps, we have to wait in line for about an hour before the St. Gotthard tunnel. I've never been so happy in a traffic jam as I am entertained by three Spotted Nutcrackers, a bird that has been my nemesis in Germany this year! South of the Alps, I manage to safely identify Eurasian Crag Martins from the car, my first since January 2001! Neat drive! We spend the night at a hotel near Parma.
Aug 24: Crossing the Appenin mountains (with more Crag Martins), we arrive at our holiday appartment in Stefanini near Lucca around noon. Things look promising when I immediately spot Short-toed Snake Eagles above our garden.
Aug 25: A quiet day at Stefanini and nearby Lucca in the afternoon. I hear but do not see a Moltoni's Warbler, one of the targets of this trip, and Snake Eagles are frequently seen overhead.
Aug 26: A short exploratory drive through the hills above Lucca, amongst others to the villa Torregiani which we visit (Hoopoes!). Afternoon at Stefanini, with the usual suspects around the yard. I begin to notice a general scarcity of birds in the landscape, and those that are around are incredibly elusive. Italy is a tough birding country!
Aug 27: We visit Florence. No birds in the city but Italian Sparrows and Feral Pigeons. However, I manage to spot an Egyptian Goose, Black-headed Gulls and a Little Egret along the river Arno from the Uffici. The way back to Stefanini produces a Squacco Heron along the highway.
Aug 28: We decide to visit the beach and make the mistake of going to Viareggio. A horrible, horrible beach full of people and regulations on where to be and what to do, and how much to pay for it all. This place is my vision of what hell must be like. Until a juvenile Audouin's Gull flies over, making it all less hellish for a few seconds. Then, hellfire resumes.
Aug 29: A day for my son, we stay at the appartment (pool) until late morning and then visit the Pinocchio park in nearby Collodi. Good for me as I get to watch many Crag Martins beautifully.
Aug 30: After another slow, relaxing morning in the graden/pool, we visit a NICE beach at the marina di Vecchiano. Still no birds, but at least there's no hellfire to fear.
Aug 31: A day trip into the Chianti region reveals amazing landscape, but scarcely any birds. This is getting frustrating: it seems birdlife in Italy is almost entirely confined to protected areas, which we won't visit on a family vacation. Darnit!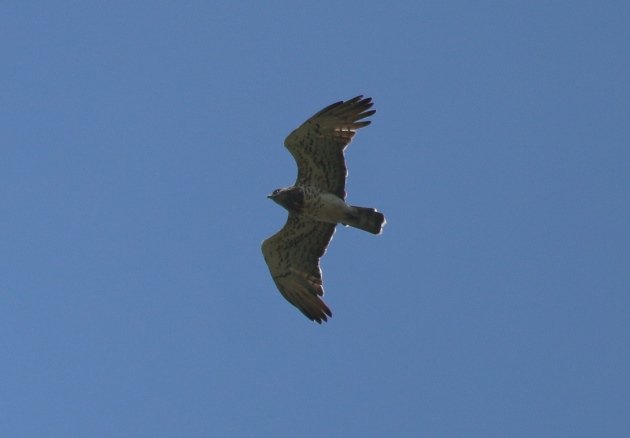 A Short-toed Snake Eagle – if you were a snake in Italy, you wouldn't call those toes short
September
Sep 1: It's the beginning of hunting season in Italy, apparently. The landscape all around us sounds like the hinterland of the Verdun battle front 100 years ago. The omnipresent sirens of multiple ambulance cars reveals that sound is not the only parallel… Since it is cloudy and not too hot, we visit the river Serchio near Lucca, a known site for Red-billed Leiothrix, a bird which you may rather ant to call Pekin Robin. Success, and although it is a feral species from the Indian subcontinent, I am tempted to label it Europe's Best Bird! At the appartment during the late afternoon, I spot a pale morph Booted Eagle flying over! Amazing, only my second in around 14 years, and my best since the late 1990s.
Sep 2: A silent morning with very few gun shots. Good. Another day at the beautiful beach, this time with Ashy-headed Wagtail, a Whimbrel and a pod of dolphins. Afternoon at the appartment, where I notice that I haven't seen the Snake Eagles in a couple of days. Sad.
Sep 3: A visit to Florence's palazzo and park Pitti. Back at the appartment, a Red-rumped Swallow flies over. Persistency pays off!
Sep 4: A visit to the zoo of Pistoia (no cool birds) is followed by an unsuccessful attempt at visiting alpine meadows above the town. Forests all around, so we drive down again to the plains. A late afternoon visit to Montecatini Terme is equally unproductive birdwise. The day is saved just before midnight, when finally, finally a Scops Owl calls outside our garden!
Sep 5: Since it is raining, we spend our last day packing and relaxing at the appartment.
Sep 6: We depart Stefanini at 08:00 for our long trek home. There is an Osprey near Parma and a falcon flies low over the highway south of Milan that I am reasonably certain is a juvenile Lanner and not a Peregrine. I am not sure how likely or not that is this far north in Italy, but that's what I've seen. We arrive safely back in Germany around 19:00 after a trip that was fun and that yielded some good birds, but that does not compare to the birding I've been able to squeeze into our little family vacations to southern France.
Sep 8: An early morning drive to bring my son to his "tennis summer camp" allows me to hear Bee-eaters over the Neuenheimer Feld in Heidelberg, which is nice but not entirely unexpected.
Sep 18: A day-trip to Wetzlar. In beautiful weather, I manage some fine but expected species, e.g. Goshawk.
Sep 24: A short visit of the Nussloch quarry is quite amazing and yields an astounding assemblage of passerines, like a large flock of 120 Yellowhammers, some Red Crossbills, Meadow and Tree Pipits, Serin, Bullfinch, Hawfinch etc. – none of these are particularly unusual, but the overall number of species and individuals makes for a memorable outing.
Sep 28: Returning from the Odenwald mountains above Heidelberg, I spot a Red-footed Falcon above Leimen exactly where I had seen one a few years before. Astounding!
The fact that this ridiculous picture of a Whimbrel in flight along the coast of Italy is the only bird picture I took in September 2014 (after the leiothrix adventure on Sep 1st) shows how utterly unspectacular the birding was throughout this particular month
October
The slow, slow birding continues…
Oct 5: A walk with my son through the fields south of my house leads to a heard-only dotterell, which is extremely nice even in a year where a strong migration was detected throughout Germany.
Oct 6: A two-day business trip to Essen allows me to try for the Turkeys that are roaming a forest near Bonn. I fail but flush a Euro Woodcock instead.
Oct 8: A one-day trip to Dettelbach is rainy and entirely uneventful.
Oct 9 and 10: A short business trip to Blaubeuren / Schelklingen is rather uneventful, but I am happy at encountering 4 of the 5 regular thrushes from the same spot, most notably a Redwing. A fly-by Black Woodpecker adds excitement at a time when Corey is far ahead in our little year-list competition.
No more birding away from office windows, balconies and city parks until the end of the month. Talk about slow birding.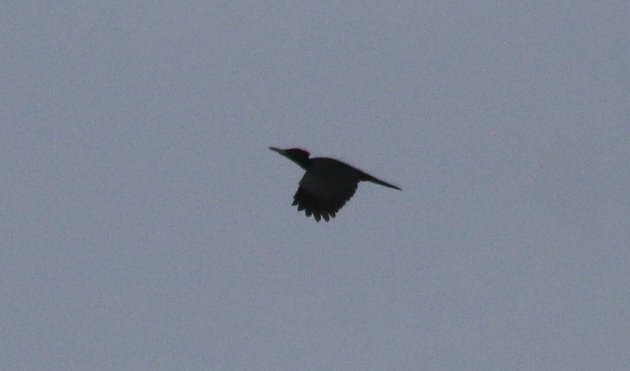 Not many bird pictures to chose from, but another (albeit lousy) shot of a Black Woodpecker to taunt Corey will do
November
Nov 1: I depart on a long and longed-for business trip to Indonesia where I will spend the next two and a half weeks mostly conducting bird surveys, aka birding.
Nov 2: I arrive in Jakarta around noon. Sadly, the airport hotel is closed for renovations, so I have to take a taxi downtown to another hotel, and once I've checked in take another taxi back to the coast to the mangrove reserve of Muara Angke, arriving there around 16:30. In spite of being officially open until 17:00, the gates are already closed. Nevertheless, I manage to spot my target species Sunda coucal from the entrance building!
Nov 3: I arrive in Cirebon after a long train ride and immediately start birding there. It is the end of a long and unusually harsh dry season, and the landscape looks more like Namibia than the tropics.
Nov 4-6: Surveys at Cirebon, where I find the vast majority of expected species, but fail (due to dry season and trapping?) at seeing Java Sparrow and Java Kingfisher. I take the train back to Jakarta in the evening, arriving at citeureup well after dark.
Nov 7: A day's surveying at Citeureup with calling Javan Banded Pittas. A late afternoon drive takes me up into the mountains to Cibodas, where I spend the night listening to Salvadori's Nightjars in a very basic rain shelter at the north end of the gold course.
Nov 8: All day birding (starting around 4 am) within Gunung Gede, reaching halfway up to Air Panas. great birds, with wren-babblers and Orange-backed Woodpeckers as well as singing (but not seen) White-bellied Fantails. A quick visit of the botanical gardens is too short to see the hanging-parrots, and I meet the driver at 17:00 for my trip back to Citeureup.
Nov 9: I spend the day at Bogor Botanical Garden seeing all my target species except Ruby-throated Bulbul which I only hear.
Nov 10: The morning is spent surveying near citeureup, where I encounter Orange-spotted Bulbuls way below their known altitudinal limits and also see a large flock of Oriental honey Buzzards. Again, heard-only is all I manage of the local Javan Banded Pittas. The shrubbery is too thick to approach them.
Nov 11: Transfer day to Tarjun, where I arrive in the early afternoon. Some birding around the bungalows.
Nov 12 – 17: The best survey ever at Tarjun! I return to the bungalows at the coast during the afternoon of Nov 17
Nov 18: The long trip back, via Banjarmasin to Jakarta.
Nov 19: I depart Jakarta around 01:30 am for Abu Dhabi, where I spend an enjoyable few hours transfer time watching bulbuls and bee-eaters from the airport building, and arrive at Frankfurt safe and sound in the early afternoon.
The return to Germany equals the return to slooooooow birding.
Nov 28: A one-day trip (there and back again) to Hannover allows for no birding whatsoever, but I spot a large flock of 800 Bramblings as well as Common Cranes next to the Autobahn, which makes me happy.
Uncropped Sunda Whistling Thrush at Gunung Gede – one of the many amazing birds seen in Indonesia!

December
Dec 9 and 10: A business trip by car to the most beautiful city in the world – Prague – does not stop the slow birding, but I do manage to see a White-tailed Eagle next to the highway near Pilsen.
Dec 27: A strong snow storm at Frankfurt airport delays our flight to Palma de Mallorca by almost four hours, and we therefore only arrive at Sant Elm in the far west of this lovely mediterranean island after dark at 19:00.
Dec 28: We spend most of the day in Sant Elm with just a quick trip to a large super market near the airport of Palma to buy food. Birds around Sant Elm blow my mind, with Shag, Audouin's Gull, Balearic Shearwater, Gannet and Blue Rock Thrush all seen from our appartment! A rather strong storm with impressive waves helps with the shearwaters… Mallorca is full of birds, and I know that this family trip is going to be filled with birding fun.
Dec 29: All day at Sant Elm, with more of the aforementioned amazing birds. On the rocks at the beach, I spot an Actitis-sandpiper which utters a single, sharp, monosyllabic call the like I have never heard from a Common Sandpiper but which is probably diagnostic of a Spotted Sandpiper. The latter would be an amazing vagrant for Mallorca, of course. But since I have no equipment with me and have to ensure my son doesn't run off the beach into the high surf, a "suspiciously spotted-ty" sandpiper is all I can squeeze out of this bird.
Dec 30: We visit the wonderful estate of Raixa, where birding highlights include Booted Eagles (which I will see daily on Mallorca) and two distant Cinereus Vultures. A flock of 35 Common Ravens above the closed gardens of alfabia are remarkable, as is a brookei-Peregrine at Son Marroig.
Dec 31: In spite of not being planned as a final spurt in the year list competition, I score quite a few year's firsts on a day trip to the Salinas des Levantes and the beach Es Trenc, with the most notable species being Sanderling (a ridiculous low count of Calidris sandpipers this year), Thekla Lark, Kentish plover, and Euro Stone Curlews en route near the airport, my first since 2003.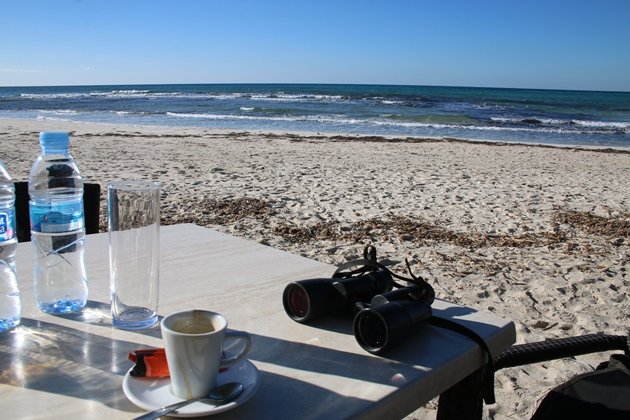 I finish the year with around 609 species on the beaches of Mallorca. Espresso, beaches and birds. Life is good.
.
Statistics & Maps
.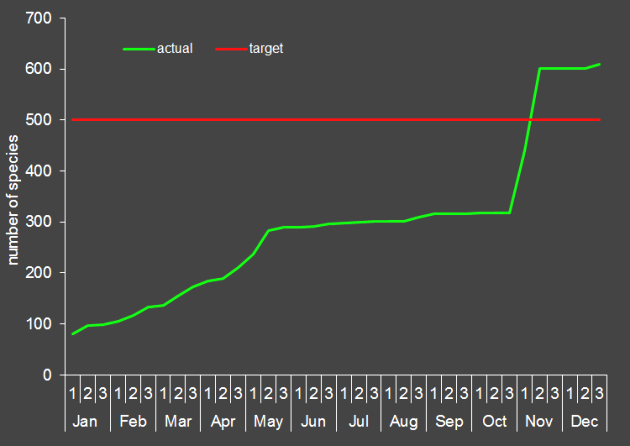 .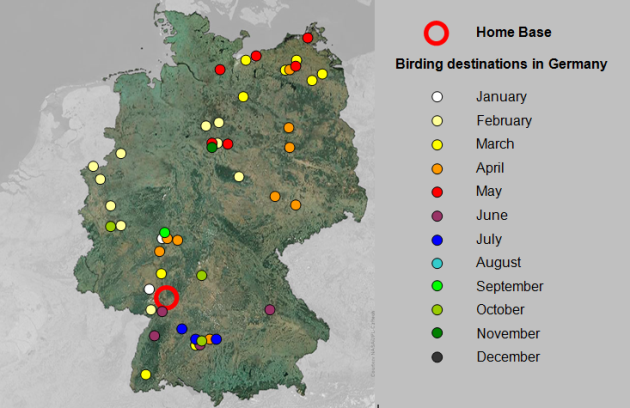 .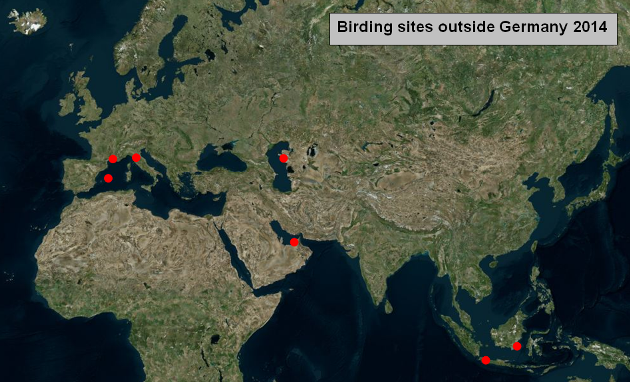 .
The Almighty List
I will give putting the species in their propper taxonomic order a serious and sincere try, I'll just have to see which list I will follow. [Update November: no I won't. Look, sorry, but I just got back from Indonesia with something like 250 new bird species under the belt and working their taxonomic order out is just too much. I'lljust add them according to field guide order (Susan Myers) to the end of the list.]
Abbreviations for German "Bundesländer" (states, provinces, whatever…):
BW – Baden-Württemberg
BY – Bayern
HE – Hessen
MV – Mecklenburg-vorpommern
NI – Niedersachsen
NW – Nordrhein-Westfalen
RP – Rheinland-Pfalz
SH – Schleswig-Holstein
SN – Sachsen
ST – Sachsen-Anhalt
Greater Rhea Rhea americana: Niendorf, MV, Germany, 29 May
Taiga Bean Goose Anser fabalis: Galenbecker See, MV, Germany, 13 Mar
Tundra Bean Goose Anser serrirostris: Wietze, NI, Germany, 12 Feb
Pink-footed Goose Anser brachyrhynchus: Niederrhein, NW, Germany, 26 Feb
Greater White-fronted Goose Anser albifrons: Lahnaue Wetzlar, HE, Germany, 14 Jan
Greylag Goose Anser anser: Lahnaue Wetzlar, HE, Germany, 14 Jan
Brant Goose Branta bernicla: Langenwerder, MV, Germany, 1 May
Barnacle Goose Branta leucopsis: Lahnaue Wetzlar, HE, Germany, 14 Jan
Canada Goose Branta canadensis: Main near Lengfurt, BY, Germany, 17 Feb
Mute Swan Cygnus olor: Les-Saintes-Maries-de-la-Mer, Provence, France, 1 Jan
Egyptian Goose Alopochen aegyptiaca: Heidelberg, BW, Germany, 5 Jan
Ruddy Shelduck Tadorna ferruginea: Niederrhein, NW, Germany, 26 Feb
Common Shelduck Tadorna tadorna: Les-Saintes-Maries-de-la-Mer, Provence, France, 2 Jan
Gadwall Anas strepera: Neupotz, BW, Germany, 24 Feb
Mallard Anas platyrhynchos: Parc Ornithologique Pont de Gau, Provence, France, 2 Jan
Northern Shoveler Anas clypeata: Niederrhein, NW, Germany, 26 Feb
Northern Pintail Anas acuta: Langenwerder, MV, Germany, 1 May
Garganey Anas querquedula: Waghäusel, BW, Germany, 21 Mar
Common Teal Anas crecca: Lahnaue Wetzlar, HE, Germany, 14 Jan
Red-crested Pochard Netta rufina: Waghäusel, BW, Germany, 21 Mar
Common Pochard Aythya ferina: Parc Ornithologique Pont de Gau, Provence, France, 2 Jan
Ring-necked Duck Aythya collaris: Maxau, BW, Germany, 21 Mar – vagrant!
Tufted Duck Aythya fuligula: Lahnaue Wetzlar, HE, Germany, 14 Jan
Greater Scaup Aythya marila: Boltenhagen, MV, Germany, 14 Mar
Common Eider Somateria mollissima: Hitdorf, NW, Germany, 25 Feb
Velvet Scoter Melanitta fusca: Langener Waldseen, HE, Germany, 18 Feb
Common Scoter Melanitta nigra: Boltenhagen, MV, Germany, 14 Mar
Long-tailed Duck Clangula hyemalis: Boltenhagen, MV, Germany, 14 Mar
Common Goldeneye Bucephala clanga: Berhäuser Altrhein, RP, Germany, 26 Jan
Smew Mergellus albellus: Niederrhein, NW, Germany, 26 Feb
Common Merganser Mergus merganser: Lahnaue Wetzlar, HE, Germany, 14 Jan
Red-breasted Merganser Mergus serrator: Les-Saintes-Maries-de-la-Mer, Provence, France, 1 Jan
Chukar Partridge Alectoris chukar: Shetpe, Mangghystau, Kazakhstan, 16 – 23 May
Red-legged Partridge Alectoris rufa: Peguera, Mallorca, Spain, 28 Dec
Common Quail Coturnix coturnix. Havelländisches Luch, BB, Germany, 30 Apr
Common Pheasant Phasianus colchicus: Niederrhein, NW, Germany, 26 Feb
Red-throated Loon Gavia stellata: Boltenhagen, MV, Germany, 14 Mar
Black-throated Loon Gavia arctica: Boltenhagen, MV, Germany, 14 Mar
Little Grebe Tachybaptus ruficollis: Parc Ornithologique Pont de Gau, Provence, France, 2 Jan
Red-necked Grebe Podiceps grisegena: Boltenhagen, MV, Germany, 14 Mar
Great Crested Grebe Podiceps cristatus: Les-Saintes-Maries-de-la-Mer, Provence, France, 1 Jan
Black-necked Grebe Podiceps nigricollis: Waghäusel, BW, Germany, 21 Mar
Greater Flamingo Phoenicopterus roseus: Les-Saintes-Maries-de-la-Mer, Provence, France, 1 Jan
Chilean Flamingo Phoenicopterus chilensis: Schurrsee, BY, Germany, 29 Apr
Balearic Shearwater Puffinus mauretanicus: Sant Elm, Mallorca, Spain, 28 Dec
White Stork Ciconia ciconia: Camargue, Provence, France, 1 Jan
Black Stork Ciconia nigra: Heddesheim, HE, Germany, 4 Apr
Northern Gannet Morus bassanus: Les-Saintes-Maries-de-la-Mer, Provence, France, 1 Jan
Great Cormorant Phalacrocorax carbo: Les-Saintes-Maries-de-la-Mer, Provence, France, 1 Jan
European Shag Phalacrocorax aristotelis: Sant Elm, Mallorca, Spain, 28 Dec
Eurasian Bittern Botaurus stellaris: Streng, BB, Germany, 30 Apr
Little Bittern Ixobrychus minutus: Heilbronn, BW, Germany, 22 Jun
Grey Heron Ardea cinerea: Camargue, Provence, France, 1 Jan
Purple Heron Ardea purpurea: Waghäusel, BW, Germany, 8 Apr
Great Egret Ardea alba: Camargue, Provence, France, 1 Jan
Little Egret Egretta garzetta: Camargue, Provence, France, 1 Jan
Cattle Egret Bubulcus ibis: Camargue, Provence, France, 2 Jan
Squacco Heron Ardeola ralloides: near Florence, Tuscany, Italy, 27 Aug
Black-crowned Night-heron Nycticorax nycticorax: Pleidelsheim, BW, Germany, 11 Jul
Glossy Ibis Plegadis falcinellus: Gronau, NW, Germany, 26 Feb –

vagrant!

Eurasian Spoonbill Platalea leucorodia: Niederrhein, NW, Germany, 26 Feb
Osprey Pandion haliaetus: Heidelberg, BW, Germany, 8 Apr
European Honey Buzzard Pernis apivorus: Leimen, BW, Germany, 6 May
Red Kite Milvus milvus: Frankfurt airport, HE, Germany, 18 Feb
Black Kite Milvus migrans: Heidelberg, BW, Germany, 16 Mar
White-tailed Eagle Haliaeetus albicilla: Boltenhagen, MV, Germany, 14 Mar
Egyptian Vulture Neophron percnopterus:  Shetpe, Mangghystau, Kazakhstan, 16 – 23 May
Griffon Vulture Gyps vulvus: Obrigheim, RP, Germany, 11 Jan – vagrant!
Cinereus Vulture Aegypius monachus: Raixa, Mallorca, Spain, 30 Dec – first since 2003!
Short-toed Snake Eagle Circaetus gallicus: Stefanini, Tuscany, Italy, 24 Aug
Western Marsh Harrier Circus aeruginosus: Les-Saintes-Maries-de-la-Mer, Provence, France, 1 Jan
Northern Harrier Circus cyaneus: Wietze, NI, Germany, 12 Feb
Pallid Harrier Circus macrourus: Freigöls, SH, Germany, 2 May – vagrant!
Montagu's Harrier Circus pygargus: Havelländisches Luch, BB, Germany, 30 Apr
Eurasian Sparrowhawk Accipiter nisus: Camargue, Provence, France, 2 Jan
Northern Goshawk Accipiter gentilis: Leimen, BW, Germany, 10 Jan
Common Buzzard Buteo buteo: Camargue, Provence, France, 2 Jan
Long-legged Buzzard Buteo rufinus:  Shetpe, Mangghystau, Kazakhstan, 16 – 23 May
Rough-legged Buzzard Buteo lagopus: Galenbecker See, MV, Germany, 13 Mar
Golden Eagle Aquila chrysaetos:  Shetpe, Mangghystau, Kazakhstan, 16 – 23 May
Greater Spotted Eagle Clanga clanga: Parc Ornithologique Pont de Gau, Provence, France, 2 Jan
Booted Eagle Hariaeetus pennatus: Stefanini, Tuscany, Italy, 1 Sep
Lesser Kestrel Falco naumanni:  Shetpe, Mangghystau, Kazakhstan, 16 – 23 May
Common Kestrel Falco tinnunculus: Camargue, Provence, France, 1 Jan
Red-footed Falcon Falco vespertinus:  Shetpe, Mangghystau, Kazakhstan, 16 – 23 May
Merlin Falco columbarius: Waghäusel, BW, Germany, 8 Apr
Eurasian Hobby Falco subbuteo: Mooswaldsee, BY, Germany, 29 Apr
Saker Falcon Falco cherrug:  Shetpe, Mangghystau, Kazakhstan, 16 – 23 May
Lanner Falcon Falco biarmicus feldeggii: Milan, Italy, 6 Sep
Peregrine Falcon Falco peregrinus: Leimen, BW, Germany, 8 Jan
Great Bustard Otis tarda: Belziger Landschaftswiesen, BB, Germany, 30 Apr
Water Rail Rallus aquaticus: Parc Ornithologique Pont de Gau, Provence, France, 2 Jan
Littel Crake Porzana parva: Große Rosin, MV, Germany, 1 May
Spotted Crake Porzana porzana: Zarnekow-Upost, MV, Germany, 1 May
Eurasian Moorhen Gallinula chloropus: Les-Saintes-Maries-de-la-Mer, Provence, France, 2 Jan
Eurasian Coot Fulica atra: Les-Saintes-Maries-de-la-Mer, Provence, France, 1 Jan
Common Crane Grus grus: Camargue, Provence, France, 1 Jan
Eurasian Stone-curlew Burhinus oedicnemus: near Palma, Mallorca, Spain, 31 Dec –

first since 2003!

Northern Lapwing Vanellus vanellus: Heidelberg, BW, Germany, 24 Feb
SOCIABLE LAPWING Vanellus gregarius: Bojendorf, SH, Germany, 2 May –

vagrant!

White-tailed Lapwing Vanellus leucurus: Utphe, HE, Germany, 29 Apr –

vagrant!

European Golden Plover Pluvialis apricaria: Niederrhein, NW, Germany, 26 Feb
Greater Sand Plover Charadrius leschenaultii:  Shetpe, Mangghystau, Kazakhstan, 16 – 23 May – first in 15+ years!
Caspian Plover Charadrius asiaticus:  Shetpe, Mangghystau, Kazakhstan, 16 – 23 May
Kentish Plover Charadrius alexandrinus: Cala Es Trenc, Mallorca, Spain, 31 Dec
Common Ringed Plover Charadrius hiaticula: Okeraue, NI, Germany, 2 May
Little Ringed Plover Charadrius dubius: Waghäusel, BW, Germany, 21 Mar
Eurasian Dotterell Charadrius morinellus: Heidelberg, BW, Germany 5 Oct
Eurasian Oystercatcher Haematopus ostralegus: Niederrhein, NW, Germany, 26 Feb
Black-winged Stilt Himantopus himantopus:  Shetpe, Mangghystau, Kazakhstan, 16 – 23 May
Pied Avocet Recurvirostra avosetta: Bojendorf, SH, Germany, 2 May
Common Sandpiper Actitis hypoleucos: Mooswaldsee, BY, Germany, 29 Apr
Green Sandpiper Tringa ochropus: Les-Saintes-Maries-de-la-Mer, Provence, France, 1 Jan
Spotted Redshank Tringa erythropus: Bojendorf, SH, Germany, 2 May
Common Greenshank Tringa nebularia: Schurrsee, BY, Germany 29 Apr
Wood Sandpiper Tringa glareola: Mooswaldsee, BY, Germany, 29 Apr
Common Redshank Tringa totanus: Reckahner Teiche, BB, Germany, 30 Apr
Whimbrel Numenius phaeopus:  Shetpe, Mangghystau, Kazakhstan, 16 – 23 May
Eurasian Curlew Numenius arquata: Les-Saintes-Maries-de-la-Mer, Provence, France, 2 Jan
Black-tailed Godwit Limosa limosa: Schurrsee, BY, Germany, 29 Apr
Ruddy Turnstone Arenaria interpres: Les-Saintes-Maries-de-la-Mer, Provence, France, 2 Jan
Sanderling Calidris alba: Cala Es Trenc, Mallorca, Spain, 31 Dec
Little Stint Calidris minuta:  Shetpe, Mangghystau, Kazakhstan, 16 – 23 May
Temminck's Stint Calidris temminckii:  Shetpe, Mangghystau, Kazakhstan, 16 – 23 May
Dunlin Calidris alpina:  Shetpe, Mangghystau, Kazakhstan, 16 – 23 May
Ruff Philomachus pugnax: Waghäusel, BW, Germany, 31 Mar
Jack Snipe Limnocryptes minimus: Zarnekow-Upost, MV, Germany, 1 May – first in 13+ years!
Great Snipe Gallinago media: Bojendorf, SH, Germany, 2 May – self-found vagrant!
Common Snipe Gallinago gallinago: Parc Ornithologique Pont de Gau, Provence, France, 2 Jan
Eurasian Woodcock Scolopax rusticola: near Trichtingen, Bw, Germany, 24 Jun
Red-necked Phalarope Phalaropus lobatus:  Shetpe, Mangghystau, Kazakhstan, 16 – 23 May
Slender-billed Gull Chroicocephalus genei: Les-Saintes-Maries-de-la-Mer, Provence, France, 1 Jan
Black-headed Gull Chroicocephalus ridibundus: Les-Saintes-Maries-de-la-Mer, Provence, France, 1 Jan
Little Gull Hydrocoloeus minutus: Wallendorfer See, ST, Germany, 18 Apr
Mediterranean Gull Ichthyaetus melanocephalus: Les-Saintes-Maries-de-la-Mer, Provence, France, 2 Jan
Audouin's Gull Ichthyaetus audouinii: Viareggion, Tuscany, Italy, 28 Aug – first since 2003!
Mew Gull Larus canus: Hitdorf, NW, Germany, 25 Feb
Ring-billed Gull Larus delawarensis: Hitdorf, NW, Germany, 25 Feb –

vagrant!

Herring Gull Larus argentatus: Rieselfelder Braunschweig, NI, Germany, 13 Feb
Yellow-legged Gull Larus michahellis: Camargue, Provence, France, 1 Jan
Caspian Gull Larus cachinnans: Neupotz, BW, Germany, 24 Feb
Lesser Black-backed Gull Larus fuscus: Heidelberg, BW, Germany, 23 Mar
Greater Black-backed Gull Larus marinus: Niederrhein, NW, Germany, 26 Feb
Little Tern Sternula albifrons: Langenwerder, MV, Germany, 1 May
Common Tern Sterna hirundo: Langhagen, MV, Germany, 1 May
Arctic Tern Sterna paradisaea: Langenwerder, MV, Germany, 1 May
Sandwich Tern Thalasseus sandvicensis: Les-Saintes-Maries-de-la-Mer, Provence, France, 1 Jan
Pomarine Skua Stercorarius pomarina: near Stefanini, Tuscany, Italy, 26 Aug
Black-bellied Sandgrouse Pterocles orientalis:  Shetpe, Mangghystau, Kazakhstan, 16 – 23 May
Feral Pigeon Columba livia f. domestica: Fournes, Provence, France, 1 Jan
Stock Dove Columba oenas: Wietze, NI, Germany, 12 Jan
Common Wood Pigeon Columba palumbus: Camargue, Provence, France, 2 Jan
European Turtle Dove Streptopelia turtur: Forchheim, BW, Germany, 13 Jul
Eurasian Collared Dove Streptopelia decaocto: Les-Saintes-Maries-de-la-Mer, Provence, France, 1 Jan
Laughing Dove Streptopelia senegalensis:  Shetpe, Mangghystau, Kazakhstan, 16 – 23 May
Common Cuckoo Cuculus canorus: Waghäusel, BW, Germany, 8 Apr
Oriental Cuckoo Cuculus optatus: Shetpe, Mangghystau, Kazakhstan, 16 – 23 May
Rose-ringed Parakeet Psittacula krameri: Heidelberg, BW, Germany, 5 Jan
Yellow-crowned Amazon Amazona ochrocephala: Stuttgart, BW, Germany, 13 Jul
Eurasian Scops Owl Otus scops: Stefanini, Tuscany, Italy, 4 Sep
Eurasian Eagle Owl Bubo bubo: Leimen, BW, Germany, 01 Feb – a worthy #100
Northern Hawk-owl Surnia ulula: Friedrichsbrunn, ST, Germany, 13 Feb – vagrant, first since 1992!
Little Owl Athene noctua:  Shetpe, Mangghystau, Kazakhstan, 16 – 23 May
Tawny Owl Strix aluco: Heidelberg, BW, Germany, 02 Feb
Long-eared Owl Asio otus: Heidelberg, BW, Germany, 27 Apr
European Nightjar Caprimulgus europaeus:  Shetpe, Mangghystau, Kazakhstan, 16 – 23 May
Alpine Swift Apus melba:  Shetpe, Mangghystau, Kazakhstan, 16 – 23 May
Common Swift Apus apus: Heidelberg, BW, Germany, 26 Apr
Pallid Swift Apus pallidus: near Stefanini, Tuscany, Italy, 27 Aug
Common Kingfisher Alcedo atthis: Waghäusel, BW, Germany, 21 Mar
Green Bee-eater Merops orientalis: Abu Dhabi, UAE, 19 Nov –

first since mid-1980s

Blue-cheeked Bee-eater Merops persicus:  Shetpe, Mangghystau, Kazakhstan, 16 – 23 May
European Bee-eater Merops apiaster:  Shetpe, Mangghystau, Kazakhstan, 16 – 23 May
European Roller Coracius garrulus:  Shetpe, Mangghystau, Kazakhstan, 16 – 23 May
Eurasian Hoopoe Upupa epops: Neunhausen, BB, Germany, 30 Apr
Eurasian Wryneck Jynx torquilla: Nussloch, BW, Germany, 18 Jul
Lesser Spotted Woodpecker Dendrocopos minor: Neupotz, BW, Germany, 24 Feb
Middle Spotted Woodpecker Dendrocopos medius: Langener Waldseen, HE, Germany, 18 Feb
Great Spotted Woodpecker Dendrocopos major: Heidelberg, BW, Germany, 5 Jan
Eurasian Three-toed Woodpecker Picoides tridactylus: Schliffkopf, BW, Germany, 25 Jun
Black Woodpecker Dryocopus martius: Schwetzingen, BW, Germany, 26 Jan
European Green Woodpecker Picus viridis: Heidelberg, BW, Germany, 6 Jan
Grey-headed Woodpecker Picus canus: Langener Waldseen, HE, Germany, 18 Feb
Red-backed Shrike Lanius collurio: Langhagen, MV, Germany, 1 May
BROWN SHRIKE Lanius cristatus: Gendringen, Netherlands, 26 Feb –

vagrant!

Great Grey Shrike Lanius excubitor: Lingental, BW, Germany 15 Feb
Iberian Grey Shrike Lanius meridionalis: Fournes, Provence, France, 1 Jan
Lesser Grey Shrike Lanius minor:  Aqtau, Mangghystau, Kazakhstan, 22 May
Eurasian Golden Oriole Oriolus oriolus: Sermuth, SN, Germany, 30 Apr
Eurasian Jay Garrulus glandarius: Heidelberg, BW, Germany, 9 Jan
Eurasian Magpie Pica pica: Camargue, Provence, France, 1 Jan
Spotted Nutcracker Nucifraga caryocatactes: St. Gotthard, Switzerland, 23 Aug
Western Jackdaw Corvus monedula: Camargue, Provence, France, 1 Jan
Rook Corvus frugilegus: somewhere en route through France, 4 Jan
Carrion Crow Corvus corone: Camargue, Provence, France, 1 Jan
Hooded Crow Corvus cornix: Galenbecker See, MV, Germany, 13 Mar
Brown-necked Raven Corvus ruficollis:  Shetpe, Mangghystau, Kazakhstan, 16 – 23 May
Northern Raven Corvus corax: Leimen, BW, Germany, 13 Jan
Bearded Reedling Panurus biarmicus: Parc Ornithologique Pont de Gau, Provence, France, 2 Jan
Calandra Lark Melanocorypha calandra:  Shetpe, Mangghystau, Kazakhstan, 16 – 23 May
Bimaculated Lark Melanocorypha bimaculata:  Shetpe, Mangghystau, Kazakhstan, 16 – 23 May
Greater Short-toed Lark Calandrella brachydactyla:  Shetpe, Mangghystau, Kazakhstan, 16 – 23 May
Lesser Short-toed Lark Calandrella rufescens:  Shetpe, Mangghystau, Kazakhstan, 16 – 23 May
Crested Lark Galerida cristata: Les-Saintes-Maries-de-la-Mer, Provence, France, 1 Jan
Thekla Lark Galerida theklae: Cala Es Trenc, Mallorca, spain, 31 Dec –

first since 2003!

Eurasian Skylark Alauda arvensis: Obrigheim, RP, Germany, 11 Jan
Woodlark Lullula arborea: Heidelberg, BW, Germany, 17 Feb
Mongolian Horned Lark Eremophila brandti:  Shetpe, Mangghystau, Kazakhstan, 16 – 23 May
Sand Martin Riparia riparia: Waghäusel, BW, Germany, 21 Mar
Eurasian Crag Martin Ptyonoprogne rupestris: Lugano, Switzerland, 23 Aug –

first since 2001

Barn Swallow Hirundo rustica: Waghäusel, BW, Germany, 21 Mar
Red-rumped Swallow Cecropsis daurica: Stefanini, Tuscany, Italy, 3 Sep –

first since late 1990s

Common House Martin Delichon urbicum: Waghäusel, BW, Germany, 8 Apr
Marsh Tit Poecile palustris: Lahnaue Wetzlar, HE, Germany, 14 Jan
Willow Tit Poecile montanus: Lahnaue Wetzlar, HE, Germany, 14 Jan
Coal Tit Periparus ater: Lingental, BW, Germany, 18 Jan
Crested Tit Lophophanes cristatus: Leimen, BW, Germany, 7 Feb
Great Tit Parus major: Fournes, Provence, France, 2 Jan
Eurasian Blue Tit Cyanistes caeruleus: Fournes, Provence, France, 2 Jan
Eurasian Penduline Tit Remiz pendulinus: Waghäusel, BW, Germany, 21 Mar
Long-tailed Tit Aegithalos caudatus: somewhere en route through France, 4 Jan
Eurasian Nuthatch Sitta europaea: somewhere en route through France, 4 Jan
Wallcreeper Tichodroma muraria: Schelklingen, BW, Germany, 11 Mar
Eurasian Treecreeper Certhia familiaris: Lingental, BW, Germany, 9 Feb
Short-toed Treecreeper Certhia brachydactyla: Heidelberg, BW, Germany, 9 Jan
Eurasian Wren Troglodytes troglodytes: Les-Saintes-Maries-de-la-Mer, Provence, France, 2 Jan
White-throated Dipper Cinclus cinclus: Schelklingen, BW, Germany, 11 Mar
RED-VENTED BULBUL Pycnonotus cafer: Abu Dhabi, UAE, 19 Nov
WHITE-EARED BULBUL Pycnonotus leucotis: Abu Dhabi, UAE, 19 Nov
Common Goldcrest Regulus regulus: Heidelberg, BW, Germany, 6 Jan
Firecrest Regulus ignicapilla: Parc Ornithologique Pont de Gau, Provence, France, 2 Jan
Cetti's Warbler Cettia cetti: Parc Ornithologique Pont de Gau, Provence, France, 2 Jan
Common Chiffchaff Phylloscopus collybita: Les-Saintes-Maries-de-la-Mer, Provence, France, 2 Jan
Siberian Chiffchaff Phylloscopus tristis:  Shetpe, Mangghystau, Kazakhstan, 16 – 23 May
Western Bonelli's Warbler Phylloscopus bonelli: Kallmünz, BY, Germany, 15 Jun
Willow Warbler Phylloscopus trochilus: Waghäusel, BW, Germany, 31 Mar
Wood Warbler Phylloscopus sibilatrix: Leipheim, BY, Germany, 29 Apr
Arctic Warbler Phylloscopus borealis: Shetpe, Mangghystau, Kazakhstan, 16 – 23 May
Greenish Warbler Phylloscopus trochiloides:  Shetpe, Mangghystau, Kazakhstan, 16 – 23 May
Booted Warbler Iduna caligata: Shetpe, Mangghystau, Kazakhstan, 16 – 23 May
Sykes's Warbler Hippolais rama:  Shetpe, Mangghystau, Kazakhstan, 16 – 23 May
Eastern Olivaceous Warbler Hippolais pallida:  Shetpe, Mangghystau, Kazakhstan, 16 – 23 May –

first since 2001

Icterine Warbler Hippolais icternia: Stralsund, MV, Germany, 30 May
Melodious Warbler Hippolais polyglotta: Alexanderschanze, BW, Germany, 25 Jun
Moustached Warbler Acrocephalus melanopogon: Parc Ornithologique Pont de Gau, Provence, France, 2 Jan – first since 2001
Sedge Warbler Acrocephalus schoenobaenus: Waghäusel, BW, Germany, 8 Apr
Paddyfield Warbler Acrocephalus agricola: Shetpe, Mangghystau, Kazakhstan, 16 – 23 May
Eurasian Reed Warbler Acrocephalus scirpaceus: Schurrsee, BY, Germany, 29 Apr
Blyth's Reed Warbler Acrocephalus dumetorum:  Shetpe, Mangghystau, Kazakhstan, 16 – 23 May
Marsh Warbler Acrocephalus palustris: Braunschweiger Rieselfelder, NI, Germany, 2 May
Great Reed Warbler Acrocephalus arundinaceus: Sermuth, SN, Germany, 30 Apr
Common Grasshopper Warbler Locustella naevia: Mooswaldsee, BY, Germany, 29 Apr
Savi's Warbler Locustella luscinioides: Waghäusel, BW, Germany, 8 Apr
Zitting Cisticola Cisticola juncidis: Les-Saintes-Maries-de-la-Mer, Provence, France, 1 Jan
Eurasian Blackcap Sylvia atricapilla: Fournes, Provence, France, 1 Jan
Garden Warbler Sylvia borin: Leimen, BW, Germany, 8 Apr
Barred Warbler Sylvia nisoria: Langhagen, MV, Germany, 1 May
Lesser Whitethroat Sylvia curruca: Wetzlar, HE, Germany, 17 Apr
Central Asian Whitethroat Sylvia halimodendri:  Shetpe, Mangghystau, Kazakhstan, 16 – 23 May
Western Orphean Warbler Sylvia hortensis: Stefanini, Tuscany, Italy, 29 Aug
Moltoni's Warbler Sylvia moltonii: Stefanini, Tuscany, Italy, 25 Aug
Common Whitethroat Sylvia communis: Leomen, BW, Germany, 21 Apr
Sardinian Warbler Sylvia melanocephala: Les-Saintes-Maries-de-la-Mer, Provence, France, 1 Jan
RED-BILLED LEIOTHRIX Leiothrix lutea: Lucca, Tuscany, Italy, 1 Sep
Spotted Flycatcher Muscicapa striata: Sermuth, SN, Germany, 30 Apr
European Robin Erithacus rubecula: Fournes, Provence, France, 1 Jan – first bird of 2014
Thrush Nightingale Luscinia luscinia: Langhagen, MV, Germany, 1 May
Common Nightingale Luscinia megarhynchos: Wallendorfer See, ST, Germany, 18 Apr
Bluethroat Luscinia svecica: Waghäusel, BW, Germany, 21 Mar
European Pied Flycatcher Ficedula hypoleuca: Zoo Hannover, NI, Germany, 3 May
Collared Flycatcher Ficedula albicollis: Schurrsee, BY, Germany, 29 Apr
Common Redstart Phoenicurus phoenicurus: Leimen, BW, Germany, 9 Apr
Black Redstart Phoenicurus ochruros: Les-Saintes-Maries-de-la-Mer, Provence, France, 1 Jan
Whinchat Saxicola rubetra: Lingental, BW, Germany, 27 Apr
European Stonechat Saxicola rubicola: Schelklingen, BW, Germany, 11 Mar
Northern Wheatear Oenanthe oenanthe: Mooswaldsee, BY, Germanym 29 Apr
Finsch's Wheatear Oenanthe finschii:  Shetpe, Mangghystau, Kazakhstan, 16 – 23 May
Pied Wheatear Oenanthe pleschanka:  Shetpe, Mangghystau, Kazakhstan, 16 – 23 May
Eastern Black-eared Wheatear Oenanthe melanoleuca:  Shetpe, Mangghystau, Kazakhstan, 16 – 23 May
Isabelline Wheatear Oenanthe isabellina:  Shetpe, Mangghystau, Kazakhstan, 16 – 23 May
Ring Ouzel Turdus torquatus: Kleiner Feldberg, HE, Germany, 17 Apr
Common Blackbird Turdus merula: Heidelberg, BW, Germany, 6 Jan
Fieldfare Turdus pilaris: Heidelberg, BW, Germany, 6 Jan
Redwing Turdus iliacus: Heidelberg, BW, Germany, 04 Feb
Song Thrush Turdus philomelos: Parc Ornithologique Pont de Gau, Provence, France, 2 Jan
Mistle Thrush Turdus viscivorus: Leimen, BW, Germany, 7 Feb
Rosy Starling Pastor roseus:  Shetpe, Mangghystau, Kazakhstan, 16 – 23 May
Common Myna Acridotheres tristis: Abu Dhabi, UAE, 19 Nov
Common Starling Sturnus vulgaris: Les-Saintes-Maries-de-la-Mer, Provence, France, 1 Jan
Alpine Accentor Prunella collaris: Kleiner Feldberg, HE, Germany, 17 Apr
Hedge Accentor Prunella modularis: Leimen, BW, Germany, 17 Jan
Blue-headed Wagtail Motacilla flava: Lahnaue, HE, Germany, 3 Apr
Grey-headed Wagtail Motacilla thunbergi: Schurrsee, BY, Germany, 29 Apr
Ashy-headed Wagtail Motacilla cinereocapilla: Marina di Vecchio, Tuscany, Italy, 2 Sep
Grey Wagtail Motacilla cinerea: Feldberg, BW, Germany, 8 Mar
White Wagtail Motacilla alba: Les-Saintes-Maries-de-la-Mer, Provence, France, 2 Jan
Tawny Pipit Anthus campestris:  Shetpe, Mangghystau, Kazakhstan, 16 – 23 May
Meadow Pipit Anthus pratensis: Les-Saintes-Maries-de-la-Mer, Provence, France, 1 Jan
Tree Pipit Anthis trivialis: Schelklingen, BW, Germany, 29 Apr
Red-throated Pipit Anthus cervinus: Streng, BB, Germany, 30 Apr
Water Pipit Anthus spinoletta: Neupotz, BW, Germany, 24 Feb
Rock Pipit Anthus petrosus: Boltenhagen, MV, Germany, 14 Mar
Snow Bunting Plectrophenax nivalis: Les-Saintes-Maries-de-la-Mer, Provence, France, 2 Jan – surprise, first in 5+ years
Yellowhammer Emberiza citrinella: Lahnaue Wetzlar, HE, Germany, 14 Jan
Cirl Bunting Emberiza cirlus: Untergrombach, BW, Germany, 25 Jun
Ortolan Bunting Emberiza hortulana: Belziger Landschaftswiesen, BB, Germany, 30 Apr
Red-headed Bunting Emberica bruniceps:  Shetpe, Mangghystau, Kazakhstan, 16 – 23 May
Common Reed Bunting Emberiza schoeniclus: Camargue, Provence, France, 1 Jan
Corn Bunting Emberiza calandra: Nordharz, ST, Germany, 13 Feb
Common Chaffinch Fringilla coelebs: Fournes, Provence, France, 1 Jan
Brambling Fringilla montifringilla: Höfer, NI, Germany, 12 Feb
Desert Finch Rhodospiza obsoleta:  Shetpe, Mangghystau, Kazakhstan, 16 – 23 May
European Greenfinch Chloris chloris: Heidelberg, BW, Germany, 6 Jan
Parrot Crossbill Loxia pytyopsittacus: Höfer, NI, Germany, 12 Feb – vagrant, first since 1992!
Red Crossbill Loxia curvirostra: Wietze, NI, Germany, 12 Feb
TWO-BARRED CROSSBILL Loxia leucoptera: Wietze, NI, Germany, 12 Feb – vagrant!
Lesser Redpoll Acanthis cabaret: Neubrandenburg, MV, Germany, 13 Mar
Eurasian Siskin Spinus spinus: Wetzlar, HE, Germany, 14 Jan
European Goldfinch Carduelis carduelis: Les-Saintes-Maries-de-la-Mer, Provence, France, 1 Jan
Twite Carduelis flavirostris: Amt Neuhaus, NI, Germany, 14 Mar
Common Linnet Carduelis cannabina: Obrigheim, RP, Germany, 11 Jan
Citril Finch Serinus citrinella: Feldberg, BW, Germany, 9 Mar
European Serin Serinus serinus: Leimen, BW, Germany, 7 Jan
Eurasian Bullfinch Pyrrhula pyrrhula: Leimen, BW, Germany, 7 Jan
Hawfinch Coccothraustes coccothraustes: Heidelberg, BW, Germany, 6 Jan
House Sparrow Passer domesticus: Fournes, Provence, France, 1 Jan
Indian House Sparrow Passer indicus:  Shetpe, Mangghystau, Kazakhstan, 16 – 23 May
Eurasian Tree Sparrow Passer montanus: Klosterwiesen von Rockenberg, HE, Germany, 6 Feb
Rock Sparrow Petronia petronia:  Shetpe, Mangghystau, Kazakhstan, 16 – 23 May                             START of INDONESIA LIST
Blue-breasted Quail Coturnix chinensis: Tarjun, S Kalimantan, Indonesia, 12-18 Nov –
Chestnut-bellied Partridge Arborophila javanica: Gunung Gede, Java, Indonesia, 8 Nov
Crested Partridge Rollulus rouloul: Tarjun, S Kalimantan, Indonesia, 12-18 Nov
CRESTED FIREBACK Lophura ignita: Tarjun, S Kalimantan, Indonesia, 12-18 Nov
Great Argus Argusianus argus: Tarjun, S Kalimantan, Indonesia, 12-18 Nov
Wandering Whistling Duck Dendrocygna arcuata: Tarjun, S Kalimantan, Indonesia, 12-18 Nov
Sunda Teal Anas gibberifrons: Tarjun, S Kalimantan, Indonesia, 12-18 Nov
Lesser Adjutant Leptoptilos javanicus: Tarjun, S Kalimantan, Indonesia, 12-18 Nov
Yellow Bittern Ixobrychus sinensis: Cirebon, Java, Indonesia, 3-6 Nov
Cinnamon Bittern Ixobrychus cinnamomeus: Cirebon, Java, Indonesia, 3-6 Nov
Black Bittern Dupetor flavicollis: Tarjun, S Kalimantan, Indonesia, 12-18 Nov
Little Heron Butorides striata: Jakarta, Java, Indonesia, 2 Nov
Javan Pond-heron Ardeola speciosa: Jakarta, Java, Indonesia, 2 Nov
Eastern Cattle Egret Bubulcus coromandus: Jakarta, Java, Indonesia, 2 Nov
Eastern Great Egret Ardea modesta: Jakarta, Java, Indonesia, 2 Nov
Intermediate Egret Mesophoyx intermedia: Jakarta – Cirebon, Java, Indonesia, 3 Nov
Oriental Darter Anhinga melanogaster:  Jakarta, Java, Indonesia, 2 Nov
Spotted Kestrel Falco moluccensis: Cirebon, Java, Indonesia, 3-6 Nov
Black-thighed Falconet Microhierax fringillarius: Tarjun, S Kalimantan, Indonesia, 12-18 Nov
JERDON'S BAZA Aviceda jerdoni: Tarjun, S Kalimantan, Indonesia, 12-18 Nov
Oriental Honey Buzzard Pernis ptilorhynchus: Cirebon, Java, Indonesia, 3-6 Nov
BAT HAWK Macheiramphus alcinus:  Tarjun, S Kalimantan, Indonesia, 12-18 Nov
Brahminy Kite Haliastur indus: Tarjun, S Kalimantan, Indonesia, 12-18 Nov
Crested Serpent-eagle Spilornis cheela: Cirebon, Java, Indonesia, 3-6 Nov
Crested Goshawk Accipiter trivirgatus: Tarjun, S Kalimantan, Indonesia, 12-18 Nov
Japanese Sparrowhawk Accipiter gularis: Citeureup, Java, Indonesia, 10 Nov
Black Eagle Ictinaetus malayensis: Cirebon, Java, Indonesia, 3-6 Nov
Changeable Hawk-eagle Nisaetus limnaeetus: Cirebon, Java, Indonesia, 3-6 Nov
Javan Hawk-eagle Nisaetus bartelsi: Gunung Gede, Java, Indonesia, 8 Nov
BLYTH'S HAWK-EAGLE Nisaetus alboniger: Tarjun, S Kalimantan, Indonesia, 12-18 Nov
Wallace's Hawk-eagle Nisaetus nanus: Tarjun, S Kalimantan, Indonesia, 12-18 Nov
RUFOUS-BELLIED EAGLE Lophotriorchis kienerii: Cirebon, Java, Indonesia, 3-6 Nov
SLATY-BREASTED RAIL Gallirallus striatus: Cirebon, Java, Indonesia, 3-6 Nov
RUDDY-BREASTED CRAKE Porzana fusca: Cirebon, Java, Indonesia, 3-6 Nov
White-browed Crake Porzana cinerea: Jakarta, Java, Indonesia, 2 Nov
White-breasted Waterhen Amaurornis phoenicurus: Jakarta, Java, Indonesia, 2 Nov
Swinhoe's Snipe Gallinago megala: Cirebon, Java, Indonesia, 3-6 Nov
LESSER CRESTED TERN Sterna bengalensis: Tarjun, S Kalimantan, Indonesia, 12-18 Nov
Great Crested Tern Sterna bergii: Tarjun, S Kalimantan, Indonesia, 12-18 Nov
BLACK-NAPED TERN Sterna sumatrana: Tarjun, S Kalimantan, Indonesia, 12-18 Nov
White-winged Tern Chlidonias leucopterus: Jakarta-Cirebon, Java, Indonesia, 3 Nov
Ruddy Cuckoo-dove Macropygia emiliana: Cirebon, Java, Indonesia, 3-6 Nov
Little Cuckoo-dove Macropygia ruficeps: Tarjun, S Kalimantan, Indonesia, 12-18 Nov
Spotted Dove Streptopelia chinensis: Jakarta, Java, Indonesia, 2 Nov
Island collared Dove Streptopelia bitorquata: Jakarta, Java, Indonesia, 2 Nov
Emerald Dove Chalcophaps indica: Tarjun, S Kalimantan, Indonesia, 12-18 Nov
Zebra Dove Geopelia striata: Citeureup, Java, Indonesia, 7 Nov
Black-naped Fruit-dove Ptilinopus melanospila: Bogor botanical Garden, Java, Indonesia, 9 Nov
Grey-cheeked Green-pigeon Treron griseicauda:  Bogor botanical Garden, Java, Indonesia, 9 Nov
Cinnamon-headed Green-pigeon Treron fulvicollis: Tarjun, S Kalimantan, Indonesia, 12-18 Nov
Little Green-pigeon Treron olax: Tarjun, S Kalimantan, Indonesia, 12-18 Nov
Pink-necked Green-pigeon Treron vernans: Cirebon, Java, Indonesia, 3-6 Nov
Thick-billed Green-pigeon Treron curvirostra: Tarjun, S Kalimantan, Indonesia, 12-18 Nov
Large Green-pigeon Treron capellei: Tarjun, S Kalimantan, Indonesia, 12-18 Nov
Green Imperial-pigeon Ducula aenea: Tarjun, S Kalimantan, Indonesia, 12-18 Nov
MOUNTAIN IMPERIAL-PIGEON Ducula badia: Tarjun, S Kalimantan, Indonesia, 12-18 Nov
Blue-crowned Hanging-parrot Loriculus galgulus: Tarjun, S Kalimantan, Indonesia, 12-18 Nov
Red-breasted Parakeet Psittacula alexandri: Jakarta, Java, Indonesia, 3 Nov
Long-tailed Parakeet Psittacus longicauda: Tarjun, S Kalimantan, Indonesia, 12-18 Nov
Sunda Cuckoo Cuculus lepidus: Gunung Gede, Java, Indonesia, 8 Nov
Banded Bay Cuckoo Cacomantis sonneratii: Cirebon, Java, Indonesia, 3-6 Nov
Plaintive Cuckoo Cacomantis merulinus: Cirebon, Java, Indonesia, 3-6 Nov
Rusty-breasted Cuckoo Cacomantis sepulcralis: Gunung Gede, Java, Indonesia, 8 Nov
LITTLE BRONZE CUCKOO Chrysococcyx minutilus: Tarjun, S Kalimantan, Indonesia, 12-18 Nov
Square-tailed Drongo-cuckoo Surniculus lugubris: Tarjun, S Kalimantan, Indonesia, 12-18 Nov
Asian Koel Eudynamys scolopacea:  Tarjun, S Kalimantan, Indonesia, 12-18 Nov
CHESTNUT-BELLIED MALKOHA Rhopodytes sumatranus: Tarjun, S Kalimantan, Indonesia, 12-18 Nov
Red-billed Malkoha Zanclostomus javanicus: Cirebon, Java, Indonesia, 3-6 Nov
Raffle's Malkoha Rhinortha chlorophaeus: Tarjun, S Kalimantan, Indonesia, 12-18 Nov
Chestnut-breasted Malkoha Zanclostomus curvirostris: Tarjun, S Kalimantan, Indonesia, 12-18 Nov
Short-toed Coucal Centropus rectunguis:Tarjun, S Kalimantan, Indonesia, 12-18 Nov
Greater Coucal Centropus sinensis: Cirebon, Java, Indonesia, 3-6 Nov
Lesser Coucal Centropus bengalensis: Cirebon, Java, Indonesia, 3-6 Nov
SUNDA COUCAL Centropus nigrorufus: Jakarta, Java, Indonesia, 2 Nov
Sunda Scops Owl Otus lempiji: Citeureup, Java, Indonesia, 6 Nov
Barred Eagle-owl Bubo sumatranus: Gunung Gede, Java, Indonesia, 8 Nov
BLYTH'S FROGMOUTH Batrachostomus affinis: Tarjun, S Kalimantan, Indonesia, 12-18 Nov
JAVAN FROGMOUTH Batrachostomus javensis: Gunung Gede, Java, Indonesia, 8 Nov
Large-tailed Nightjar Caprimulgus macrurus: Citeureup, Java, Indonesia, 10 Nov
Malaysian Eared-nightjar Eurostopus temminckii: Tarjun, S Kalimantan, Indonesia, 12-18 Nov
Savanna Nightjar Caprimulgus affinis: Cirebon, Java, Indonesia, 3-6 Nov
SALVADORI'S NIGHTJAR Caprimulgus pulchellus: Gunung Gede, Java, Indonesia, 8 Nov
Waterfall Swift Hydrochrous gigas: Gunung Gede, Java, Indonesia, 8 Nov
Glossy Swiftlet Collocalia esculenta: Tarjun, S Kalimantan, Indonesia, 12-18 Nov
Cave Swiftlet Collocalia linchii: Jakarta, Java, Indonesia, 2 Nov
Edible-nest Swiftlet Aerodramus fuciphaga: Jakarta, Java, Indonesia, 2 Nov
Mossy-nest Swiftlet Aerodramus salangana: Tarjun, S Kalimantan, Indonesia, 12-18 Nov
Black-nest Swiftlet Aerodramus maximus: Tarjun, S Kalimantan, Indonesia, 12-18 Nov
Silver-rumped Needletail Rhaphidura leucopygialis: Tarjun, S Kalimantan, Indonesia, 12-18 Nov
Brown-backed Needletail Hirundapus giganteus: Tarjun, S Kalimantan, Indonesia, 12-18 Nov
House Swift Apus affinis: Cirebon, Java, Indonesia, 3-6 Nov
Fork-tailed Swift Apus pacificus: Cirebon, Java, Indonesia, 3-6 Nov
Grey-rumped Treeswift Hemiprocne longipennis: Tarjun, S Kalimantan, Indonesia, 12-18 Nov
RED-NAPED TROGON Harpactes kasumba: Tarjun, S Kalimantan, Indonesia, 12-18 Nov
Javan Trogon Harpactes reinwardtii: Gunung Gede, Java, Indonesia, 8 Nov
Dollarbird Eurystomus orientalis: Tarjun, S Kalimantan, Indonesia, 12-18 Nov
RUFOUS-COLLARED KINGFISHER Actenoides concretus: Tarjun, S Kalimantan, Indonesia, 12-18 Nov
STORK-BILLED KINGFISHER Pelargopsis capensis: Tarjun, S Kalimantan, Indonesia, 12-18 Nov
White-throated Kingfisher Halcyon smyrnensis: Tarjun, S Kalimantan, Indonesia, 12-18 Nov – self-found probable first for Borneo!!
Sacred Kingfisher Todiramphus sanctus: Tarjun, S Kalimantan, Indonesia, 12-18 Nov
Collared Kingfisher Todiramphus chloris: Cirebon, Java, Indonesia, 3-6 Nov
Rufous-backed Kingfisher Ceyx rufidorsa: Tarjun, S Kalimantan, Indonesia, 12-18 Nov
Black-backed Kingfisher Ceyx erithacus: Tarjun, S Kalimantan, Indonesia, 12-18 Nov
Small Blue Kingfisher Alcedo coerulescens: Cirebon, Java, Indonesia, 3-6 Nov
Blue-eared Kingfisher Alcedo meninting: Bogor botanical Garden, Java, Indonesia, 9 Nov
Blue-tailed Bee-eater Merops philippinus: Cirebon, Java, Indonesia, 3-6 Nov
CHESTNUT-HEADED BEE-EATER Merops leschenaulti: Cirebon, Java, Indonesia, 3-6 Nov
Blue-throated Bee-eater Merops viridis: Tarjun, S Kalimantan, Indonesia, 12-18 Nov
Bushy-crested Hornbill Anorrhinus galeritus: Tarjun, S Kalimantan, Indonesia, 12-18 Nov
Oriental Pied Hornbill Anthracoceros albirostris: Tarjun, S Kalimantan, Indonesia, 12-18 Nov
Black Hornbill Anthracoceros malayanus: Tarjun, S Kalimantan, Indonesia, 12-18 Nov
Rhinoceros Hornbill Buceros rhinoceros: Tarjun, S Kalimantan, Indonesia, 12-18 Nov
HELMETED HORNBILL Rhinoplax vigil: Tarjun, S Kalimantan, Indonesia, 12-18 Nov
Wrinkled Hornbill Aceros corrugatus: Tarjun, S Kalimantan, Indonesia, 12-18 Nov
Wreathed Hornbill Aceros undulatus: Tarjun, S Kalimantan, Indonesia, 12-18 Nov
Fire-tufted Barbet Psilopogon pyrolophus: Gunung Gede, Java, Indonesia, 8 Nov
Brown-throated Barbet Megalaima corvina: Gunung Gede, Java, Indonesia, 8 Nov
Black-banded Barbet Megalaima javensis: Cirebon, Java, Indonesia, 3-6 Nov
Orange-fronted Barbet Megalaima armillaris: Gunung Gede, Java, Indonesia, 8 Nov
Gold-whiskered Barbet Megalaima chrysopogon: Tarjun, S Kalimantan, Indonesia, 12-18 Nov
Red-crowned Barbet Megalaima rafflesii: Tarjun, S Kalimantan, Indonesia, 12-18 Nov
Red-throated Barbet Megalaima mystacophanos: Tarjun, S Kalimantan, Indonesia, 12-18 Nov
Blue-eared Barbet Megalaima australis: Tarjun, S Kalimantan, Indonesia, 12-18 Nov
Coppersmith Barbet Megalaima haemacephala: Cirebon, Java, Indonesia, 3-6 Nov
Brown Barbet Calorhamphus fuliginosa: Tarjun, S Kalimantan, Indonesia, 12-18 Nov
Rufous Piculet Sasia abnormis: Tarjun, S Kalimantan, Indonesia, 12-18 Nov
Grey-capped Pygmy Woodpecker Dendrocopus canicapillus: Tarjun, S Kalimantan, Indonesia, 12-18 Nov
Sunda Pygmy Woodpecker Dendrocopus moluccensis: Cirebon, Java, Indonesia, 3-6 Nov
Freckle-breasted Woodpecker Dendrocopus analis: Cirebon, Java, Indonesia, 3-6 Nov
White-bellied Woodpecker Dryocopus javensis: Tarjun, S Kalimantan, Indonesia, 12-18 Nov
Banded Woodpecker Picus mineaceus: Tarjun, S Kalimantan, Indonesia, 12-18 Nov
COMMON FLAMEBACK Dinopium javanense: Tarjun, S Kalimantan, Indonesia, 12-18 Nov
ORANGE-BACKED WOODPECKER Reinwardtipicus validus:  Gunung Gede, Java, Indonesia, 8 Nov
BUFF-RUMPED PICULET Meiglyptes tristis: Tarjun, S Kalimantan, Indonesia, 12-18 Nov
BUFF-NECKED WOODPECKER Meiglyptes tukki: Tarjun, S Kalimantan, Indonesia, 12-18 Nov
Black-and-yellow Broadbill Eurylaimus ochromalus: Tarjun, S Kalimantan, Indonesia, 12-18 Nov
Hooded Pitta Pitta sordida: Tarjun, S Kalimantan, Indonesia, 12-18 Nov
Javan Banded Pitta Pitta guajana: Citeureup, Java, Indonesia, 7 Nov
Bornean Banded Pitta Pitta schwaneri: Tarjun, S Kalimantan, Indonesia, 12-18 Nov
White-browed Shrike-babbler Pteruthius flaviscapis: Gunung Gede, Java, Indonesia, 8 Nov
Trilling Shrike-babbler Pteruthius aenobarbus: Gunung Gede, Java, Indonesia, 8 Nov
Golden-bellied Gerygone Gerygone sulphurea: Cirebon, Java, Indonesia, 3-6 Nov
Mangrove Whistler Pachycephala cinerea: Tarjun, S Kalimantan, Indonesia, 12-18 Nov
Sunda Cuckooshrike Coracina larvata: Gunung Gede, Java, Indonesia, 8 Nov
LESSER CUCKOOSHRIKE Coracina fimbriata: Tarjun, S Kalimantan, Indonesia, 12-18 Nov
Pied Triller Lalage nigra: Cirebon, Java, Indonesia, 3-6 Nov
Fiery Minivet Pericrocotus igneus: Tarjun, S Kalimantan, Indonesia, 12-18 Nov
Small Minivet Pericrocotus cinnamomeus: Cirebon, Java, Indonesia, 3-6 Nov
Sunda Minivet Pericrocotus miniatus:  Gunung Gede, Java, Indonesia, 8 Nov
Black-naped Oriole Oriolus chinensis: Jakarta, Java, Indonesia, 2 Nov
Dark-throated Oriole Oriolus xanthonotus: Tarjun, S Kalimantan, Indonesia, 12-18 Nov
Black-winged Flycatcher-shrike Hemipus hirundinaceus: Tarjun, S Kalimantan, Indonesia, 12-18 Nov
RUFOUS-WINGED PHILENTOMA Philentoma pyrhoptera: Tarjun, S Kalimantan, Indonesia, 12-18 Nov
White-breasted Woodswallow Artamus leucorynchus: Jakarta, Java, Indonesia, 2 Nov
Common Iora Aegithina tiphia: Citeureup, Java, Indonesia, 10 Nov
Green Iora Aegithina viridissima: Tarjun, S Kalimantan, Indonesia, 12-18 Nov
Rufous-tailed Fantail Rhipidura phoenicura: Gunung Gede, Java, Indonesia, 8 Nov
White-bellied Fantail Rhipidura euryura: Gunung Gede, Java, Indonesia, 8 Nov
Pied Fantail Rhipidura javanica: Jakarta, Java, Indonesia, 2 Nov
BLACK-NAPED MONARCH Hypothymis azurea: Tarjun, S Kalimantan, Indonesia, 12-18 Nov
Black Drongo Dicrurus macrocerus: Cirebon, Java, Indonesia, 3-6 Nov
Ashy Drongo Dicrurus leucophaeus: Gunung Gede, Java, Indonesia, 8 Nov
Greater Racket-tailed Drongo Dicrurus paradiseus: Tarjun, S Kalimantan, Indonesia, 12-18 Nov
HAIR-CRESTED DRONGO Dicrurus hottentottus: Tarjun, S Kalimantan, Indonesia, 12-18 Nov
Southern Jungle Crow Corvus macrorhynchos: Citeureup, Java, Indonesia, 10 Nov
Slender-billed Crow Corvus enca: Tarjun, S Kalimantan, Indonesia, 12-18 Nov
Bornean Black Magpie Platysmurus aterrimus: Tarjun, S Kalimantan, Indonesia, 12-18 Nov
Racket-tailed Treepie Crypsirina temia: Cirebon, Java, Indonesia, 3-6 Nov
Bornean Bristlehead Pityriasis gymnocephala: Tarjun, S Kalimantan, Indonesia, 12-18 Nov
Long-tailed Shrike Lanius schach: Cirebon, Java, Indonesia, 3-6 Nov
Plain Sunbird Anthreptes simplex: Tarjun, S Kalimantan, Indonesia, 12-18 Nov
Brown-throated Sunbird Anthreptes malacensis: Cirebon, Java, Indonesia, 3-6 Nov
Red-throated Sunbird Anthreptes rhodolaema: Tarjun, S Kalimantan, Indonesia, 12-18 Nov
Ruby-cheeked Sunbird Chalcoparia singalensis: Tarjun, S Kalimantan, Indonesia, 12-18 Nov
Copper-throated Sunbird Leptocoma calcostetha: Tarjun, S Kalimantan, Indonesia, 12-18 Nov
Van Hasselt's Sunbird Leptocoma brasiliana: Tarjun, S Kalimantan, Indonesia, 12-18 Nov
Olive-backed Sunbird Cinnyris jugularis: Cirebon, Java, Indonesia, 3-6 Nov
White-flanked Sunbird Aethopyga eximina: Gunung Gede, Java, Indonesia, 8 Nov
Crimson Sunbird Aethopyga siparaja: Tarjun, S Kalimantan, Indonesia, 12-18 Nov
Purple-naped Sunbird Hypogramma hypogrammicum: Tarjun, S Kalimantan, Indonesia, 12-18 Nov
Little Spiderhunter Arachnothera longirostra: Cirebon, Java, Indonesia, 3-6 Nov
Thick-billed Spiderhunter Arachnothera crassirostris: Tarjun, S Kalimantan, Indonesia, 12-18 Nov
Yellow-eared Spiderhunter Arachnothera chrysogenys: Tarjun, S Kalimantan, Indonesia, 12-18 Nov
YELLOW-BREASTED FLOWERPECKER Prionochilus maculatus: Tarjun, S Kalimantan, Indonesia, 12-18 Nov
Crimson-breasted Flowerpecker Prionochilus percussus: Tarjun, S Kalimantan, Indonesia, 12-18 Nov
SCARLET-BREASTED FLOWERPECKER Dicaeum thoracicus: Tarjun, S Kalimantan, Indonesia, 12-18 Nov
Orange-bellied Flowerpecker Dicaeum trigonostigma: Tarjun, S Kalimantan, Indonesia, 12-18 Nov
YELLOW-VENTED FLOWERPECKER Dicaeum chrysorrheum: Tarjun, S Kalimantan, Indonesia, 12-18 Nov
Plain Flowerpecker Dicaeum minullum: Tarjun, S Kalimantan, Indonesia, 12-18 Nov
SCARLET-BACKED FLOWERPECKER Dicaeum cruentatum: Tarjun, S Kalimantan, Indonesia, 12-18 Nov
Scarlet-headed Flowerpecker Dicaeum trochileum: Cirebon, Java, Indonesia, 3-6 Nov
Blood-breasted Flowerpecker Dicaeum sanguinolentum: Gunung Gede, Java, Indonesia, 8 Nov
Greater Green Leafbird Chloropsis sonnerati: Tarjun, S Kalimantan, Indonesia, 12-18 Nov
Lesser Green Leafbird Chloropsis cyanopogon: Tarjun, S Kalimantan, Indonesia, 12-18 Nov
Blue-winged Leafbird Chloropis cochinchinensis: Tarjun, S Kalimantan, Indonesia, 12-18 Nov
Asian Fairy-bluebird Irena puella: Tarjun, S Kalimantan, Indonesia, 12-18 Nov
Blue Nuthatch Sitta azurea: Gunung Gede, Java, Indonesia, 8 Nov
Dusky Munia Lonchura fuscans: Tarjun, S Kalimantan, Indonesia, 12-18 Nov
Scaly-breasted Munia Lonchura punctulata: Jakarta, Java, Indonesia, 2 Nov
Javan Munia Lonchura leucogastroides: Cirebon, Java, Indonesia, 3-6 Nov
White-bellied Munia Lonchura leucogastra: Tarjun, S Kalimantan, Indonesia, 12-18 Nov
Chestnut Munia Lonchura atricapilla: Tarjun, S Kalimantan, Indonesia, 12-18 Nov
STREAKED WEAVER Ploceus manyar: Tarjun, S Kalimantan, Indonesia, 12-18 Nov
Paddyfield Pipit Anthus rufulus: Tarjun, S Kalimantan, Indonesia, 12-18 Nov
Eastern Yellow Wagtail Motacilla tschutschensis: Tarjun, S Kalimantan, Indonesia, 12-18 Nov
Javan Myna Acridotheres javanicus: Cirebon, Java, Indonesia, 3-6 Nov
Asian Glossy Starling Aplonis panayensis: Tarjun, S Kalimantan, Indonesia, 12-18 Nov
Short-tailed Starling Aplonis minor: Jakarta, Java, Indonesia, 3 Nov
Javan Cochoa Cochoa azurea: Gunung Gede, Java, Indonesia, 8 Nov
Sunda Whistling-thrush Myiophones glaucinum: Gunung Gede, Java, Indonesia, 8 Nov
Sunda Robin Myiomela diana:  Gunung Gede, Java, Indonesia, 8 Nov
Lesser Shortwing Brachypteryx leucophrys:  Gunung Gede, Java, Indonesia, 8 Nov
White-browed Shortwing Brachypteryx montana:  Gunung Gede, Java, Indonesia, 8 Nov
Oriental Magpie-Robin Copsychus saularis: Tarjun, S Kalimantan, Indonesia, 12-18 Nov
Lesser Forktail Enicurus velatus:  Gunung Gede, Java, Indonesia, 8 Nov
White-crowned Forktail Enicurus leschenaulti:  Gunung Gede, Java, Indonesia, 8 Nov
Bornean Blue Flycatcher Cyornis superbus:  Tarjun, S Kalimantan, Indonesia, 12-18 Nov
SUNDA BLUE FLYCATCHER Cyornis caerulatus: Tarjun, S Kalimantan, Indonesia, 12-18 Nov
Hill Blue Flycatcher Cyornis banyumas:  Gunung Gede, Java, Indonesia, 8 Nov
Indigo Flycatcher Eumyias indigo:  Gunung Gede, Java, Indonesia, 8 Nov
NARCISSUS FLYCATCHER Ficedula narcissa: Tarjun, S Kalimantan, Indonesia, 12-18 Nov
Snowy-browed Flycatcher Ficedula hyperythra:  Gunung Gede, Java, Indonesia, 8 Nov
Little Pied Flycatcher Ficedula westermanni:  Gunung Gede, Java, Indonesia, 8 Nov
Asian Brown Flycatcher Muscicapa dauurica: Tarjun, S Kalimantan, Indonesia, 12-18 Nov
DARK-SIDED FLYCATCHER Muscicapa sibirica: Tarjun, S Kalimantan, Indonesia, 12-18 Nov
Grey-headed Canary-flycatcher Culicicapa ceylonensis: Tarjun, S Kalimantan, Indonesia, 12-18 Nov
Pygmy Tit Psaltria exilis:  Gunung Gede, Java, Indonesia, 8 Nov
Black-headed Bulbul Pycnonotus atriceps: Tarjun, S Kalimantan, Indonesia, 12-18 Nov
Ruby-throated Bulbul Pycnonotus dispar: Bogor Botanical Garden, Java, Indonesia, 9 Nov
Grey-bellied Bulbul Pycnonotus cyaniventris: Tarjun, S Kalimantan, Indonesia, 12-18 Nov
Sooty-headed Bulbul Pycnonotus aurigaster: Jakarta, Java, Indonesia, 2 Nov
Puff-backed Bulbul Pycnonotus eutilotus: Tarjun, S Kalimantan, Indonesia, 12-18 Nov
Orange-spotted Bulbul Pycnonotus bimaculatus: Gunung Gede, Java, Indonesia, 8 Nov
Yellow-vented Bulbul Pycnonotus goiavier: Cirebon, Java, Indonesia, 3-6
Olive-winged Bulbul Pycnonotus plumosus: Bogor Botanical Garden, Java, Indonesia, 9 Nov
Cream-vented Bulbul Pycnonotus simplex: Tarjun, S Kalimantan, Indonesia, 12-18 Nov
Red-eyed Bulbul Pycnonotus brunneus: Tarjun, S Kalimantan, Indonesia, 12-18 Nov
Spectacled Bulbul Pycnonotus erythropthalmos: Tarjun, S Kalimantan, Indonesia, 12-18 Nov
BUFF-VENTED BULBUL Iole olivacea: Tarjun, S Kalimantan, Indonesia, 12-18 Nov
Sunda Bulbul Iole virescens: Gunung Gede, Java, Indonesia, 8 Nov
HAIRY-BACKED BULBUL Tricholestes crininger: Tarjun, S Kalimantan, Indonesia, 12-18 Nov
FINSCH'S BULBUL Alophoixus finschii: Tarjun, S Kalimantan, Indonesia, 12-18 Nov
YELLOW-BELLIED BULBUL Alophoixus phaeocephalus: Tarjun, S Kalimantan, Indonesia, 12-18 Nov
Grey-cheeked Bulbul Alophoixus bres: Bogor Botanical Garden, Java, Indonesia, 9 Nov
Striated Swallow Cecropis striolata: Cirebon, Java, Indonesia, 3-6
House Swallow Hirundo tahitica: Jakarta, Java, Indonesia, 3 Nov
Mountain Tailorbird Phyllergates cucullatus: Gunung Gede, Java, Indonesia, 8 Nov
Javan Tesia Tesia superciliaris: Gunung Gede, Java, Indonesia,8 Nov
Sunda Warbler Seicercus grammiceps:  Gunung Gede, Java, Indonesia, 8 Nov
Mountain Leaf-warbler Phylloscopus trivirgatus:  Gunung Gede, Java, Indonesia, 8 Nov
Japanese Leaf-warbler Phylloscopus xanthodryas:  Gunung Gede, Java, Indonesia, 8 Nov
Javan Fulvetta Alcippe pyrrhoptera:  Gunung Gede, Java, Indonesia, 8 Nov
BROWN FULVETTA Alcippe brunneicauda: Tarjun, S Kalimantan, Indonesia, 12-18 Nov
Spotted Crocias Crocias albonotatus: Gunung Gede, Java, Indonesia, 8 Nov
Oriental White-eye Zosterops palpebrosus: Bogor Botanical Garden, Java, Indonesia, 9 Nov
Javan Grey-throated White-eye Lophozosterops javanicus: Gunung Gede, Java, Indonesia, 8 Nov
Black-capped Babbler Pellorneum capistratum: Cirebon, Java, Indonesia, 3-6 Nov
SCALY-CROWNED BABBLER Malacopteron cinereum: Tarjun, S Kalimantan, Indonesia, 12-18 Nov
Horsfield's Babbler Malacocincla sepiarium: Gunung Gede, Java, Indonesia, 8 Nov
White-bibbed Babbler Stachyris thoracica: Gunung Gede, Java, Indonesia, 8 Nov
Crescent-chested Babbler Stachyris melanothorax: Gunung Gede, Java, Indonesia, 8 Nov
Chestnut-winged Babbler Stachyris erythroptera: Tarjun, S Kalimantan, Indonesia, 12-18 Nov
Chestnut-rumped Babbler Stachyris maculata: Tarjun, S Kalimantan, Indonesia, 12-18 Nov
Grey-cheeked Tit-babbler Macronous flavicollis: Citeureup, Java, Indonesia, 10 Nov
Bold-striped Tit-babbler Macronous bornensis: Cirebon, Java, Indonesia, 3-6 Nov
White-chested Babbler Trichastoma rostratum: Tarjun, S Kalimantan, Indonesia, 12-18 Nov
ABBOTT'S BABBLER Malacocincla abbotti: Tarjun, S Kalimantan, Indonesia, 12-18 Nov
Short-tailed Babbler Malacocincla malaccensis: Tarjun, S Kalimantan, Indonesia, 12-18 Nov
Eye-browed Wren-babbler Napothera epilepidota: Gunung Gede, Java, Indonesia, 8 Nov
Pygmy Wren-babbler Pnoepyga pusilla: Gunung Gede, Java, Indonesia, 8 Nov
Common Tailorbird Orthotomus sutorius: Cirebon, Java, Indonesia, 3-6 Nov
Ashy Tailorbird Orthotomus ruficeps: Tarjun, S Kalimantan, Indonesia, 12-18 Nov
Olive-backed Tailorbird Orthotomus sepium: Cirebon, Java, Indonesia, 3-6 Nov
Rufous-tailed Tailorbird Orthotomus sericeus: Tarjun, S Kalimantan, Indonesia, 12-18 Nov
Dark-necked Tailorbird Orthotomus atrogularis: Tarjun, S Kalimantan, Indonesia, 12-18 Nov
Golden-headed Cisticola Cisticola exilis: Cirebon, Java, Indonesia, 3-6 Nov
Plain Prinia Prinia inornata: Cirebon, Java, Indonesia, 3-6 Nov
Yellow-bellied Prinia Prinia flaviventris: Tarjun, S Kalimantan, Indonesia, 12-18 Nov
Bar-winged Prinia Prinia familiaris: Bogor Botanical Garden, Java, Indonesia, 9 Nov
Brown Prinia Prinia polychroa: Citeureup, Java, Indonesia, 10 Nov