Christmas Bird Counts are a wonderful way to spend a cold December day.  Just imagine groups of birders, spread out across a fifteen-mile diameter circle, trying to count every single bird that they see or hear.  At the end of the day the birders gather together to report what they've found, brag about their rare sightings, and tell tales of their birding adventures.  Sound fun?  Good, we need you to sign up and join the Queens County Christmas Bird Count!
This year the count will be held on Saturday, December 20th.  The territory of the Queens County Christmas Bird Count includes some of the premiere birding locations in New York City, from Forest Park to Jamaica Bay, from Alley Pond Park to Kissena Park.  The count circle is divided into eight sections, all of which are listed below.
1. Atlantic Beach/Far Rockaway
2. Valley Stream/North Hills
3. Jamaica Bay, East of Cross Bay Blvd
4. Forest Park/Flushing Meadow Park South
5. Flushing (Kissena/Flushing Meadow North)
6. Whitestone (Flushing Bay/Little Bay)
7. Alley Pond Park/Oakland Lake
8. Douglaston Marsh/Little Neck Bay
The compiler for the count, Bob Dieterich (contact information available at the end of this post), has already assigned group leaders to each section.  If you sign up to join the count he will tell you the time and place to meet your section leader and start out in the morning.  The count lasts all day and feeder watchers are also encouraged.  The only negative about joining a Christmas Bird Count is paying a $5 fee: all of the money collected goes to the National Audubon Society and is used to fund the compilation of data and to publish the results of the year's count (feeder-watchers are exempt from the fee).  At the end of a hard day's counting a celebratory count compilation and dinner is held (and unless you find an amazing rarity the dinner is usually the highlight of the day for CBCers).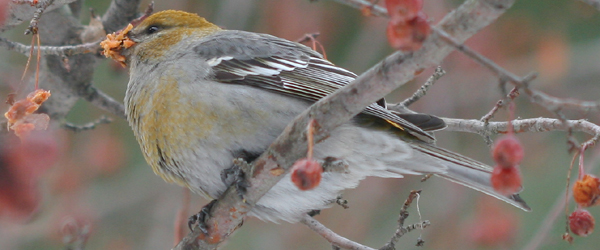 Pine Grosbeak seen during the 2007 Saratoga CBC
Mike and Corey have participated in several counts over the past few years.  Read about the Catskill-Coxsackie CBC, the Saratoga CBC, and the Bronx CBC and then sign up for the Queens County CBC!  If you can't make the Queens County Count check out the Audubon CBC page and find a local count to join: you won't regret it!
Christmas Bird Count Details:   The Queens County Christmas Bird Count takes place this year on Saturday, December 20th.  If you would like to participate, contact Bob Dieterich, Compiler, at (212) 637-3794 during the day or at (732) 583-5843 in the evening or e-mail him at redvogel AT optonline.net.