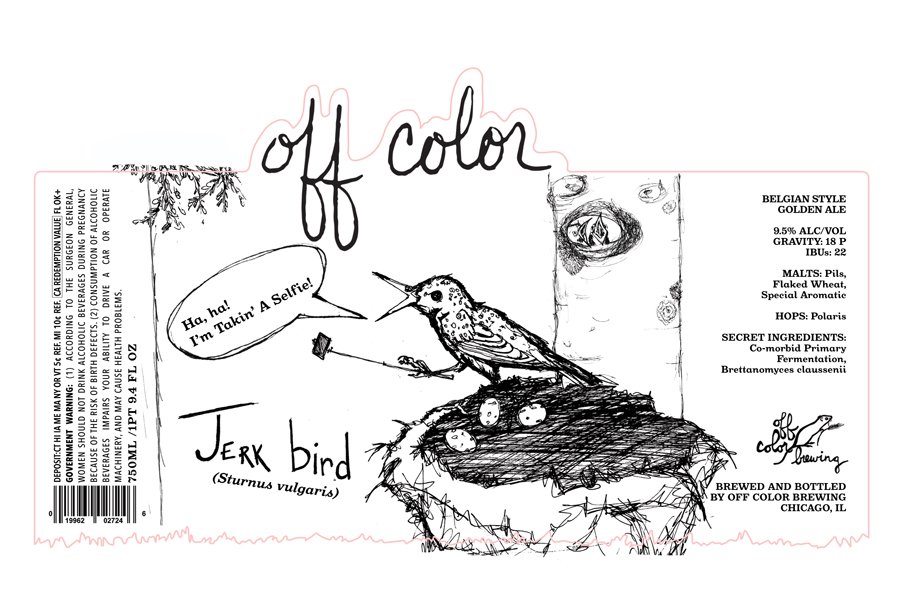 I'll admit I was completely stunned when I saw this week's beer on the shelf at my local distributor. I've seen all kinds of bird likenesses applied to beer bottles, cans, and cases, but invariably it's ducks, geese, hawks, eagles, owls – maybe the occasional heron. In other words, mostly big – and occasionally mean-looking – but always familiar birds that are reliably suggestive of "Nature", life in the "wild", leisurely jaunts through "the great outdoors", and other such well-worn advertising tropes – the kind of escapist fantasy where real men can be found swigging beer after beer while braving the elements ice-fishing on Hudson Bay. Or something like that. And that's fine: I assume most birders are partial to comforting outdoorsy imagery. And I like seeing birds on other things I like  (like beer!), even if the range of species can be pretty predictable. As we've seen most recently in my last review, I'm sucker for beers adorned with charismatic avifauna in bucolic settings. Stick a gruff-looking Great Horned Owl in front of a Bob Ross-inspired autumnal landscape, airbrush that handsome image on a can of beer and sure, I'll buy your delicious brown ale any day.
The flip side of this marketing preference for affectionate depictions of popular birds and the venerable, rustic traditions they evoke is a deliberate avoidance of city birds in beer advertising: the noisy and dirty avian denizens of our urban streets. The kind of birds that aren't at all shy about approaching  you as you sit on a park bench, hoping to snatch a bit of whatever it is that you're munching on for your workday lunch (or sipping out of that brown paper bag, perhaps). House Sparrows and Rock Pigeons are among the usual suspects here, but perhaps no bird better embodies the image of the pesky urban bird – and represents the complete antithesis of traditional avian advertising in beer – than the European Starling.
So what would compel a brewery put a starling on one of its products? I'm not really sure. The comically named Jerk Bird by Chicago's Off Color Brewing, which depicts a whimsically drawn starling taking a selfie, is obviously a bit of a joke. But you could have any cartoon bird doing and achieve the same effect. I like to think that Off Color's choice of what is surely the most unloved bird in North America – complete with its Latin name, which was the very first thing that jumped out at me – is a sly, not-so-subtle wink at us birders. Who else thinks of starlings as jerks? Perhaps there's a birder or two in the brewhouse at Off Color. What I do know is this could very well be my first and last chance to review a beer that celebrates the European Starling.
Jerk Bird may have a silly name, but it's a wonderful and handsomely packaged Belgian-style golden ale. The most famous exemplar of this style is Duvel, a beguilingly strong beer named in Flemish for the Devil (and I'll add that the accent is on the first syllable, though you'll commonly hear people pronouncing it as if it were French), and its popularity has spawned a devilish cohort of similarly-named imitators: Lucifer, Damnation, Inferno, Hades, Pranqster, Mischief, Belzebuth, etc. So if you're of the opinion that Sturnus vulgaris is Satan incarnate in feathered form, Jerk Bird can be said to be in keeping with this tradition.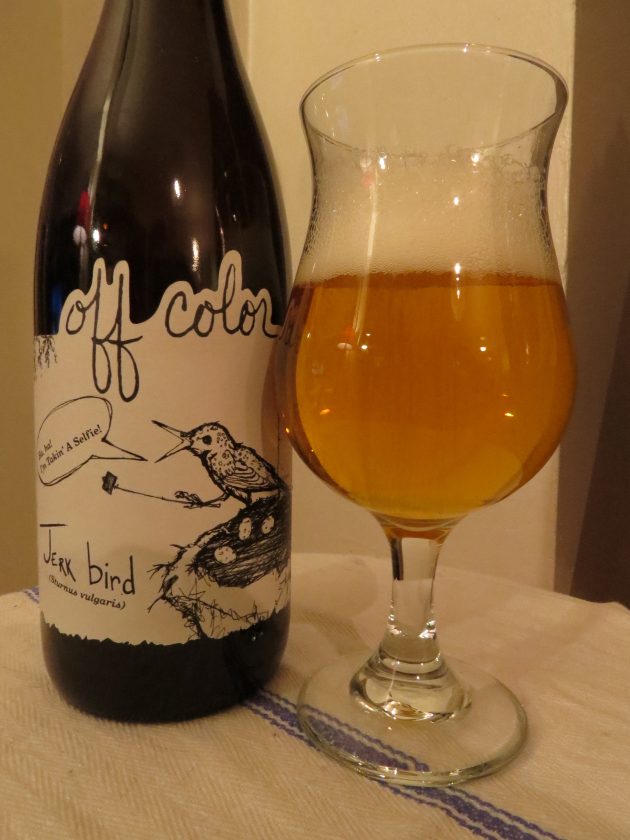 The Jerk Bird store called…
In their weaker moments, birders who feel bad about picking on starlings will usually admit that, in the right light, their shimmering iridescent plumage is actually quite eye-catching. But Jerk Bird requires no such sympathetic apologies: it's a genuinely beautiful drink, a strikingly clear, radiant golden ale with a billowing but firm head of off-white lace. The nose is an intriguing blend of sweet aromas that bring to mind an entire menu of fruity desserts at their most syrupy and delicately spiced: baked pineapple, frangipane, caramelized bananas, and stewed apricots, all brightened by orangey hints of citrus and herbal mint. Jerk Bird is fermented in part with Brettanomyces claussenii, a strain of wild yeast known for producing a distinct tropical fruit aroma. Some musty touches of wet hay, a strong whiff of white peppercorns, and the sweet, yeasty scent of rising bread combine to provide some fullness to the ripe and sugary bouquet. The flavor is crisp and peppery, rounded out by honeyed touches of tropical fruit, pear, and marmalade, a spicy hop dryness to the finish, and slight, warming hints of alcohol throughout.
Jerk Bird is a deceptively big beer at 9.5 % alcohol by volume and is perfect for enjoying on its own, but it should also pair well with a wide range of foods. Its lighter, vinous qualities would make it a good pick wherever you might otherwise require a dry, white wine: it would be a good match for shellfish dishes, roasted poultry, fattier fish like salmon, or even an appropriately hefty winter salad. With Thanksgiving coming up, I would consider a place for it on the holiday table that would go equally well with the turkey, spiced vegetable sides, or any number of fruit or nut desserts.
So what's next – a House Sparrow beer? I'll be on the lookout for one.
Good birding and happy drinking!
_____________________________________________________
Off Color Brewing: Jerk Bird





Four out of five feathers (Excellent)