Earlier this afternoon my small family made a drive out to Floyd Bennett Field in Brooklyn. We went because Desi, my four-year-old son, wanted to see a Snowy Owl after hearing about and seeing pictures of all of the owls his dad had been seeing this winter. He brought with him Snow, his stuffed Snowy Owl, so Snow could see his "real owl friends."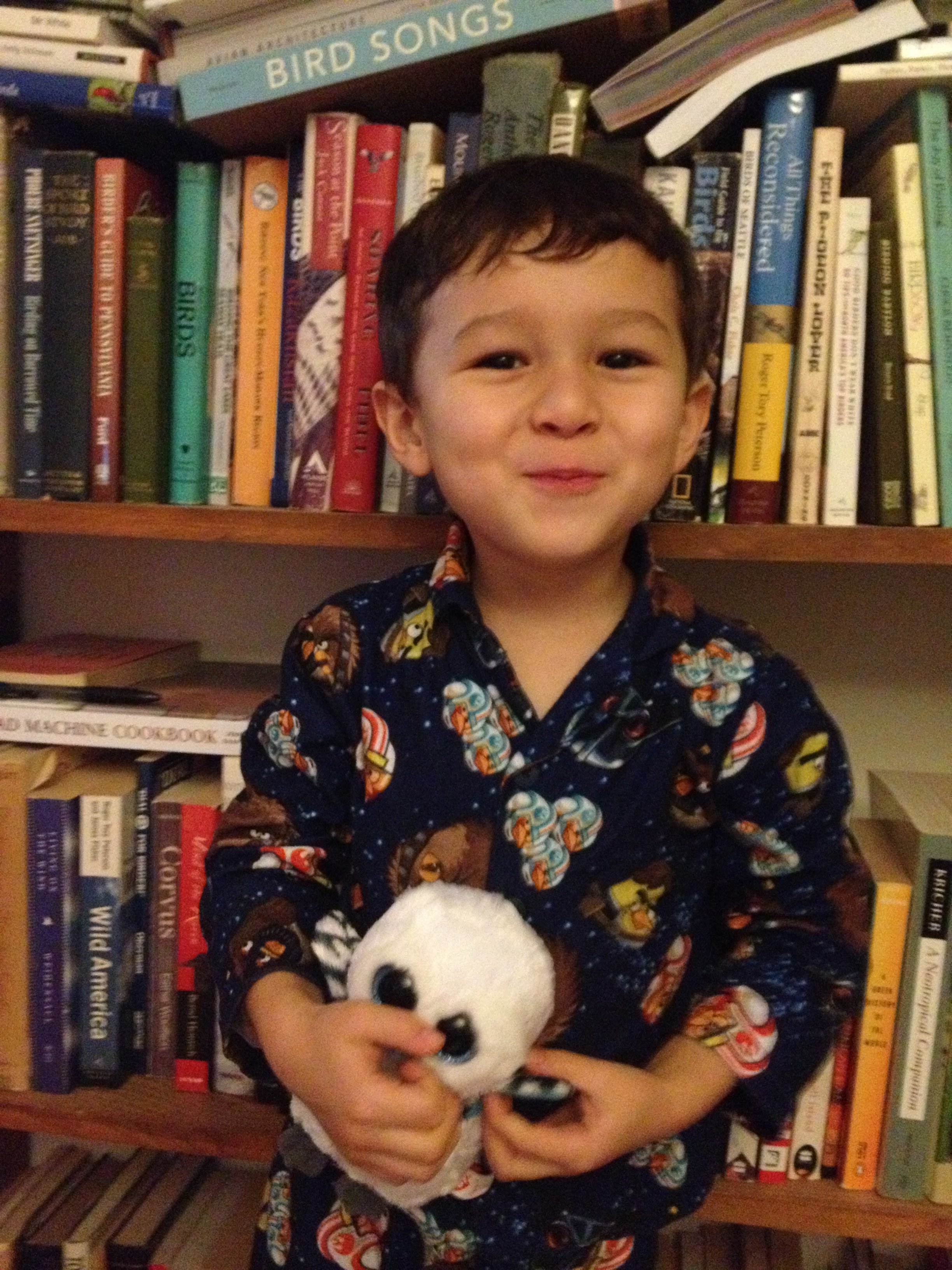 Desi with Snow
It took awhile in the biting wind, but I finally spotted one lonely owl hunkered down in the grass. I got the owl in the scope and let a couple of other birders look at it while Daisy got Desi completely bundled up in the car. Then he got out, braving the cold, and put his eye to the scope. I'm not sure how great a look he got through his watering eyes but he was smitten. Once he got back in the car he couldn't stop talking about the owl that he suddenly decided was named Bill.
We've been home for several hours but Desi has asked me quite a few questions about Bill. Where did Bill come from? Where does Bill sleep? And, seeing as there are blizzard-like conditions outside tonight, how is Bill staying warm? I can only give Desi the most general of answers about Bill's origin and habits because I honestly don't know many specifics. And, oddly, it seems that no one knows too much about what these visitors from the north are up to while they are down here.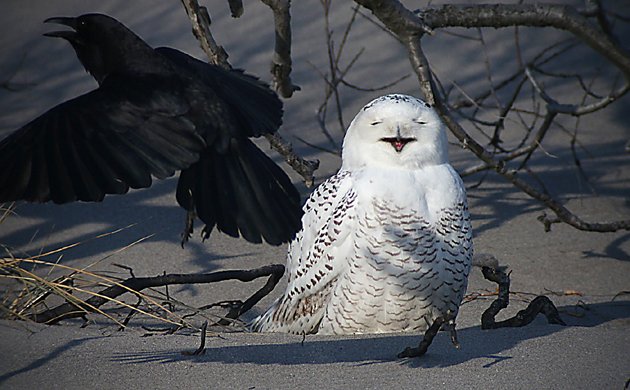 Snowy Owl being harassed by an American Crow
Fortunately for Desi and anyone else who is curious about what Snowy Owls do when they visit the regions south of their breeding grounds, a group of scientists, organizations, and researchers have banded together under the name Project SNOWstorm and they aim to make this irruption more than something that birders swoon over – they want to make it an event that we can learn from. To that end they are attaching lightweight tracking devices to Snowy Owls so we can learn what individual owls are doing. Three owls have already had the devices attached and some pretty interesting data is being collected. Like Desi, Project SNOWstorm wants to know what the owls are doing. Unlike Desi, the researchers involved don't think the owls are curling up in a nice warm bed in a hut in the woods, but they don't have much better answers than that, at least not yet. That is where YOU come in!
The problem Project SNOWstorm has is that the transmitting devices used to track the owls cost $3,000 each. That is not cheap. So they are raising money to buy more. We at 10,000 Birds figured that you, our readers, are getting so much enjoyment out of the Snowy Owls that you would be more than willing to pitch in some money. How about it, 10,000 Birds reader? Will you put up $20 to make this irruption meaningful in a scientific sense? If 150 of you do that it would already be enough for a transmitter!
Donate now to Project SNOWstorm!
Do it for science! Do it for Bill! Do it so Snowy Owls get nice warm beds in a hut in the woods! (OK, that last one isn't going to happen but you get the idea.)
One more time…Donate now to Project SNOWstorm!