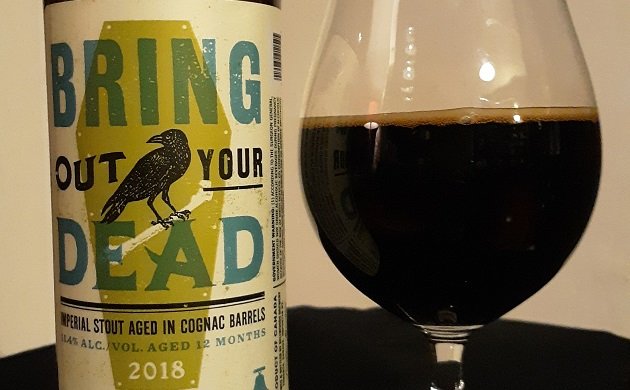 I was really looking forward to this week's installment of Birds and Booze. Last night was Hallowe'en, making tomorrow – in some Christian traditions – All Souls' Day, the annual "Commemoration of All Faithful Departed". That's a somewhat formal, euphemistic name, but in Mexico, it's known as Día de Muertos – "the day of the dead" – which provides a more direct description of this holiday devoted to mourning and veneration of the deceased.
I had the perfect beer already picked out for the day, too. Several months ago, I found a bottle of the 2018 edition of Bring Out Your Dead, an imperial stout aged in cognac barrels for a year, which is released annually by the Bellwoods Brewery of Toronto, Ontario. Imperial stouts are big, rich, dark beers that are favorite choices for aging in old spirits barrels, and with that name – an obvious Monty Python reference – I knew I could have a little fun writing the review (Dead parrot, anyone?). Plus, Bring Out Your Dead is decorated with a raven on the label, making it a perfect follow-up to last week's spooky wine review for this Hallowtide season.
Unfortunately, upon opening it, I found out I had unwittingly purchased a contaminated bottle. Whether or not the brewery was just as unaware of this beer's faults when it was sent out is unknown, but by the time it got to me, this bottle of Bring Out Your Dead was obviously suffering from some sort of bacterial contamination (I suspect Acetobacter), rendering it completely sour and undrinkable. Down the drain it went. For those of you wondering, it's perfectly safe to drink beer accidentally contaminated by common bacteria belonging to the genera Acetobacter and Lactobacillus – there are no known natural pathogens that can survive in beer, and bacteria belonging to these two genera are found in lots of everyday foods such as vinegar and yogurt, respectively. And, of course, some beers are supposed to be sour and enjoyed for this quality, but imperial stout – a robust, bittersweet beer usually redolent of cocoa, coffee, and dark dried fruit – is not one of these. Barrel aging beers can be a tricky endeavor, and it's quite possible one or more of those old cognac barrels in which Bring Out Your Dead spent a year in repose was harboring some nasty "wee beasties".
It's not a common occurrence for commercially produced beers to make it out of the brewhouse in this contaminated state, but it does happen (this is actually the first time I've been unlucky enough to get one, though I've homebrewed some several unintentionally contaminated batches myself). And, after reading some chatter online about the 2018 version of Bring Out Your Dead, it seems I wasn't the only one who wound up with an undrinkable bottle of this beer.
I haven't been able to find any official warning from the brewery about some or all of this batch being contaminated, and I'm still waiting to hear back from the brewery in response to my inquiry about it. So, this isn't the review I intended to post, but for now perhaps, it'll serve as a warning about purchasing this beer.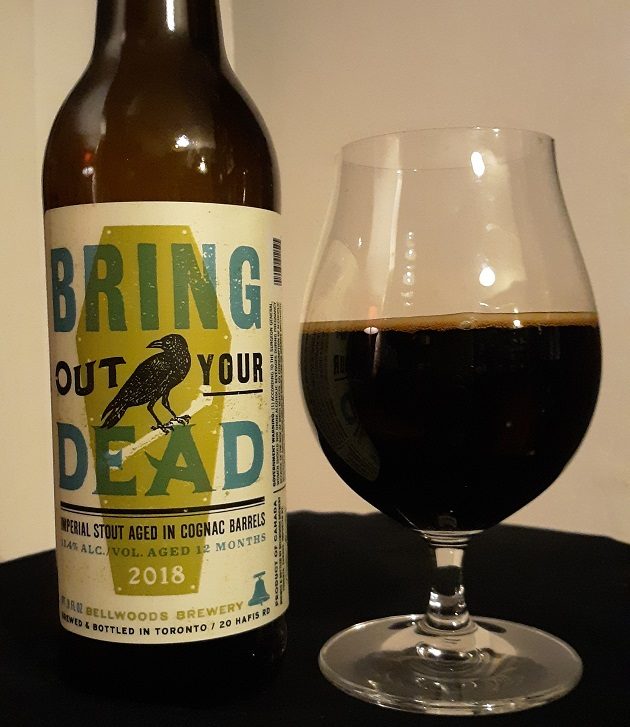 Good birding and happy drinking – and better luck next time!
---
Bellwoods Brewery: Bring Out Your Dead (2018)
0 feathers (Poor).