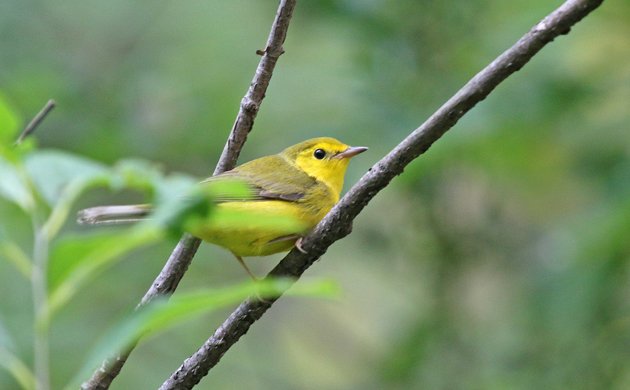 Summer, by which I mean accepted as opposed to seasonal, surges towards its inevitable end and I find myself wondering when real summer, by which I mean hot weather, will arrive. Somehow, I suspect fall migrants and summer heat will arrive at the same time… sounds awesome!!
My favorite birds this weekend were a mess of Mallard ducklings I could share with my kids, niece, and nephew.  Mallards are best when they are fuzzy and cute. Corey's Best Bird of the Weekend was a Yellow-breasted Chat, only his third ever in Queens, that he found at Fort Tilden. He didn't get a picture of the chat though, so he thought that the female Hooded Warbler he found at Alley Pond Park would do as a stand in.
How about you? What was your best bird of the weekend? Tell us in the comments section about the rarest, loveliest, or most fascinating bird you observed. If you've blogged about your weekend experience, you should include a link in your comment.