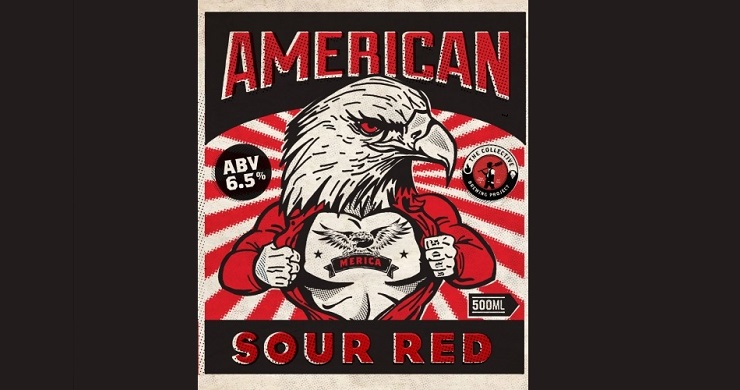 When I got this bottle of American Sour Red from the Collective Brewing Project of Fort Worth, Texas as a gift a few months back, I knew the only time I'd be able to get away with reviewing a beer with such brash, jingoistic imagery was around the American Independence Day holiday on July 4th. The red, white, and blue label features a glowering Bald Eagle (Haliaeetus leucocephalus) – the national bird of the United States – pulling apart its red shirt to bare a heavily muscled chest that's emblazoned with the word "MERICA".  I have no doubt that such over-the-top, in-your-face patriotism was done humorously with tongue firmly in cheek – but this is a Texas brewery, so you never know. Maybe they were serious after all.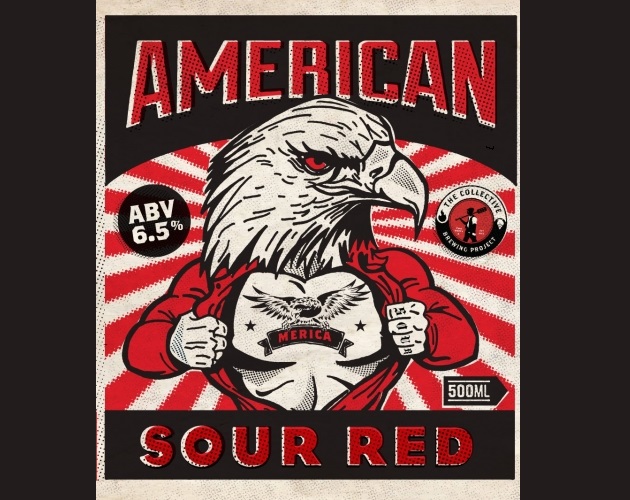 However, the fact that Collective Brewing Project chose to adorn a decidedly un-American beer style with such exaggerated nationalism leads me to believe this is all a bit of a gag. You have to look at the back of the label to find this out, but for all the overblown Yankee bravado on the front of the bottle, the fine print on the other side clearly states that this is a beer in the sour Flanders red style. Even in its homeland in the Dutch-speaking half of Belgium, Flanders red ale is a bit of a localized obscurity, best exemplified in bottlings by venerable breweries like Rodenbach and Brouwerij Verhaeghe (whose Duchesse de Bourgogne we reviewed in 2019). Tart, refreshing, and almost wine-like, Flanders red ale is often a revelation to drinkers who've never had sour beers before – and I suspect this is especially true down in Texas, the land of cool, crisp lagers like Lone Star Beer and Shiner Bock.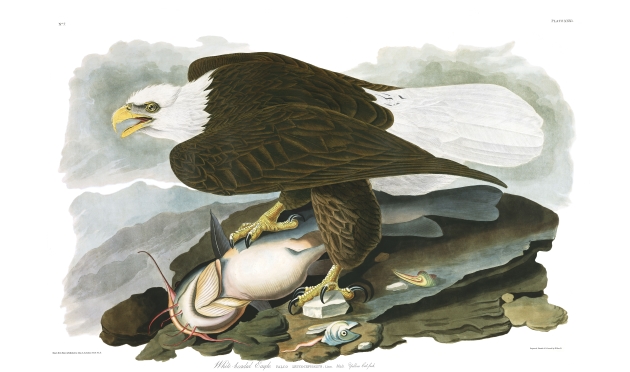 But back to that label. I didn't get around to reviewing this last week in time for the Fourth of July. But no matter – coming up in just a few days on July 11th is Feestdag van de Vlaamse Gemeenschap, or the Day of the Flemish Community of Belgium. This annual celebration of the Flemish people and their language and culture commemorates the Battle of the Golden Spurs, a pivotal Flemish victory in the Franco-Flemish War, fought 720 years ago in 1302. It's a bit late to uncork a bottle of this Belgian-inspired American Sour Red for the Fourth of July, but the Flemish celebration is just around the corner.
Unfortunately, Collective Brewing Project closed for good in 2020 and this beer is discontinued. But you might still be able to find older bottles for sale, and Flanders red ale is a style that can mature for several years in the bottle thanks to the addition of so-called "wild" yeast strains like Brettanomyces (which we've encountered several times before here at Birds and Booze). Collective Brewing Project aged their American Sour Red with this wild yeast in Belgian foeders, massive floor-to-ceiling oak barrels traditionally used in brewing such beers. The combined effects of oak aging and the Brettanomyces yeast give this beer a wonderful vinous complexity, with rich notes of balsamic vinegar, vanilla, and raspberry jam. The palate is light and brightly tart, with strains of cherry lozenge, oak, pomegranate molasses, and caramel. Some sour green apple on the long, dry finish brings this refreshing sour beer to a proper close. This is a sour beer complex enough to warm you in the middle of winter, but also light and quenching enough to be sipped on a warm summer evening. And for the more adventurous drinker, it would make an excellent accompaniment to a pie made of the summer's ripest cherries or berries.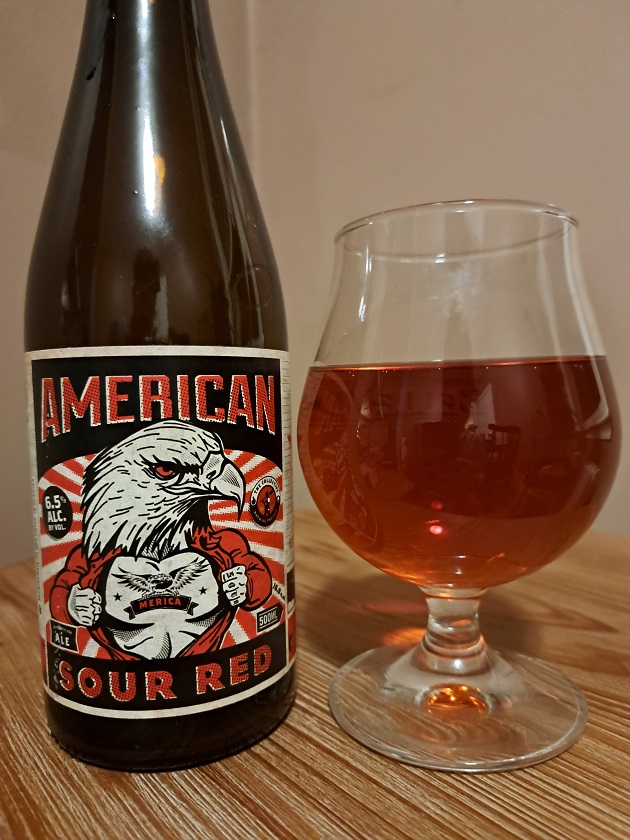 Good birding and happy drinking, no matter what holidays you celebrate this month!
---
Collective Brewing Project – American Sour Red

Four out of five feathers (Excellent)