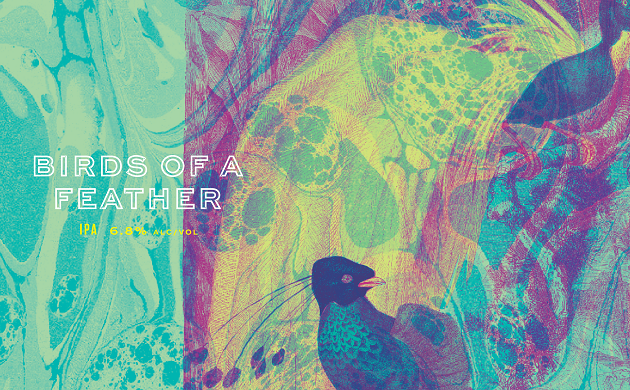 I said in my last review that it wouldn't be long before we saw yet another New England India Pale Ale (IPA) at Birds and Booze – and here we are with one more. I'm not sure I have anything new to say about the style at this point, but with everyone and their mother making the New England IPAs these days, it probably doesn't matter. Breweries are putting out an awful lot of the hazy stuff and, for the most part, they're getting pretty good at it. And as long as brewers keep slapping birds on the labels, I should be happy, right?
Actually, I would be happier if I could identify the two birds depicted on the can of this week's beer – Birds of a Feather by Lamplighter Brewing Company of Cambridge, Massachusetts. I have no idea what they are. (Yes, I even took a photo of the can and tried getting Merlin to ID it – nothing). They can only be one of about 10,000 possibilities – if it's even a real bird in the first place. Some kind of bird-of-paradise? I'm stumped. Anyway, if you know the answer, please let us know in the comments!
According to the brewery, the beer takes its name from one of the better-known songs of the jam band Phish. I have to confess I never cared much for Phish, but the song – as the first half of the proverbial "Birds of a feather flock together" does make a better name for a beer than "Homophily", which is the sociobiological term for the same concept. But at the rate breweries are releasing New England IPAs, we shouldn't be at all surprised if one comes out next week named Homophily – perhaps with some unidentifiable fish on it.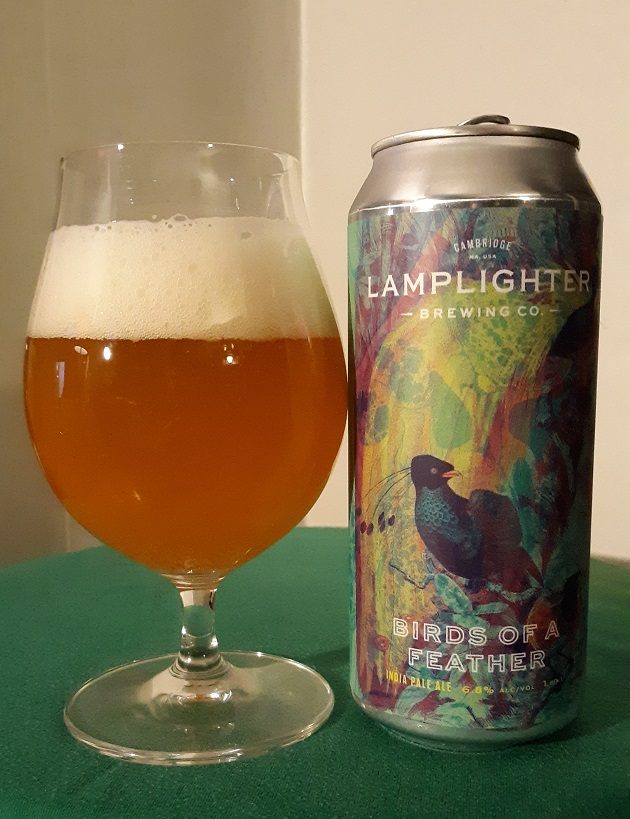 Phish food for thought: just what kind of bird is it?
Anyway, on to the beer. Birds of a Feather is made with Mosaic, Citra, and Columbus hops, three of the most popular varieties of the last ten years. These hops are complex enough to stand on their own in a beer – as they have in many examples – but together they produce a rousing tropical bouquet of pineapple, mango, and tangerine, with a northern touch of spruce thrown in for good measure. The palate is soft and fruity, awash with gentle waves of passionfruit, citrus, and stone fruit, and ending with just enough grapefruit bitterness for this hazy beer to live up to the letters "IPA".
Good birding and happy drinking!
---
Lamplighter Brewing Company: Birds of a Feather





Three out of five feathers (Good).