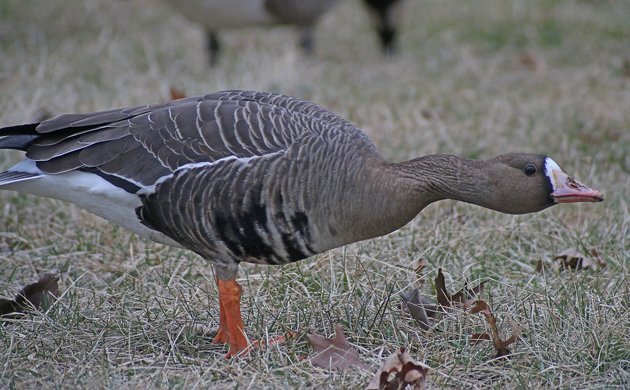 The year 2016 has been a pretty good year. I opened the year in California and even though I flew out in the evening on New Year's Day I did see some species out there that I would otherwise not have seen for the year. Winter birding around New York City was just so-so but I did add one species to my Queens list. The Space Coast Birding and Wildlife Festival in Florida was a welcome break from winter though the blizzard back home forced me to drive up the eastern seaboard to New York, adding birds seen on the road and at rest stops along the way. A fine February visit to Culebra, the little island off the eastern end of Puerto Rico, netted me some lifers as did my first ever trip to south Florida in late April. A couple of long range twitches to upstate New York got me one great state bird and one dip.
The end of July and beginning of August featured an awesome trip across the American west with my family. Seeing Yellowstone, Crater Lake, and the Redwoods was amazing and my first real west coast pelagic trip was astounding despite my not being one hundred percent healthy. Shorebird season back in New York didn't really bring anything spectacular, the Big Sit was destroyed by horrific weather, and fall migration as a whole wasn't particularly noteworthy. But some excellent birds did show up and stuck around in the greater New York City area and I got to see a few of them.
10. Pink-footed Goose, 05 November, Hendrickson Park, Valley Stream, New York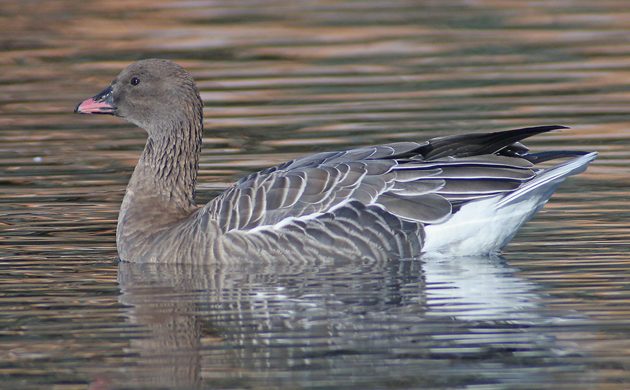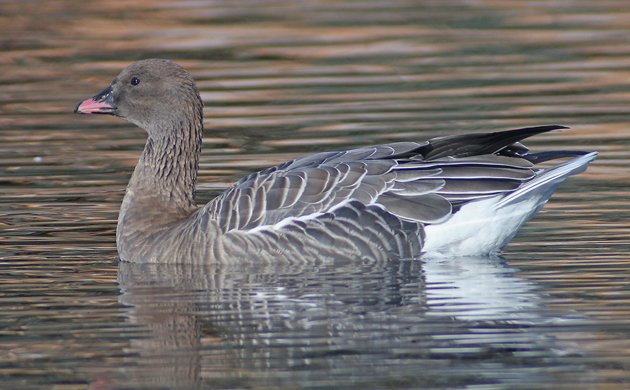 This bird would have ranked higher if it had stuck for Queens County Christmas Bird Count and allowed us to tally it for the first time on the CBC. Instead, it disappeared for the entire weekend and reappeared today. Aaaarrrgghhhh! Nonetheless, it was an excellent bird to share both with my son Desi, who was impressed by its pink feet, and with Mike, who had it as a lifer!
9. Burrowing Owl, 27 April, Kendall-Tamiami Airport, Florida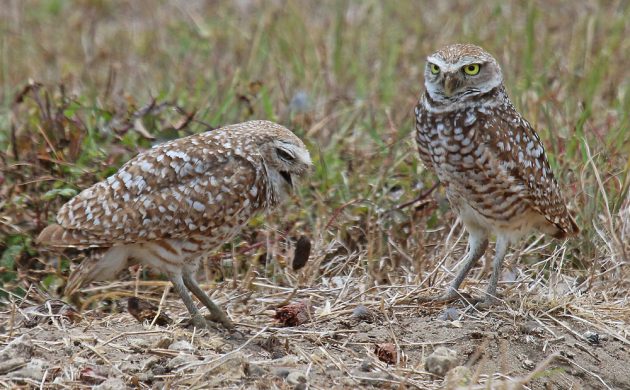 Before this April I had only ever managed to come across Burrowing Owls once, five years ago in California. Seeing them again, this time in Florida, was a treat, especially considering that I had kind of forgotten that they occur in Florida. It was a great half-day of birding with Carlos Sanchez (despite his attempts to ruin all of my fun) and the Burrowing Owls were a great topper to the day.
8. Black-billed Magpie, 31 July, Golden, Colorado
It has always seemed odd to me that the first magpie species I saw was the Eurasian Magpie on my first trip to Europe. Also odd is that I saw the much more range-restricted Yellow-billed Magpie before ever getting into Black-billed Magpie territory on my western trip this summer. After that first sighting I saw them repeatedly and now have ten sightings in eBird from three states and that's just what I put in eBird. Such are the vagaries of seeing birds that live where you don't: the exceedingly common and obvious species that don't vagrate much are exciting. It was a relief to finally close out the North American magpies. Now if I could just see an Azure-winged Magpie…
Oh, and if you want to see Black-billed Magpie you'll have to go where they are or Google up some images. I didn't manage a single passable picture.
7. Antillean Crested Hummingbird, 17 February, Culebra, Puerto Rico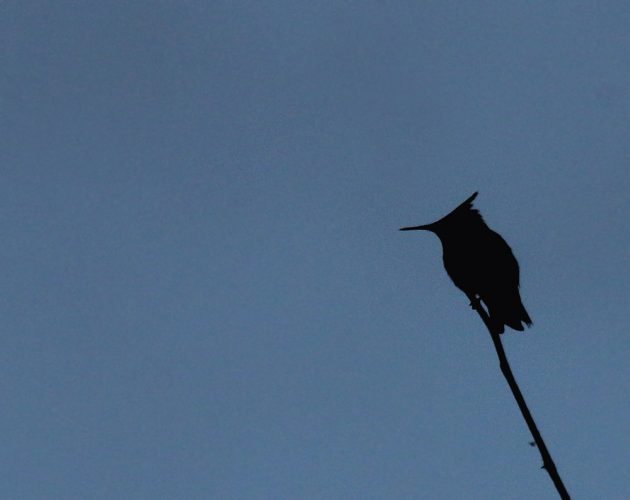 Hummingbirds are awesome. Birds with crests are awesome. Lifers are awesome. Combine all three into a lifer hummingbird with a crest? That's some awesome stuff right there! The trip to Culebra, while relatively short in terms of time and the bird-list generated, was amazing. And this hummingbird was my favorite bird of the trip.
6. Western Tanager, 27 November, City Hall Park, Manhattan, New York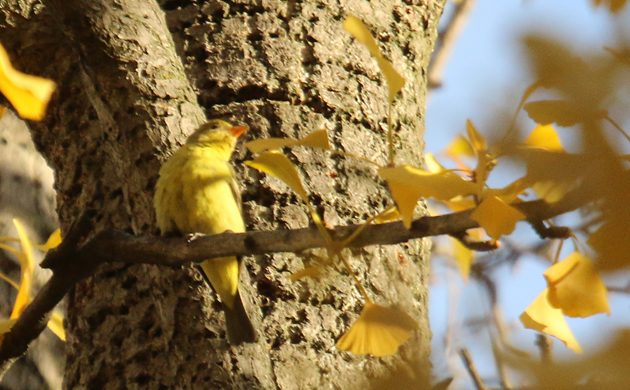 I saw a very nice male Western Tanager while I was in Wyoming this summer but the relatively drab bird I saw in City Hall Park made the list and the one in Wyoming didn't. What gives? This bird was one of several good birds in a tiny park in Manhattan that were ridiculously easy to see. I love birding microparks and even more so when a bird that will enter birding lore in New York City is present. "Did you see the City Hall Western Tanager?" birders will ask each other twenty years from now.
"Yes, yes, I did," will be my happy reply.
5. MacGillivray's Warbler, 08 August, Crater Lake National Park, Oregon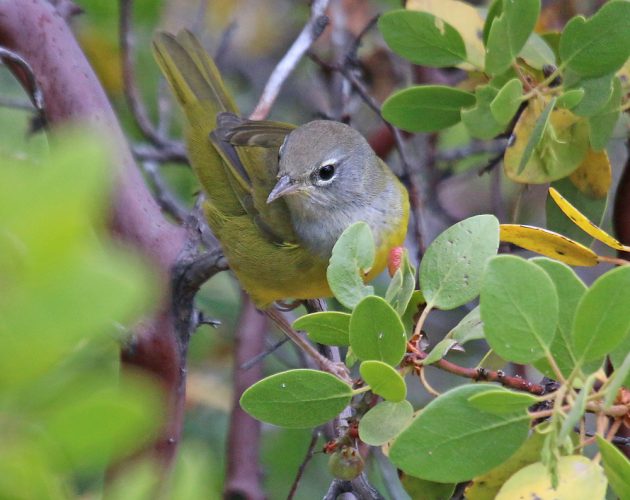 For some reason I mostly left my western sojourn unblogged, an oversight that I partially make up for here by sharing a great bird from that trip. I love wood-warblers. And to see a new one was astounding, even if I initially was trying to make it into an Orange-crowned Warbler. I think my brain, which for so long had been wanting to see a Macgillivray's Warbler, just couldn't process the fact that one was right at my feet.
4. Greater White-fronted Goose, 21 February, Flushing Meadows-Corona Park, Queens, New York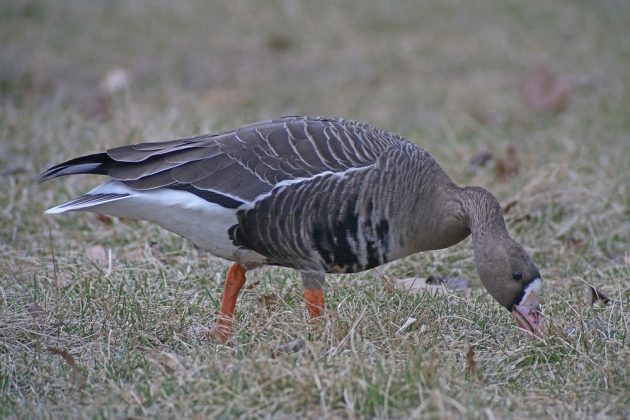 A new bird for my Queens list (and the only new bird for my Queens list this year) has to be high on my top ten. This Greater White-fronted Goose, though in perhaps the most disgusting habitat imaginable, was new for my Queens list and left Barnacle Goose as the only remotely possible goose left for me to get in my home borough. This bird made me very very happy.
3. Cuban Vireo, 24 April, Fort Zachary Taylor Historic State Park, Key West, Florida
A continental-level rarity that happened to show up in Key West just before I was scheduled to visit for the first time in my life? And a bird that allowed me to see it in the thirty minutes or so I had? And that then disappeared, never to be seen again? Am I ever glad that I had witnesses to see me seeing the bird, especially considering I failed to get a picture. Cuban Vireo is a bird I would never have expected to see unless I went to Cuba and I went and got one on the cheap!
2. Garganey, 11 June, Montezuma National Wildlife Refuge, New York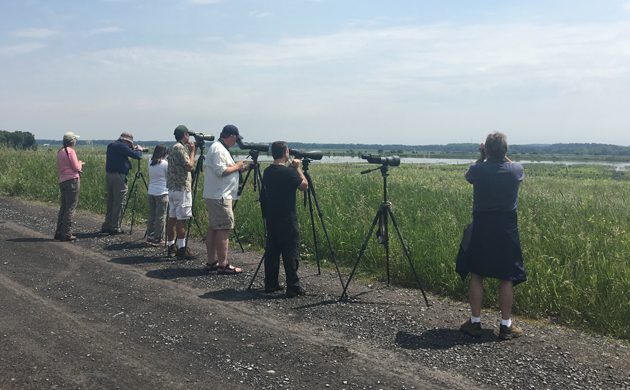 This first-for-New York bird was an awesome twitch with Anthony Collerton. But perhaps my favorite part of the whole trip was just seeing so many familiar faces while we patiently waited for Anthony to finally pick the bird out of the reeds and heat haze. It was a heck of twitch and a great addition to my New York State list!
1. Black-footed Albatross, 13 August, off the coast of California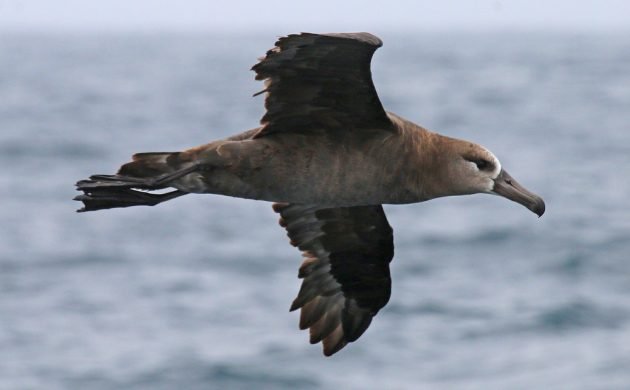 Finally, finally, finally! I finally saw an albatross! How could this not be my best bird of the year? Always go on a pelagic on the west coast of the United States if you have the opportunity and always appreciate seeing an albatross. Those are two of my commandments of birding which I will hand down from on high, chiseled into granite. Or at least written on a blog. Or something. AAAAALLLLLBBBBBBAAAAATTTTTRRROOOOOSSSSSSSS!
Here's hoping your 2016 was as full of great birds as mine was. And here's really hoping that your 2017 is also full of great birds. Merry Christmas, Happy Channukah, Happy Kwanzaa, Happy New Year, and all that jazz. Just remember to go birding!