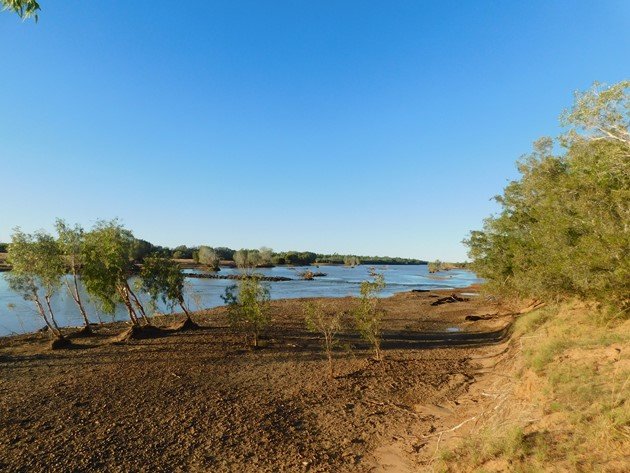 We had been unable to go camping in the Kimberley this year due to a certain virus keeping us all at home or within our Shire. When the restrictions eased allowing movement beyond the Shire of Broome into the rest of the Kimberley we did not race off camping. Following a nice welcome downpour of 100mm in a few hours in what is traditionally our "dry season" we delayed leaving the bitumen another week. A lot of tracks get very sloppy after rain around the Kimberley and the evidence remained last weekend. We did a day trip to Derby on Friday 5th and then came back towards Broome to camp at Langi Crossing for two nights. There is always a great assortment of birds at Langi Crossing both large and small. When you live by the ocean it is always nice to go camp by a river and we missed that experience whilst the restricted movements prevented us from going too far from home. We also love to see the boab trees that really start to feature among the landscape once you go north of Broome. The boab trees don't have many leaves on at this time of year.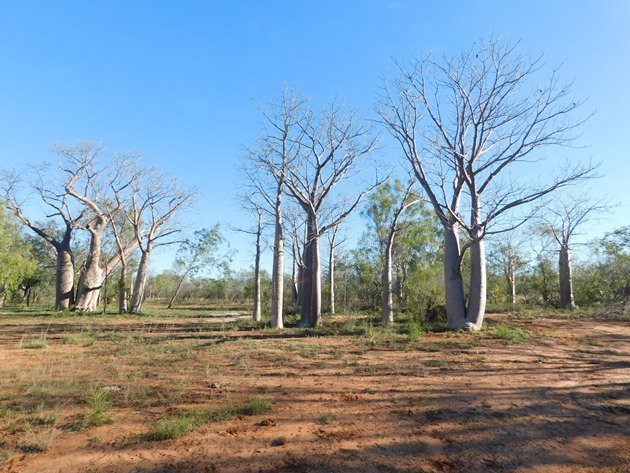 Boab trees
The gravel road to the Fitzroy River at Langi Crossing still had water over it in a few places. We got through and around that without incident, but by the time we got closer to the river we could see it had been rather messy the previous weekend!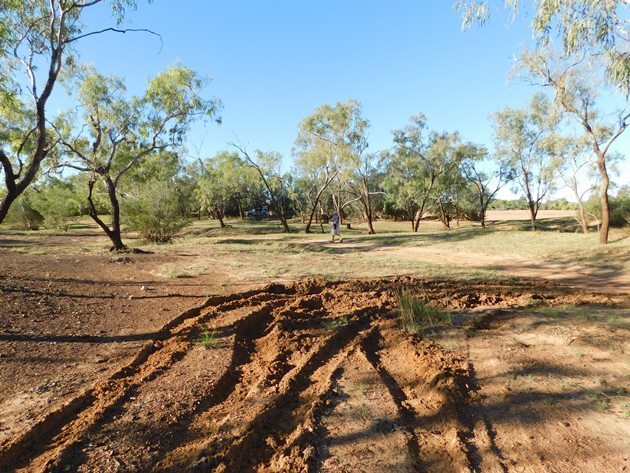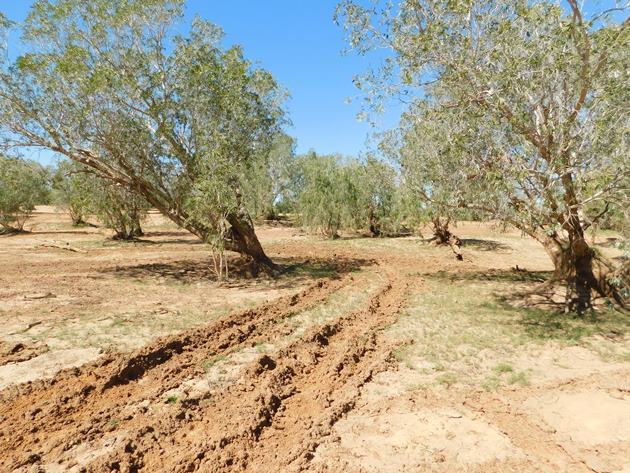 Some sticky experiences in the mud the week before!
We had only just pulled up at the clearing where we camp on a cliff above the river (and crocodiles) when the sky filled with Black Kites. They were there all weekend either soaring above the river or roosting in the trees along the riverbank. There were Whistling Kites too, but not in such huge numbers. We were delighted to see Australian Darters at the river, because it was our first sighting for 2020!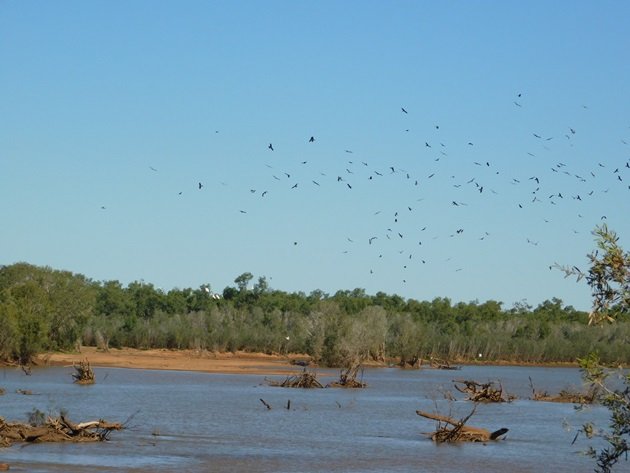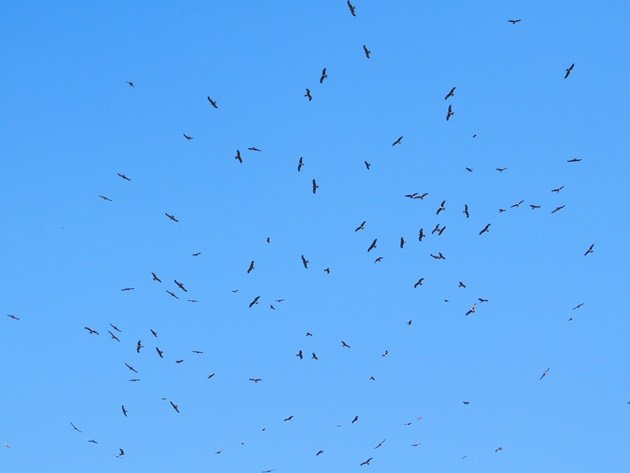 Black Kites
A female Black-necked Stork landed on the opposite side of the river. We often see Black-necked Storks at this spot and even young birds. However, we discovered a nest a bit further downstream on the far bank with two young birds in it.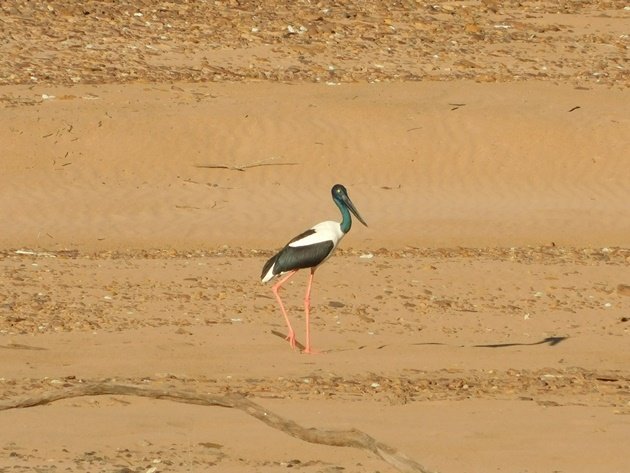 Female Black-necked Stork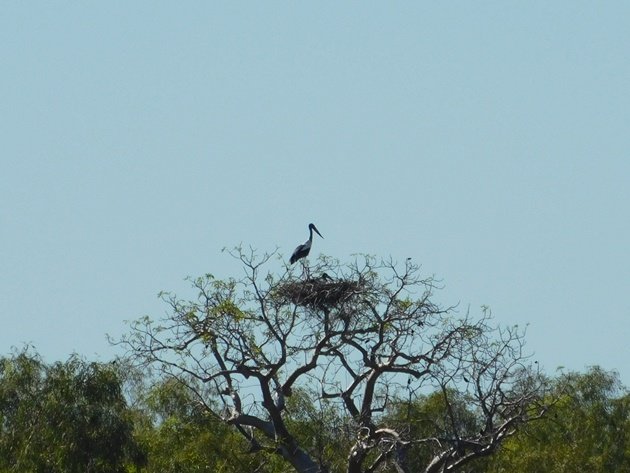 Black-necked Stork on a nest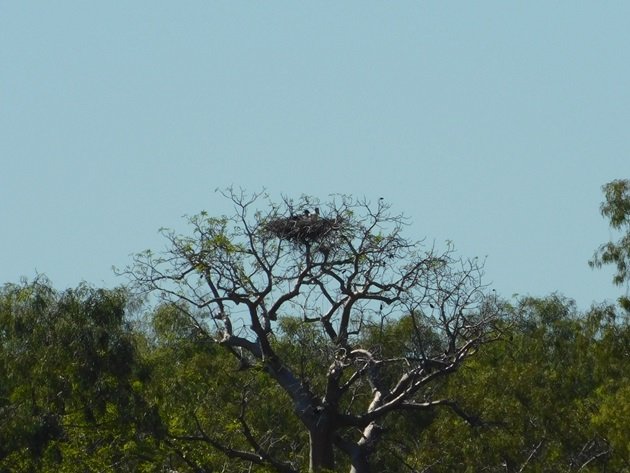 Two young Black-necked Storks in a nest
A variety of bird species appeared to have bred in recent weeks. There were juvenile Black-faced Woodswallows with their parents. All the birds look great with a blue background! Blue skies are something we will have to put up with for a few months now. Clouds are a rare sight during the winter in the north of Australia!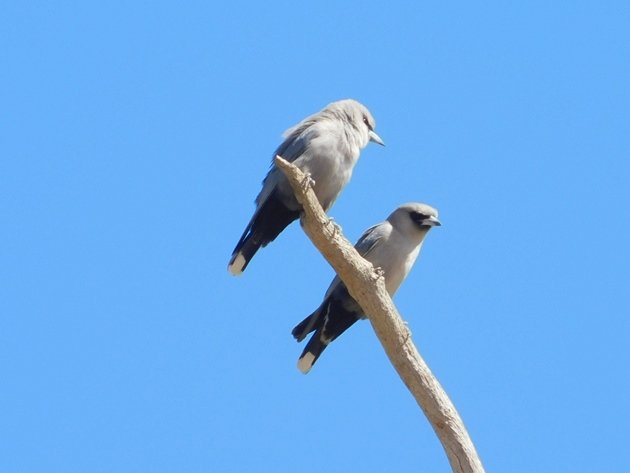 Black-faced Woodswallows
One reason for camping at this location is the opportunity to see Varied Sittellas so easily. They follow the trees along the river and you hear them moving among the trees as they feed. They rarely stay still for a minute and spend a lot of time upside down.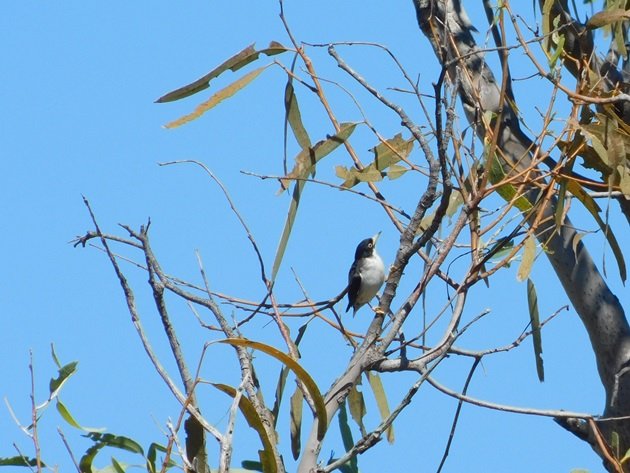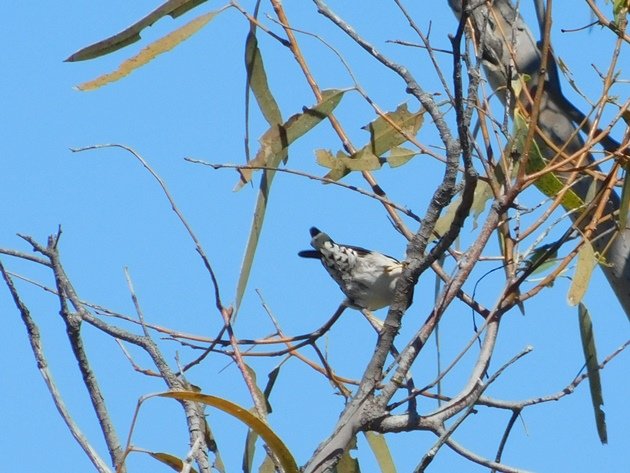 Varied Sittella
Other birds that we observed were a little trickier to see. The Red-winged Parrots were quite well camouflaged in the trees as were the Black-chinned Honeyeaters. The distinct sound of the Red-tailed Black Cockatoos as they came to the river was unmistakable!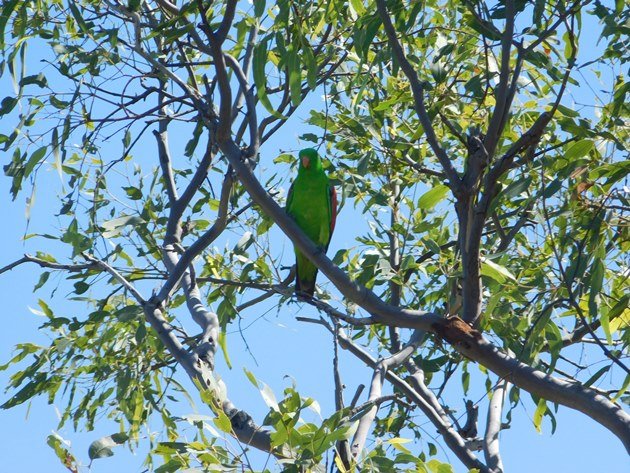 Red-winged Parrot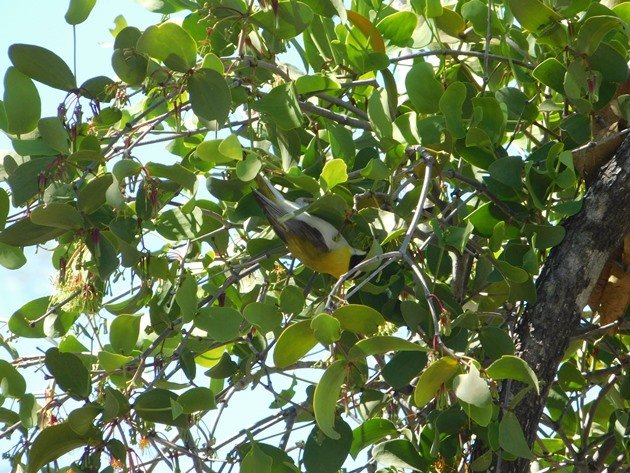 Black-chinned Honeyeater
The night time temperature is cooler at this time of year and makes for pleasant camping. The crocodiles are not out of the river at the cooler times of day, but once the temperature warms up they are soon seen lounging about. You are guaranteed to see crocodiles at Langi Crossing! It is important to not leave any rubbish lying about and respect their territory. There was a lot of water movement over the weekend, because the sea pushes in and meets the river. High tide at Langi Crossing is about 3 hours later than at Derby.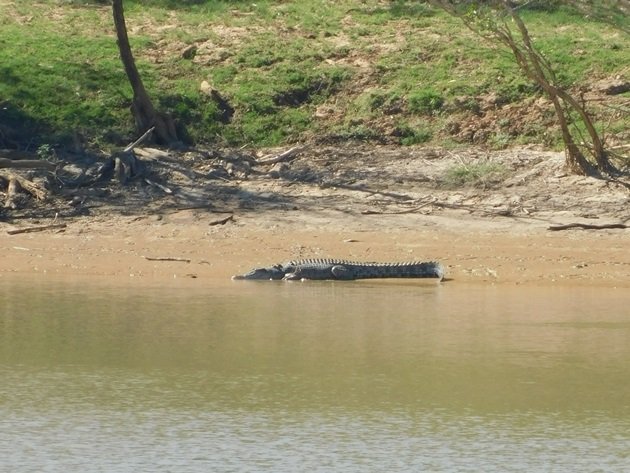 One of many crocodiles
On Friday night the moon came up just before sunset, so it was not as spectacular as Saturday night. The full moon rose opposite our camp and reflected across the Fitzroy River.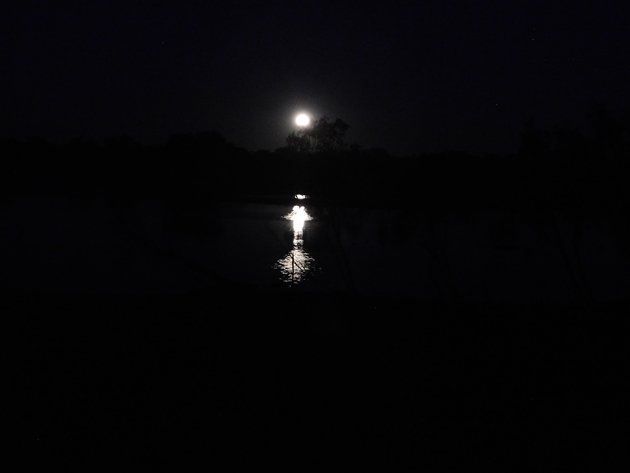 Full moon rising
It was really good to get back out in the bush and enjoy a couple of nights by the Fitzroy River. We observed sixty nine species of birds whilst we were there and we are looking forward to more camping trips away now that travel restrictions are easing. It is now possible to move around Western Australia, but nobody can come here from anywhere else. It is also not possible to enter any Aboriginal communities, so there are many places that remain off limits. You can however come north and warm up if you are currently in Western Australia. We have noticed a few extra people around town this week warming up!