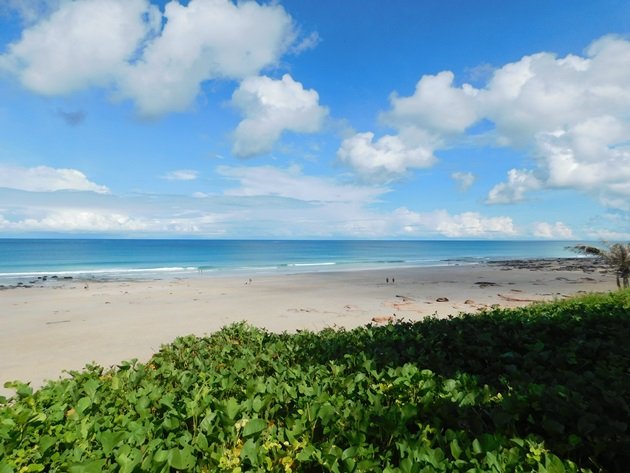 Whenever we are able we spend our Christmas Day birding together. If either of us is working then we still do a list each and combine it at the end of the day. It is almost a practice run for New Year's day when we start a new bird list for the year. However, what we see one week can really vary by the following week depending on the weather and the tides.
Christmas Day in Broome this year started with some clouds and we had a short sunny rain shower the day before. We get a lot of isolated showers at this time of year and they can easily miss the rain gauges at the designated locations around the north of Western Australia. The towns are few and far apart and the rain clouds appear to come and go in between the rain gauges.
We are very lucky here to see such a huge variety of birds around town. Sadly the recent rain has brought the mosquitoes out in force and we had to mostly bird from our vehicle on Christmas Day, because they were so persistent. We really don't want to get one of the many incurable mosquito borne diseases.
We were delighted to see two Mistletoebirds early on in the morning, but they were both male, so I still don't have a female Mistletoebird photographed. We rarely see Black-shouldered Kites in December around Broome, but we observed one near Cable Beach. That is the joy of a day to make a list. A bird you normally see daily may elude you, but also there may be some surprises.
At Cable Beach we were not expecting to see many shorebirds at all due to the neap tide. Looking down onto the beach we soon observed a small flock of Great Knot rapidly feeding at the shoreline. Of course the Silver Gulls were down there too!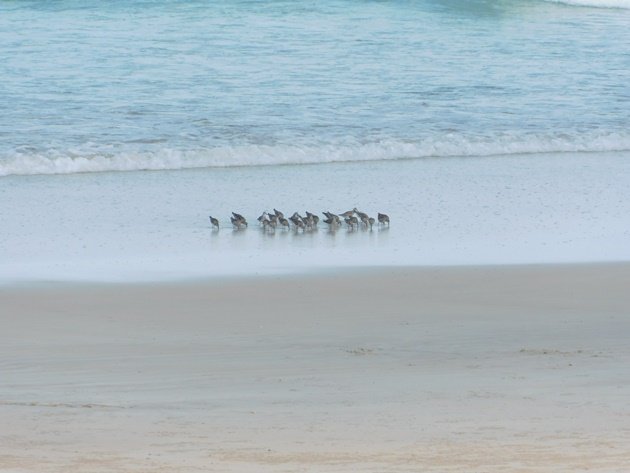 We then visited Gantheaume Point, at the far end of Cable Beach, to see what we could add to our list. We really topped up the list in that area. There were Crested Terns, Lesser Crested Terns, Straw-necked Ibis, Brown Goshawk, Brahminy Kite, Blue-winged Kookaburra, Black Kite, Rainbow Bee-eater, Torresian Crow, Sooty Oystercatcher, Pied Oystercatcher, Greater Sand Plover, Lesser Sand Plover, Common Sandpiper, Whimbrel, Ruddy Turnstone, Grey-tailed Tattler, Bar-tailed Godwit, Magpie, Red-backed Fairy-wren, Osprey, Pied Cormorant and Grey Eastern Reef Egret to name a few. We had gone beyond the first fifty birds and it was only about 9:30am.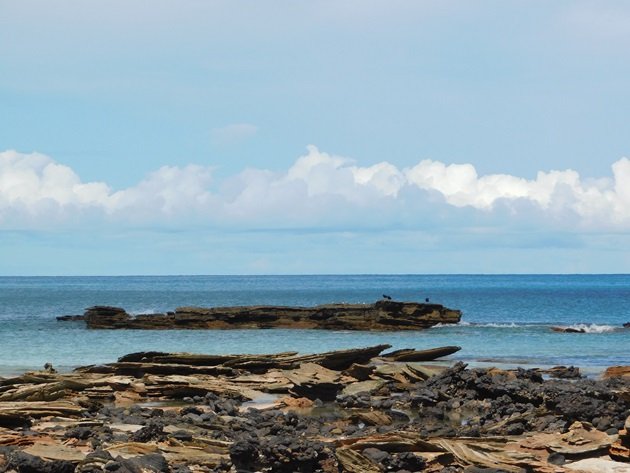 Our next stop was the port of Broome and we soon found the Brown Boobies sitting on the buoys. Common Greenshank, Terek Sandpiper and Grey Plover were added to the list. The clouds were starting to build up. Often it will rain just beyond the rain gauge in town and the sea breeze appears to just keep the rain away some days. The rain over the years has almost washed this tree below off the cliffs, but it continues to hnag in there!
We had hoped to add a few more bird species at the Poo Ponds. The expected Australian Pelicans were there and a handful of Plumed Whistling-Ducks, Eurasian Coot, Masked Lapwings and an Olive-backed Oriole was calling continuously. The Royal Spoonbills were nowhere to be seen and we did not see them at all on Christmas Day. Even the Australian White Ibis were absent!
In town we visited Streeter's Jetty to see the Red-headed Honeyeaters and also observed a Mangrove Fantail getting a drink from the fresh water drain. Our bird list for the day so far had reached sixty eight and we decided to head out of town for a short drive.
What a difference the recent rain has made to the landscape. After months and months of dry weather with not a cloud in the sky we are enjoying green grass, new growth everywhere and the arrival of different birds. How do they know!? It is only during particularly wet seasons that Magpie Geese come to Broome and already they have started to arrive. We presume there is a lot more rain to come over coming weeks if they are an indication of what is to come. We observed a flock of over eighty Glossy Ibis. This is another indication of more rain to come.
It didn't take long for the sky to go darker and darker and we got a free car wash! The temperature plummeted ten degrees to 28c.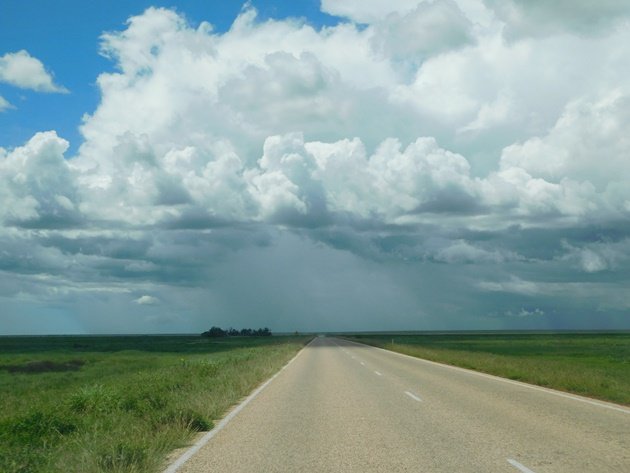 The rain "stopped play" and we headed back to town. We had a list of 92 bird species for the day. Some surprises as always and we could have done a bit of chasing if we had been desperate for 100 species. Christmas Day 2016 rain "stopped play" even earlier and we only got 74 bird species, but the following year on Christmas Day we got 119 species around Broome.
Each year is different and that has to be what is enjoyable about birding. Each day is different when you are bird-watching and you should treasure whatever comes your way.
All the best for 2021 and may your world be filled with the joy of birds wherever you are.