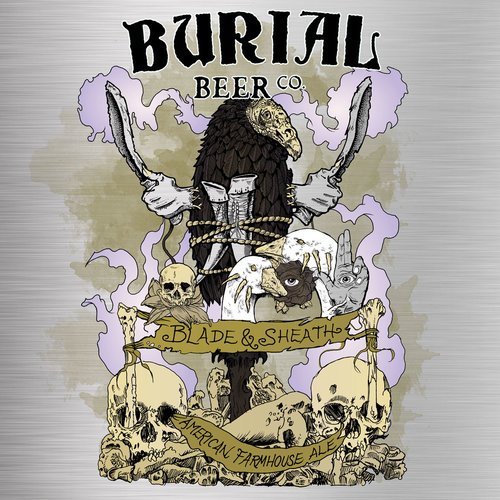 I reviewed a beer for Hallowe'en last week, but with All Saints' Day falling on Wednesday and All Souls' Day ending only a few hours ago, I thought I'd continue the gloomy and morbid mood in today's review with Blade & Sheath by Burial Beer Co. of Asheville, North Carolina. Not only does the brewery's funereal name lend itself to Day of the Dead celebrations, but Blade & Sheath's artwork showcases an ominous Turkey Vulture, perhaps the second-most unlikely avian star we've seen so far at Birds and Booze, and a bird that claims unrivaled associations with death and decay  There's also a Bald Eagle on the other side of the can – itself no stranger to scavenging – but I'm sure we'll get to plenty of those soon enough – even if it means I have to write a Budweiser review one of these days – so today I'm featuring the vulture.
Blade & Sheath is the first beer by Burial I've reviewed for 10,000 Birds, but it's not likely to be the last: their can-only offerings often feature birds thanks to the garish designs of their exclusive house artist, David Paul Seymour of Minneapolis. His artwork is clearly indebted to vintage heavy metal and comic book imagery, and he's responsible for what are easily the most lurid illustrations to grace beer packaging since Ralph Steadman's gonzo sketches for Flying Dog Brewery.
Burial vaguely refers to Blade & Sheath as an "American farmhouse ale", but also claims that it's "cut from the cloth of the Wallonian countryside" – the homeland of the saisons – so we know we're dealing with a domestic interpretation of  that Belgian product of farm brewing. I know I said I was done with saisons for the fall, but to be honest, they're delicious any time of the year, and I'm planning on sampling a glut of festive holiday beers in the coming weeks, so Blade and Sheath offers a light and refreshing pause before the holiday excesses to come. "Farmhouse" may hold as much water in today's advertising environment as "artisanal," but Blade & Sheath does feature a rustic grain bill heavy on the wheat and oats, in keeping with Wallonian saison brewing traditions.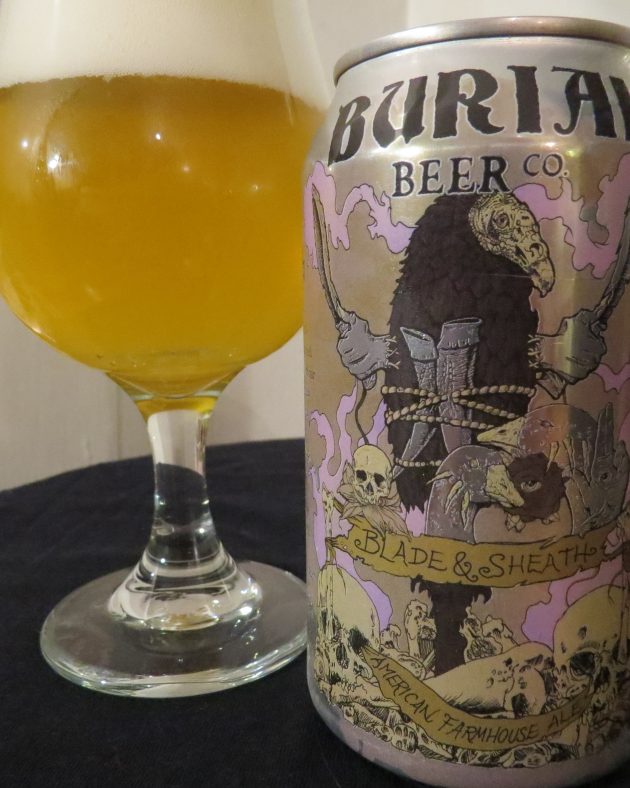 The ale cloaked within this dark and deathly packaging emerges surprisingly bright and sunny, pouring out a hazy but shimmering goldenrod; a perfectly cheery, summer yellow to brighten the dreariest November day. The remarkable head is a dense and foamy raft of meringue-white peaks that stays afloat after many swirls and sips. From this persistent cap arises bright tropical fruit aromas that one would expect in any saison-style beer, namely pineapple and banana. These share the stage with soft, hoppy hints of lemon, honeydew melon, peaches in syrup, thyme, and fresh-cut grass, the yeasty scent of rising bread, and an almost woodsy, white pepper mustiness. The taste is equally intricate and fulfilling: unmistakably citrusy and peppery, with fruity touches of apples, pears, and lemongrass coming through under hints of clove, a floral, clover honey sweetness, and the delicate, cracker-like flavor of unmalted wheat and oats. Blade & Sheath's soft bitterness is more mouthwatering than jarring, leading to a spicy, dry finish. Overall, Burial Brewing Co. has produced in Blade & Sheath a smooth and exceptionally palatable Belgian ale that offers an abundance of rewarding flavors.
A farmhouse ale like this begs to accompany French and Belgian country fare, or perhaps their more urbane incarnations on classic bistro and brasserie menus: croque monsieur, bouillabaisse, salade Lyonnaise, etc.  Blade & Sheath also has the spicy profile and enough palate-cleansing fizz to match well with charcuterie, grilled meats, and funky, bloomy-rind cheeses, as well as pairing beautifully with salads and seafood (moules-frites would be an excellent bistro selection). Saison might not be an obvious choice for the time of year, but such a versatile companion for so many foods would be a welcome addition to any Thanksgiving table, as well.
I'll try to keep things light and offbeat as we head into the holiday drinking season, but we're bound to indulge in many dark, rich, and cloying selections through the end of the year. 'Tis the season, of course, but it's nice to know there are also beers out there like Blade & Sheath that offer a refreshing respite.
Good birding and happy drinking!
________________________________________________
Burial Beer Co. Blade & Sheath





Four out of five feathers (Excellent)