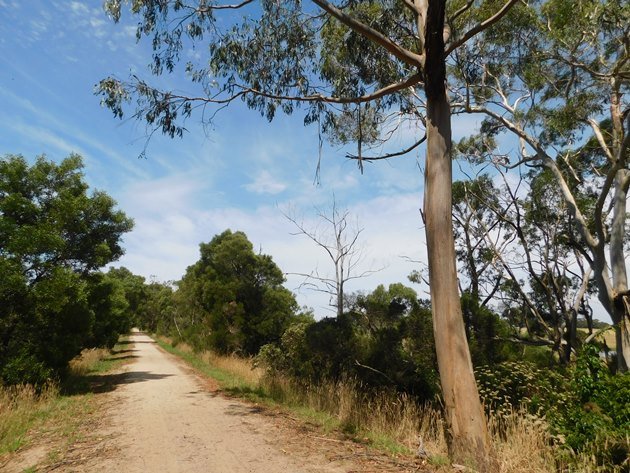 Over recent weeks I have been able to share some of my observations along the Great Southern Rail Trail in Victoria, Australia. I have introduced you to the sections from Foster to Fish Creek and also Foster to Toora. This week I will introduce you to the section from Fish Creek to Buffalo. This section is around ten kilometres/six miles long and it is quite windy with a few steady inclines and declines, but only as much as a train could handle! The trail is good and even after heavy rain is still passable. My journey this week was a return trip from Fish Creek to Buffalo. It was a leisurely walk as I took in nature and a morning of sunshine that was about to turn into another wet Victorian day or two!
Leaving the small community of Fish Creek you soon cross Fish Creek itself, which is a small creek. Agapanthus are in full flower everywhere at the moment and line farm drive-ways and parts of the trail.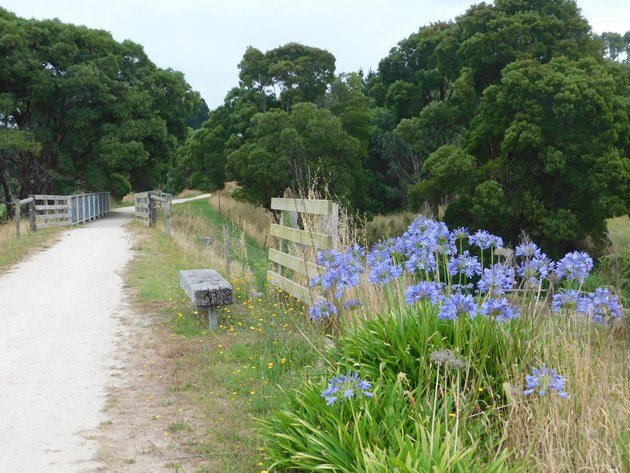 Approaching Fish Creek from Fish Creek!
I soon encountered many of the local birds that I have become very familiar with over recent weeks.  These include Little Corellas, Red Wattlebirds, Little Wattlebirds, Common Mynas, Common Blackbirds, Galahs, Australian Magpies, Superb Fairy-wrens, Grey Fantails, Crimson Rosellas and Red-browed Finch.
There's a small dam near the Boys Road crossing and I always stop there to see what is about. The fields are covered in dandelions at the moment and there are often Black-shouldered Lapwings feeding. They are very similar to the Masked Lapwings in the north of Australia, but of course they have 'black shoulders"!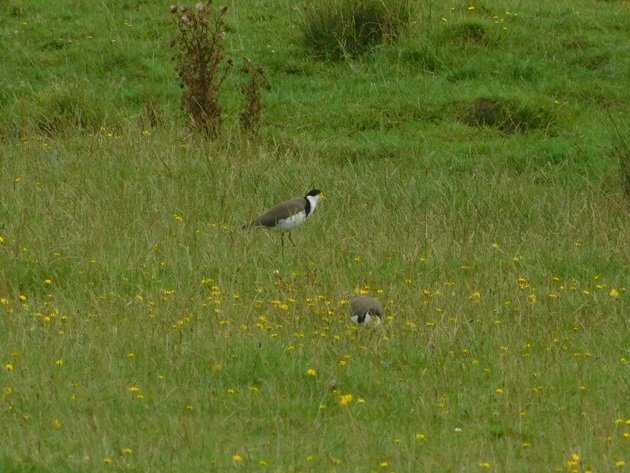 Black-shouldered Lapwings
There have been good numbers of Australian Wood Ducks near the dam recently. They are quite at home feeding on the grass with the Black-shouldered Lapwings.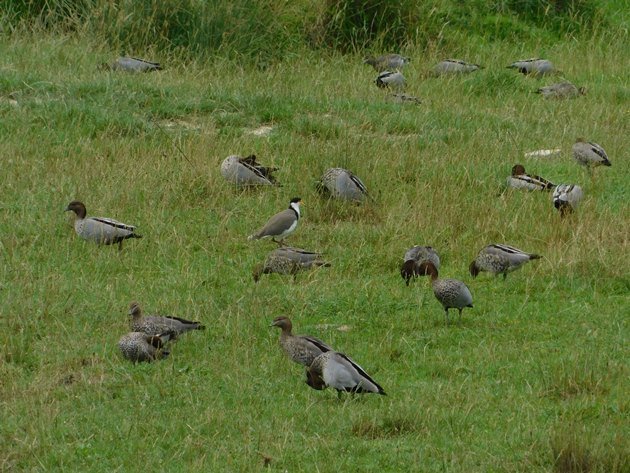 Australian Wood Ducks and Black-shouldered Lapwings
Continuing along the rail trail I soon add a Wedge-tailed Eagle, Spotted Dove, Striated Thornbills, Varied Sittellas, Eastern Spinebill and Grey Shrike-thrush. Another small body of water well below the trail adds Pacific Black Duck, Grey Teal and Chestnut Teal to the list and then a lone Australasian Grebe.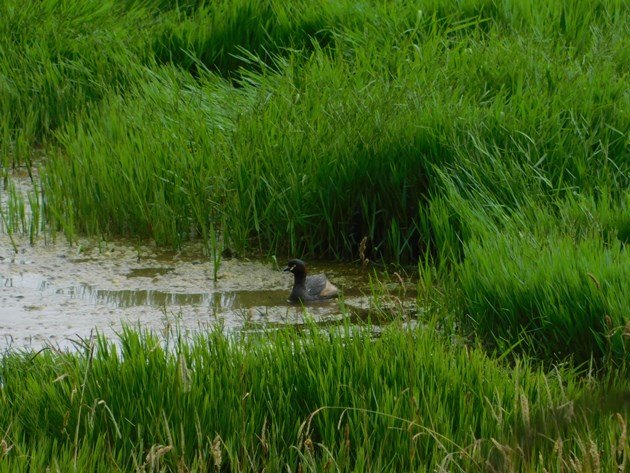 Australasian Grebe
Some parts of the trail offer views over much more open country and I am lucky enough to encounter a Peregrine Falcon and a Nankeen Kestrel. Welcome Swallows pass overhead and then the dead tree close to the trail in the header photo becomes a roost for a Willie Wagtail and several Dusky Woodswallows. I didn't observe Dusky Woodswallows last year, so it has been great to see them at last. In Broome we are familiar with White-breasted Woodswallows, Black-faced Woodswallows, Masked Woodswallows and Little Woodswallows.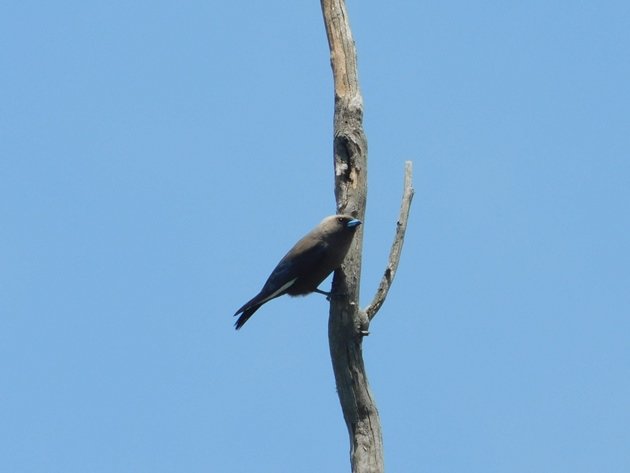 Dusky Woodswallow
I encountered my first Black-faced Cuckoo-shrike for the year, which was surprising due to the fact that I normally saw one near Fish Creek late last year. I continued on to the old Buffalo railway station and there are toilet and picnic facilities available and a playground for children. Yellow-faced Honeyeaters, Eastern Yellow Robins, Striated Pardalote, Spotted Pardalote, Laughing Kookaburra and one lone Pacific Gull were added to the list during my leisurely stroll. I suddenly noticed a distant shape in the trees that was large and round! There was a Koala doing…nothing! They have perfected doing very little!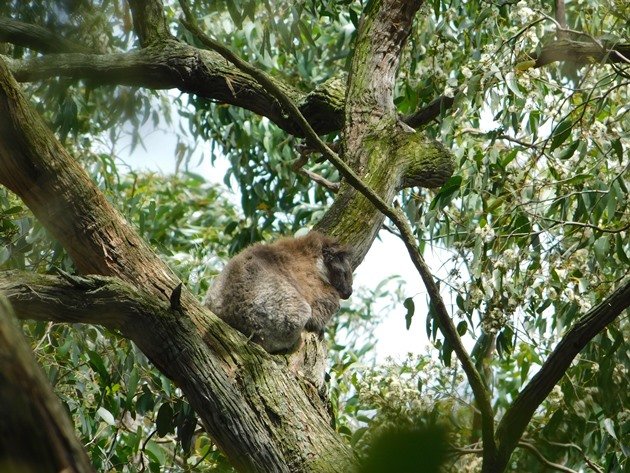 Koala doing…nothing!
The Koala then had an itch, so there was a little bit of action! I attempted some photos from a different angle and it is always incredible how they balance so well in the tall trees.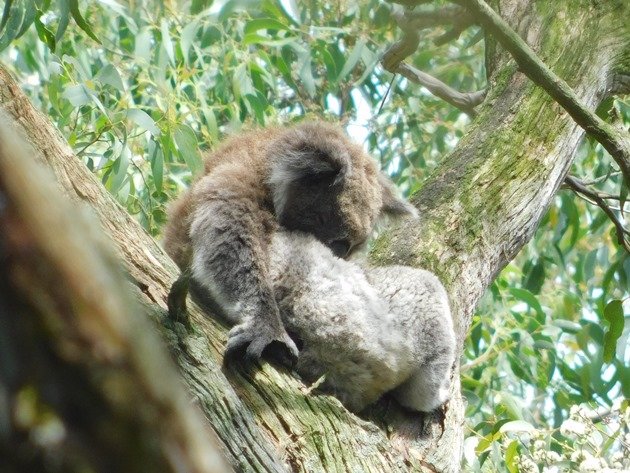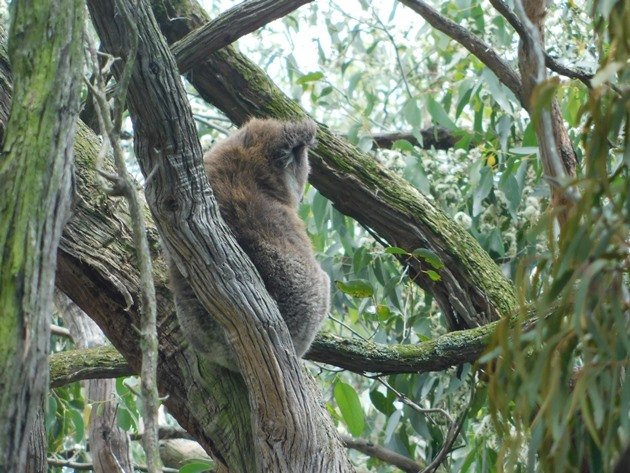 Koala
As I continued back towards Fish Creek there was quite a commotion close to the trail, but high in the trees. Two Australian Magpies had discovered a Wedge-tailed Eagle roosting at the top of a very tall tree. They were not impressed and they kept on swooping at it until it moved on.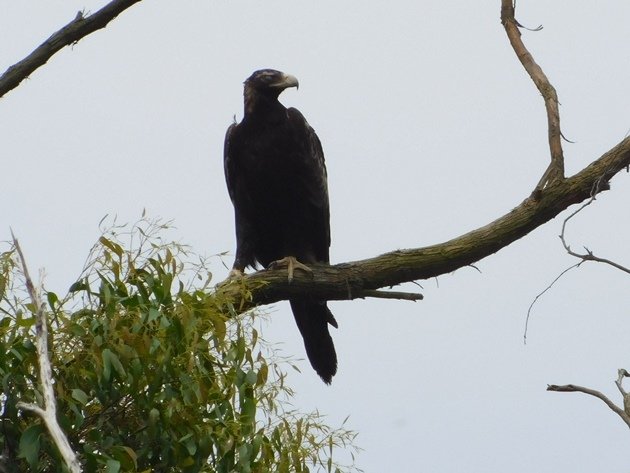 Wedge-tailed Eagle
When I returned to the small dam where there had been so many Australian Wood Ducks earlier in the day I discovered that the eleven cows had been joined by two Cattle Egrets. There had been quite a few Cattle Egrets in the area until recently and so it was good to see them for the first time in 2020. They had good breeding plumage, although that is not clearly apparent when the photo was taken from so far away!
Two Cattle Egrets with four cows!
When I got back to Fish Creek there were European Goldfinch making the most of the seeds on the thistles and New Holland Honeyeaters in the Callistemons. I was delighted to see Black-faced Cuckoo-shrikes back where I normally see them! There was an adult feeding a juvenile bird quite close to the trail.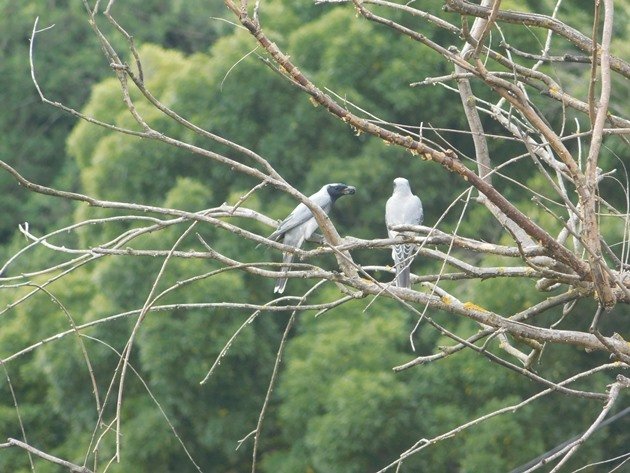 Adult and juvenile Black-faced Cuckoo-shrike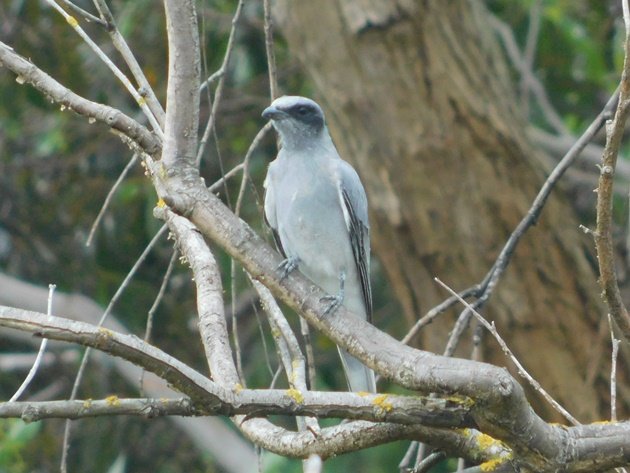 Black-faced Cuckoo-shrike – juvenile
Over the return trip from Fish Creek to Buffalo I encountered over forty species of birds. It is a constantly changing environment and an enjoyable stroll in the country! The trail can be walked, cycled or ridden by horse and I rarely encounter more than a handful of people over several hours.