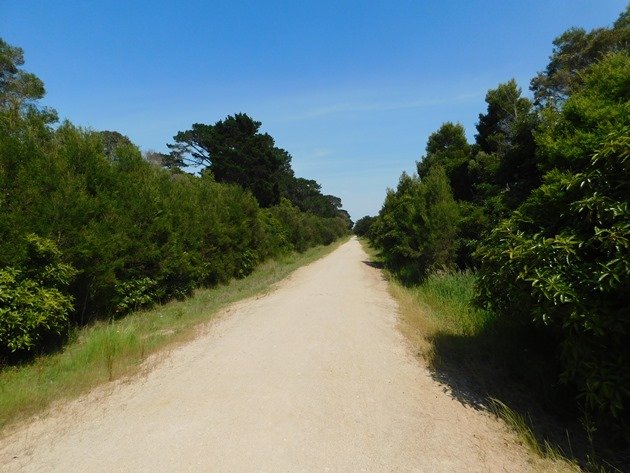 Last week I introduced you to a section of the Great Southern Rail Trail in Victoria from Foster to Fish Creek. This week I will introduce you to another section from Foster to Toora. This section of the trail is very flat and only just over ten kilometres long. It is another enjoyable section with a variety of habitat.
When you first leave the old Foster railway station you go through dense bush with a swampy area below the trail. Frogs are always calling as you pass through this area before you reach Charity Lane. Common Mynas are often in the fields as you continue on along the trail on the other side of the road. This next short section does not have shade and is one of very few areas where you do not have the benefit of trees lining the edge of the trail. Straw-necked Ibis, Australian White Ibis, Black-shouldered Kites, Nankeen Kestrel, Eastern Rosellas, Common Starlings, Red Wattlebirds, Little Wattlebirds, Welcome Swallows and Fairy Martins are often in this area. I also often observe a pair of Wedge-tailed Eagles towards the hills on my left as I follow this section of trail. There is a water trough for the dairy cows, but sometimes the Pacific Black Ducks take advantage of the trough!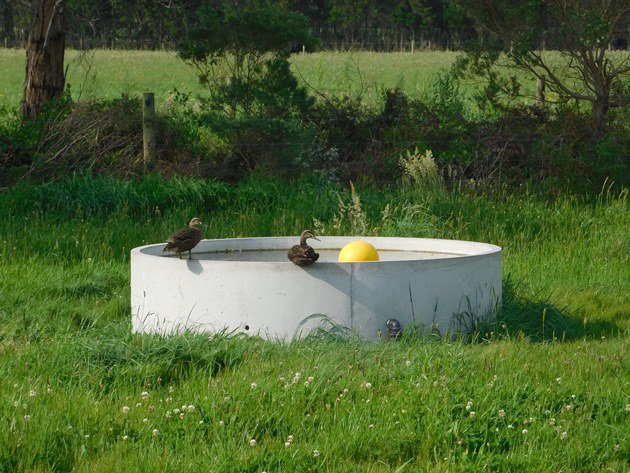 Pacific Black Ducks
As you return to the tree lined section of the trail there is a small bridge that takes you over Bennison Creek. I always approach the bridge slowly to see what bird species are below and around the area. I have seen Chestnut Teal, Grey Teal, White-faced Herons, Superb Fairy-wrens, Eastern Yellow Robins, Brown-headed Honeyeaters, New Hollands Honeyeaters, Yellow-faced Honeyeaters and White-eared Honeyeaters in the area on various walks.
Bennison Creek Bridge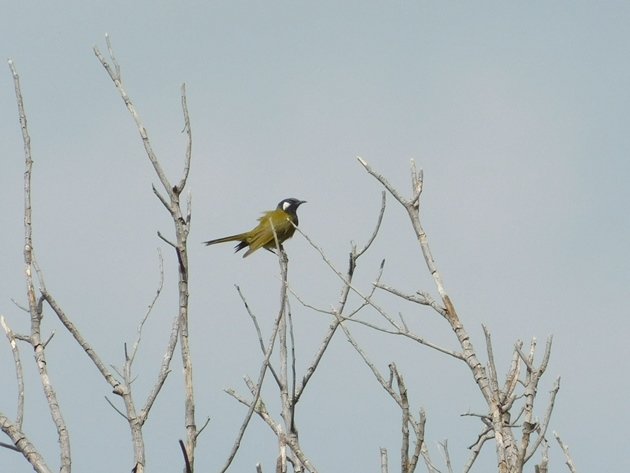 White-eared Honeyeater
There is a family of feral foxes that I often encounter near Bennison Creek. They usually bolt as soon as they see me, but I have been able to take a few photos of them. Foxes were introduced to Australia in 1855 for hunting and have established themselves far and wide. Foxes have recently arrived around our home town of Broome, but we have only seen those that have been hit by traffic.
Feral Fox
As the weather warmed up the snakes became a lot more active. I have been encountering snakes on an almost daily basis, but thankfully the white chips on the rail trail do make them easy to see.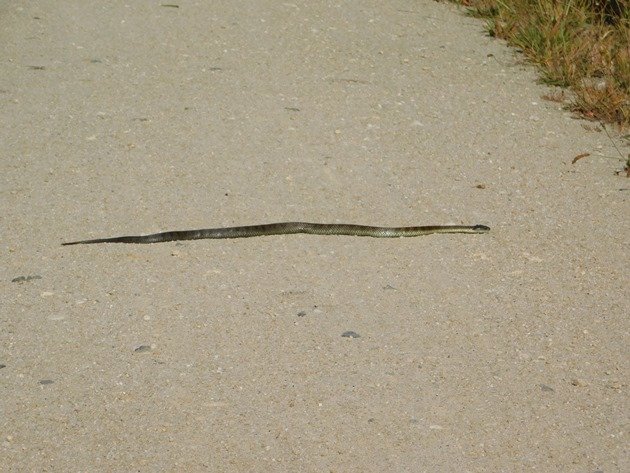 Tiger Snake
The tall trees between Bennison Creek and the Port Franklin Road are always very productive. Once I find a few active species I watch and wait. I have encountered Striated Thornbills, Rufous Fantails, Australian King Parrots, Crimson Rosellas, Rainbow Lorikeets, Golden Whistler, Rufous Whistler, Grey Shrike-thrush, Eastern Crested Shrike-tit, Orange-winged Varied Sittella, Striated Pardalote, Spotted Pardalote and White-throated Treecreepers.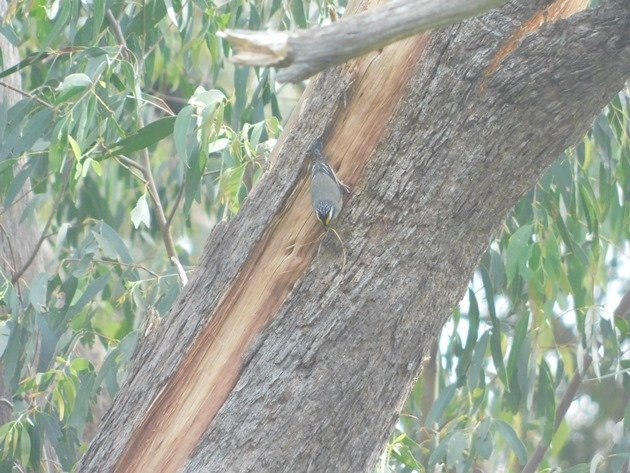 Striated Pardalote with nesting material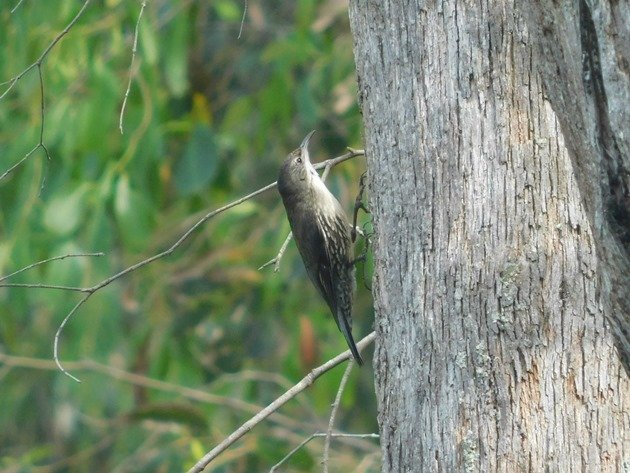 White-throated Treecreeper
There has been a Silky Oak in flower over several weeks just before the Port Franklin Road crossover. This particular tree has been excellent for a variety of bird species including Eastern Spinebills. I was rather surprised to observe a Bell Miner feeding in the tree on 10th December, because it is rather out of its range according to field guides. However, we all understand that the guides are there for human reference and not birds! The Bell Miner was still present on the 16th December and thankfully I was able to show it to a local birder.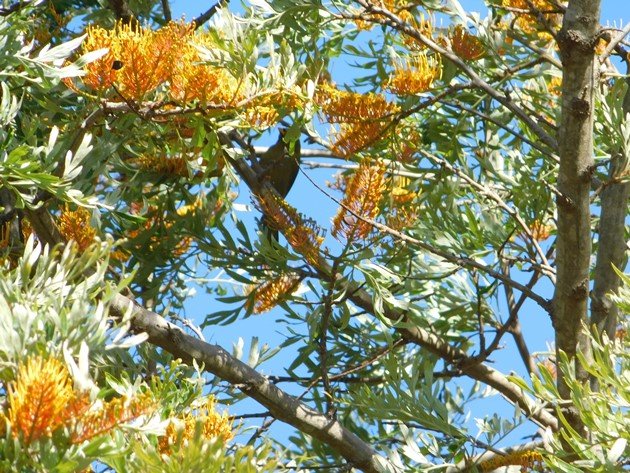 Bell Miner
Around the Franklin River Bridge I have been lucky enough to encounter a pair of Grey Goshawks and also a pair of Australian Hobby.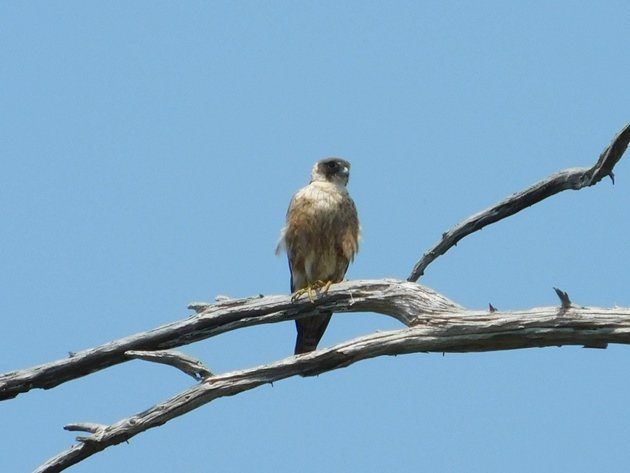 Australian Hobby
Where there is remaining water on the edge of the trail there are often birds. The area is not as dry as many parts of Victoria, but there is not a lot of water beside the trail on this section. Grey Fantails, Red-browed Finch, White-browed Scrubwrens and Silvereyes drop down to drink and bathe.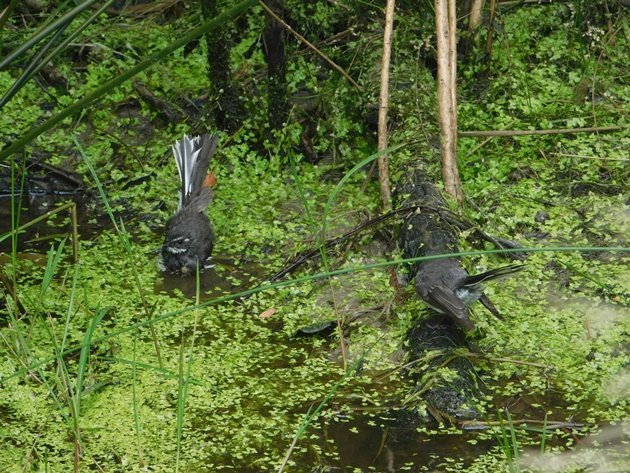 A pair of Grey Fantails bathing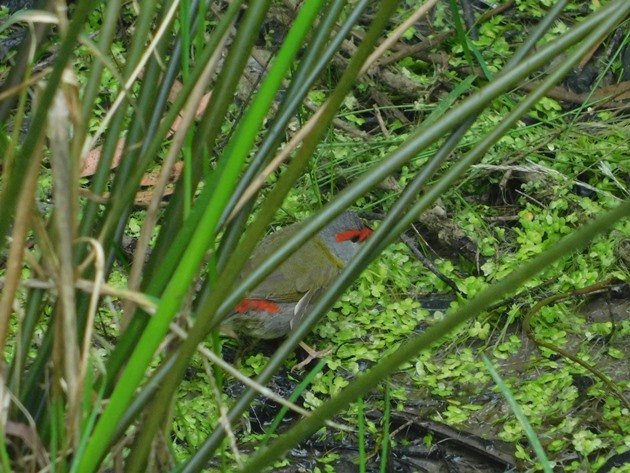 Red-browed Finch getting a drink
Beyond the Franklin River I often encounter Willie Wagtails and Crested Pigeons, which I rarely encounter anywhere else on the trail. A small dam usually offers Australian Wood Duck and Magpie-larks. You cross the Lower Toora Road and continue on to the old Toora railway station. There is a park there with toilets, picnic benches and shade and a short stroll takes you into the small town. Wherever the trail crosses the road there is a small area where a vehicle or two can park to do shorter sections of the trail.
This is an excellent trail that offers numerous bird species and there are rarely many people walking, cycling or riding horses along it. Whether you choose to walk from Foster to Toora and back or parts of the trail you won't be disappointed.