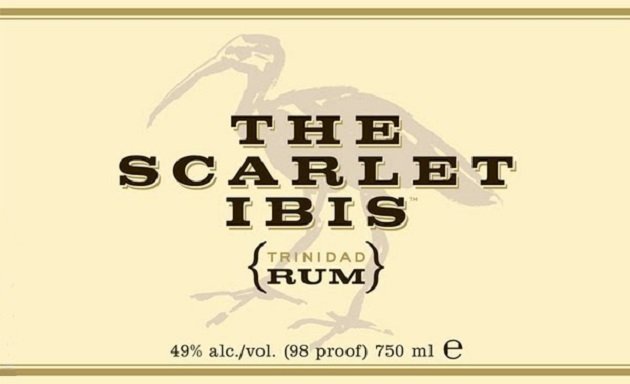 One of the first things most people think of when they think of Trinidad – perhaps after steel drums and calypso – is rum. We birders tend to think of the island as a comfortable and practical introduction to the overwhelming avian diversity of the New World tropics – but rum probably isn't too far from our minds, either. I've never been to the Caribbean, but I suspect many visitors to Trinidad welcome the end a long day of birding the island's mountains, beaches, and lush rainforests with a tot of rum – or two. While I have no plans to visit the tropics this year, the weather will be hot and stifling soon enough here in upstate New York and I know I'll be looking to satisfy a summertime craving for rum.
Tropical birds are no strangers to rum marketing, but as much as I love parrots, the world has seen more than its share of the proverbial bottle of rum (Yo-ho-ho!) festooned with shoulder-perching Captain Flints and others of his psittacine ilk. Even more dismaying for us who expect a little "terroir" in the appearance of birds on our booze is that they're often not even Caribbean parrots! For instance, it's worth pointing out that one well-known line of flavored rums features a Scarlet Macaw, a bird mostly found deep inland in the Amazon basin, far from the sandy shores of rum's Caribbean birthplace. For the sake of his mates, I pray the good Captain's knowledge of navigational charts is on more solid ground than his interpretation of range maps.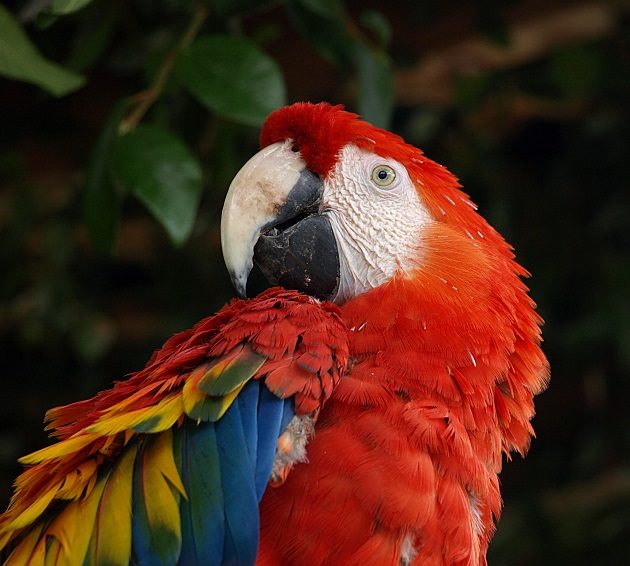 "Look, you're the Captain, but maybe I should be on a bottle of cachaça instead?"
So, on a recent junket to the liquor store, I ignored the "old tyme" piratical clichés in the rum aisle and was delighted to find instead The Scarlet Ibis, a rum named for a less swashbuckling but no less flamboyantly feathered ambassador of the tropics – and one with close associations with Trinidad, one of the great rum-producing countries. The Scarlet Ibis is one of two national birds of the Republic Trinidad and Tobago, the other being the Rufous-vented Chachalaca. I'll be sure to let you know as soon as I find a bottle of anything with one of those on the label.
Even more surprisingly, The Scarlet Ibis features what is quite possibly the most understated depiction of this dazzling bird imaginable. This ibis is rendered in a minimalist, two-tone silhouette, lacking any trace of its brilliant namesake color (the Captain's sales crew would have mutinied in that marketing meeting). The fact that this label takes one of the most Day-glo-plumaged birds on the planet and recasts it as an elegant but restrained logo lets us know this is a more sophisticated tipple – not your usual liquor cabinet rum for glugging into the "Margaritaville"-branded blender full of crushed ice and frozen strawberries out by the cabana. However, listening to Harry Belafonte while imbibing The Scarlet Ibis is still permitted.
While this ibis might not be as visually conspicuous as the vivid hordes at the Caroni Swamp, it compensates for its unexpected lack of color with its pedigree: The Scarlet Ibis was first commissioned by the trendy New York City cocktail bar Death & Co. and has only been available on a limited basis as supplies allow. Each release is blended and bottled by specialty spirits importer Haus Alpenz of Austria from a selection of three- to five-year-old Trinidadian small-cask rum aged on American white oak, bottled at a stronger-than-usual 98 proof (49% alcohol by volume). Its more potent proof makes The Scarlet Ibis ideal for standing out in stirred cocktails – a role for which is was expressly formulated – but it also makes an excellent sipping rum when diluted slightly with a judicious splash of water.
Its higher proof gives the golden-hued The Scarlet Ibis some impressively viscous legs when swirled around a snifter. Satisfyingly rummy aromas of banana and butterscotch leap out in the nose, with a warm hint of ginger and nutmeg. A bit deeper in the glass, a rounded almond fragrance is tinged with oak and candied orange peel. There's a peppery bite and some heat to each sip, followed by a sweet and spicy expression of molasses and wood. The Scarlet Ibis ends with a slightly briny finish, with a dry, herbal taste of licorice lingering on the tongue.
After a long period of unfashionability, rum – like gin before it – is undergoing a resurgence in popularity and is getting some overdue attention as spirit worthy of serious appreciation. The Scarlet Ibis makes a wonderful introduction to the exciting assortment of upmarket rums out there. And while I reckon it tastes best while watching hummingbirds at the Asa Wright Nature Center in Trinidad, I'm sure you can find plenty of excuses to sample it over the coming summer months, wherever you are.
Happy drinking and good birding!
---
Haus Alpenz: The Scarlet Ibis – Trinidad Rum





Four out of five feathers (Excellent)