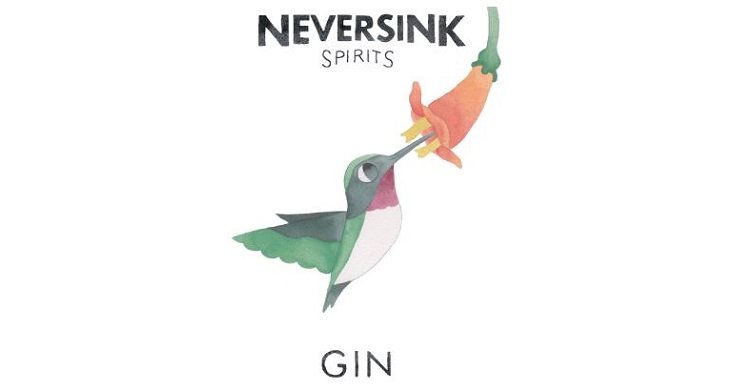 Juniper is a decidely wintery spice, and its piquant, piney flavor is generally used to season game, offal, and charcuterie, steaming heaps of sauerkraut, warming cordials, and other hearty fare best enjoyed during the shorter, darker days of the year. But take that same juniper and distill it into gin and you get a spirit with a sweet, floral bouquet that transforms this pungent evergreen berry into a cooling drink for even the most sweltering summer days – and one that's made even better when paired with lime, a splash of tonic water, and plenty of ice.
Our featured spirit this week is Neversink Spirits Gin, the flagship product of Neversink Spirits, a craft distillery in Port Chester, New York. It's not our first encounter with juniper at Birds and Booze, but this is our first gin, surprisingly. Of course, we had to wait until I found a gin decorated with a bird, rather than, say, a portrait of Queen Victoria (as found on bottles of Bombay Sapphire) or one of those burly Beefeaters that guard the Crown Jewels. In fact, visually, the sprightly Ruby-throated Hummingbird (Archilochus colubris) that adorns the label of Neversink Spirits Gin is about as far as one can get from those stodgy, hidebound icons of British monarchism (which, to be honest, were always curious way to sell "mother's ruin" – as gin was once known – anyway). As for what's in the bottle, Neversink Spirits Gin is a bit of a departure from those old guard London-style classics too, as we shall see.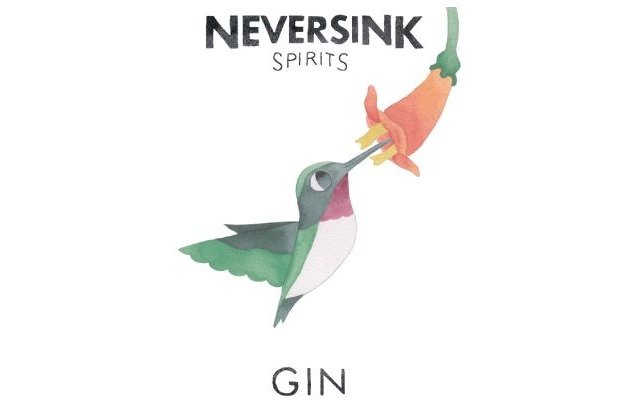 A Ruby-throated Hummingbird (Archilochus colubris) takes a sip on the watercolor label of Neversink Spirits Gin.
Gin is usually distilled from grain – often barley – though other fermentables like beetroot, grapes, potatoes, and sugar are used by some producers. But Neversink adopts an uncommon approach to gin production that's inspired instead by European spirits distilled from fruit – namely Calvados, the apple or pear brandy from Normandy, and eau de vie, a class of fruit-based brandies often distilled from wine and wine byproducts, such as the lees and grape pomace. Being located in a great apple-growing state like New York, Neversink uses 100 percent state-grown fruit to produce their apple-based gin. In fact, Neversink employs a total over fifteen varieties of apples in the production of its entire range of spirits and has begun planting heritage varietals of the fruit near its distillery.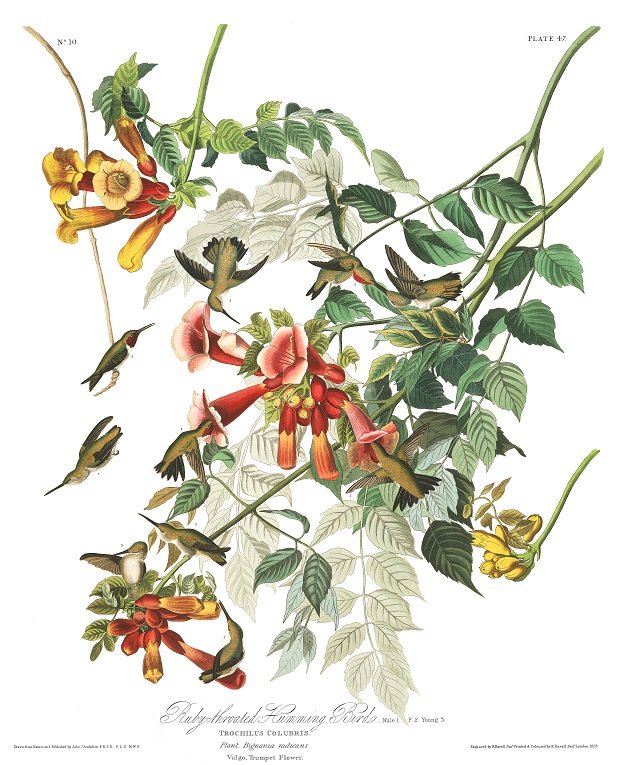 Ruby-throated Hummingbirds are important pollinators (depicted here by John James Audubon). As the only breeding hummingbird east of the Mississippi River in the North America, could they have helped pollinate the apple trees of Neversink Spirits?
While it's true that gin will always contain some juniper, Neversink joins a growing trend in gin-making over the last several years in muting its piney, Christmas tree aroma with a fine-tuned, complementary medley of botanical flavors. After macerating juniper berries in its apple-based distillate overnight, Neversink further infuses its gin with ten more aromatic botanicals: coriander, cardamom, star anise, cinnamon, orris root, angelica root, elderflower, and fresh orange, lemon, and grapefruit peel. The result is a sweet and delicate gin with just a hint of that hallmark juniper, but with a complex blend of floral and spicy flavors that work brilliantly with Neversink's subtle apple profile.
Neversink Spirits Gin would work well in the sort of novel recipes that came out of the craft cocktail trend of the last twenty years, as well making an interesting twist in classic recipes like the martini or French 75. And it certainly provides enough interest on its own to enjoy neat, perhaps over some ice with a slice of lime or a lemon twist, or completely unadorned to fully appreciate the carefully-balanced aromas. Neversink Spirits Gin is delicate but slightly spicy, with notes of menthol and cardamom over a bright, floral burst of orange zest. The palate is sweet, creamy, and full-bodied, very fruity but with a touch of baking spice and the merest whisper of juniper. Warming cinnamon and licorice mingle in the finish, and at the very end – a ripe hint of apple.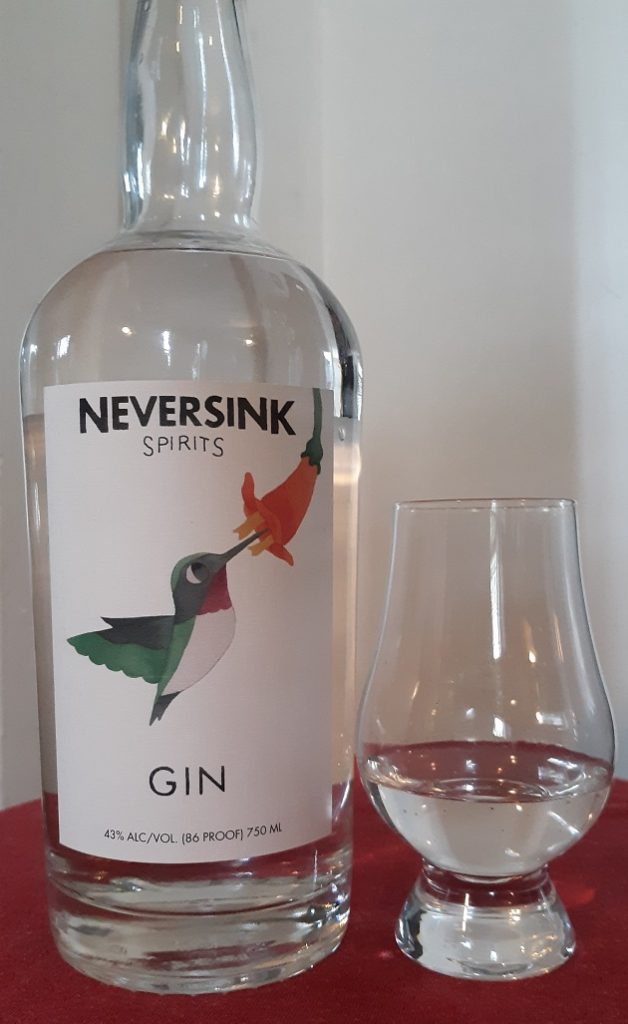 Good birding and happy drinking!
P.S. While I usually forget to make such recommendations, Neversink Spirits is located in eastern Westchester County, New York, right along the Connecticut border, and just a stone's throw from excellent birding at the Edith G. Read Wildlife Sanctuary and the Marshlands Conservancy, for anyone who wants to combine some birding with a distillery visit.
---
Neversink Spirits: Neversink Spirits Gin





Four out of five feathers (Excellent).