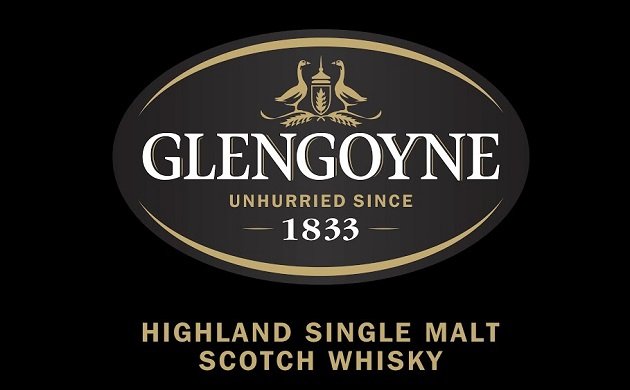 Whisky Month at Birds and Booze:
This January, Birds and Booze at 10,000 Birds is setting its sights on whiskies all month long. The cold and dreary dead of winter is as good a reason as any to warm up with a restorative dram of uisce, especially after a blustery morning spent scanning flocks of gulls on an icy shore, trudging through woodland snowdrifts in search of new year-birds, or any other half-crazed birding one does in January. But seeing as the month is also bookended by Hogmanay and Burns Night, we'll gladly take the opportunity to visit– in spirits, at least – the rugged Celtic landscapes of Scotland and Ireland where whisky was born and – with luck – have a look at the birds that inhabit them.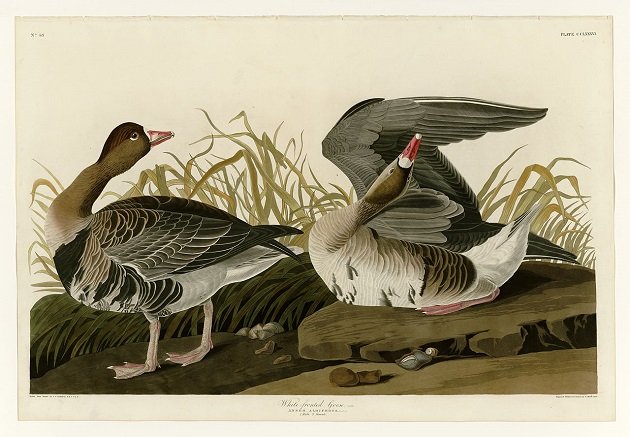 White-fronted Goose by John James Audubon (1785-1851) from The Birds of America.
Perusing an extensive menu of Scotch whiskies is a bit like poring over a telephone directory in Scotland. But instead of half the surnames beginning with "Mc" or "Mac", there are dozens of Scottish whiskies that incorporate the prefix "Glen-" in their name — labels like Glenfarclas, Glenfiddich, and Glenlivet, to mention just a few of the more famous examples. "Glen" is an anglicization of the Gaelic gleann (it's the same spelling in both Scots Gaelic and Irish), meaning "narrow valley", a common feature in the rocky, dramatic landscape of the Highlands and a name often affixed to both place names throughout Scotland and – eponymously – to nearby distilleries.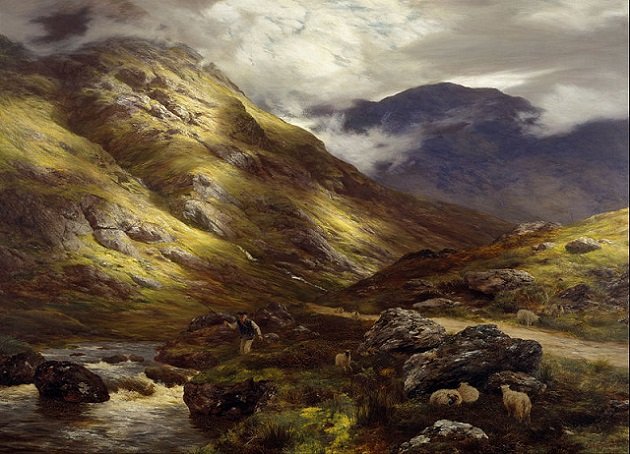 A glen nestled amidst the sublime, fog-shrouded mountains of the Highlands, as depicted by Scottish painter Peter Graham (1836-1921) in Wandering Shadows (1838).
So, "glen" is easy enough, but unless you're well versed in Scots Gaelic toponyms, decoding the names of the many "Glen-" whiskies out there in full requires a bit more investigation. Luckily, there are sometimes clues on the bottle, as is the case in our final feature for Whisky Month at Birds in Booze this year: a 15-year-old Highland single malt whisky from the Glengoyne Distillery at Dumgoyne, just north of Glasgow in Stirlingshire. Glengoyne's understated logo shows a simple silhouette of two standing geese facing one another, rendered either in silver or gold depending on the bottling – a nod to the distillery's name, which means "the valley of the geese" in Gaelic.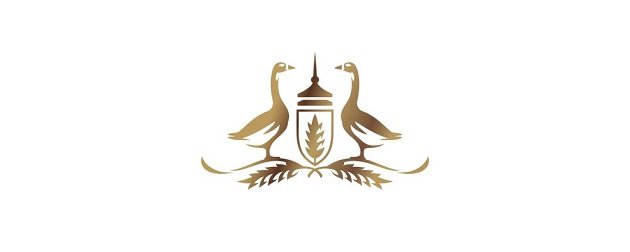 The emblem of Glengoyne,"the valley of the geese".
Undoubtedly, one reason Scottish distillers were so fond of naming their operations after little valleys like Glengoyne was the natural cover remote wooded hills and glens afforded to illicit production in the early nineteenth century, when burdensome British taxation and licensing forced many whisky makers to hide their stills from the exciseman. Local accounts mention smoke wafting through the treetops from moonshine operations around Glengoyne long before the present distillery officially opened in 1833. Today, whisky production at Glengoyne is entirely legal, open and aboveboard. The geese are still there as well – and not just any common barnyard geese, either, at least according to the distillery's publicity. It may not be a literal translation, but Glengoyne makes a point of interpreting its Gaelic name as "the valley of the wild geese".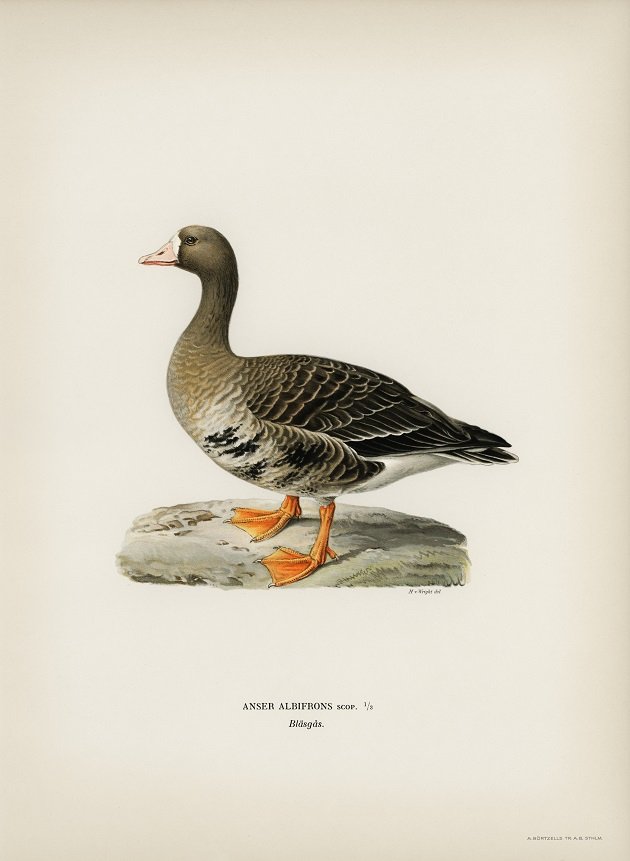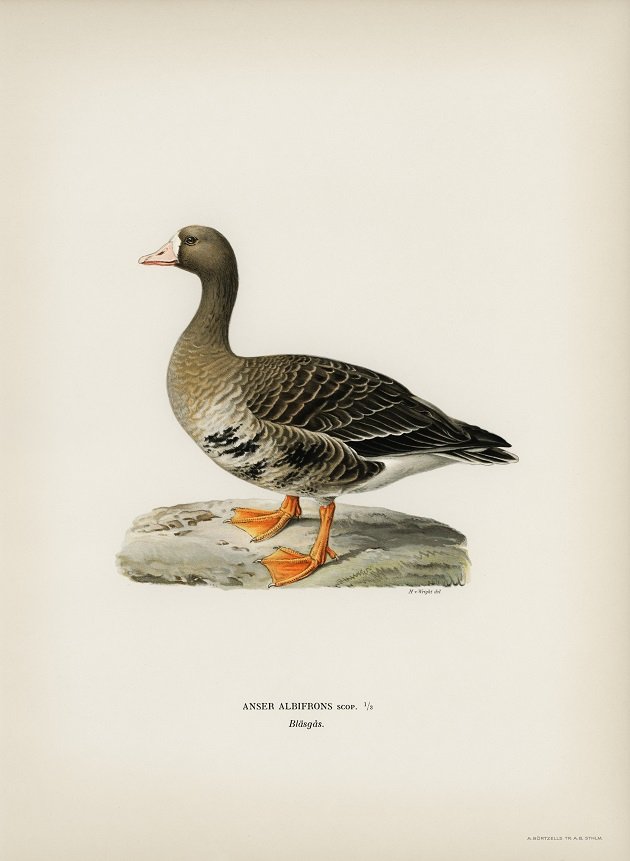 A Greater White-fronted Goose illustrated by Finnish painters and brothers Magnus (1805-1868) and Wilhelm von Wright (1810-1887) for Svenska Fåglar (Swedish Birds) (1829).
And wild geese do abound in this part of western Scotland, where the deep, cool lochs and abundant peat bogs, meadows, and pastures host impressive flocks of wintering geese. One of these wintertime visitants is the "Greenland" Greater White-fronted Goose (Anser albifrons flavirostris), a subspecies of the Greater White-fronted Goose that breeds in western Greenland and which has experienced drastic population declines in the last half-century. The "Greenland" Greater White-fronted Goose is sometimes seen in around Glengoyne at nearby Loch Lomond and could very well be the goose for which the glen was named. Since 2016, the Glengoyne Distillery has been a corporate supporter of research and conservation efforts by the Wildfowl and Wetlands Trust to study and counter the decline of the "Greenland" Greater White-fronted Goose in the face of threats like climate change.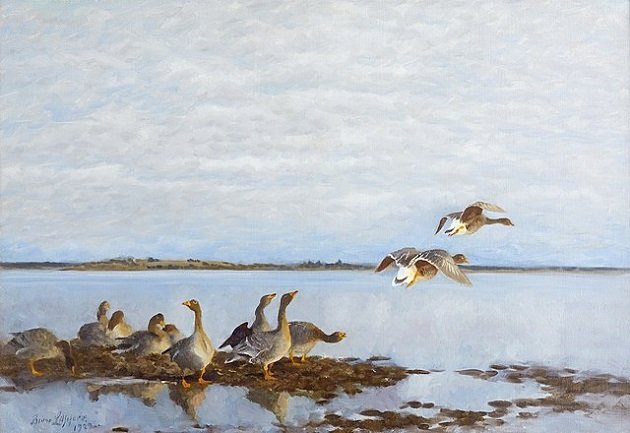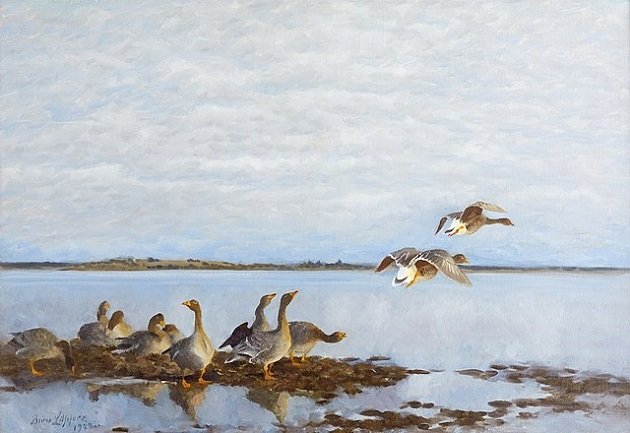 Gäss (Geese) (1922) by Swedish painter Bruno Liljefors (1860-1939)
Glengoyne is widely considered "the most beautiful distillery in Scotland" and the brand views the surrounding landscape and its wildlife an essential part of that beauty, both in word and stewardship. In addition to its partnership with the Wildfowl and Wetlands Trust, Glengoyne has relied on renewable resources for all its energy needs since 2013, keeps beehives on its premises, and in 2011, the distillery established a wetland which not only hosts local wildlife, but allows the distillery to treat its spent lees — the oily and cloudy wastewater leftover from distillation — slowly and responsibly through natural filtration.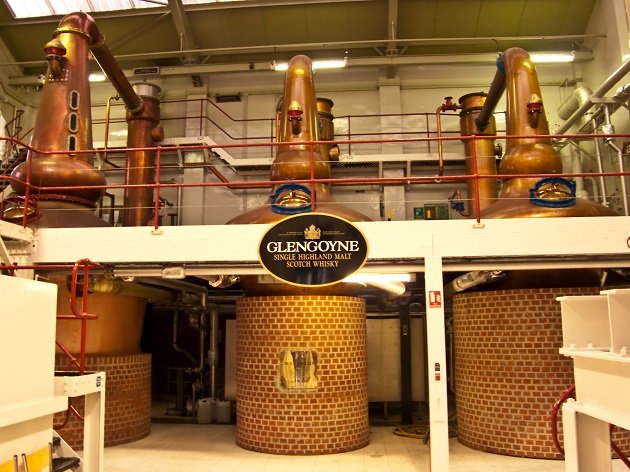 Glengoyne is famed for the surrounding landscape but the inside of the distillery isn't bad, either — particularly those brick-clad copper stills.
The Glengoyne Distillery lies tucked in a wooded valley below the Campsie Fells, in the shadow of Dumgoyne, a prominent hill whose name apparently also refers to geese (dùm is another common placename prefix in the British Isles and refers to forts, making this — it stands to reason — "the fort of geese"). It also sits close to Glasgow, along the picturesque West Highland Way, a popular hiking and hill walking route, from which it undoubtedly welcomes a fair share of tired and thirsty pilgrims. But the most notable aspect of the distillery's location is the Highland Line that runs straight through its premises, stranding Glengoyne on both sides of this boundary that traditionally cleaves Scotland between Highland and Lowland.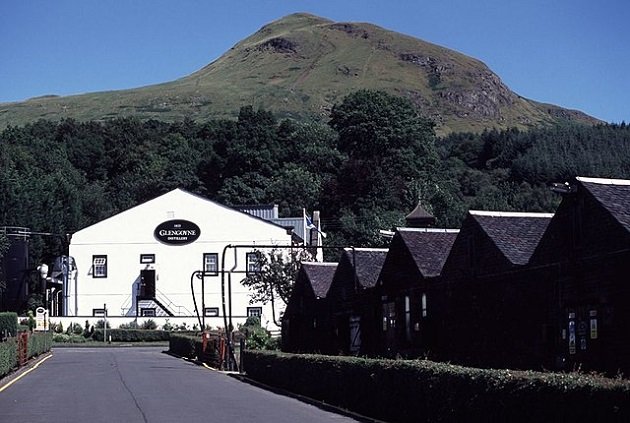 The Glengoyne Distillery, with Dumgoyne looming in the background. The hill is visible from Glasgow, over ten miles away.
Glengoyne's unusual position bestriding the Highland Line allows it to draw on ingredients and distilling traditions from both sides of this cultural and geographical divide. The distillery once relied on the nearby Glengoyne Burn — a small creek punctuated by an attractive waterfall just upstream from the stillroom — for all of its water, which was drawn from a point south of the Line on the Lowland side. But these days, greater demand for its whisky has forced Glengoyne to source process water from Loch Carron on the Highland side, relying on the little Glengoyne Burn for cooling water only. Complicating the classification of Glengoyne whisky between Highland and Lowland even further is the location of its buildings: the distillery maintains its stillroom on the north side of the Line, while its warehouses lie across the road on the south side.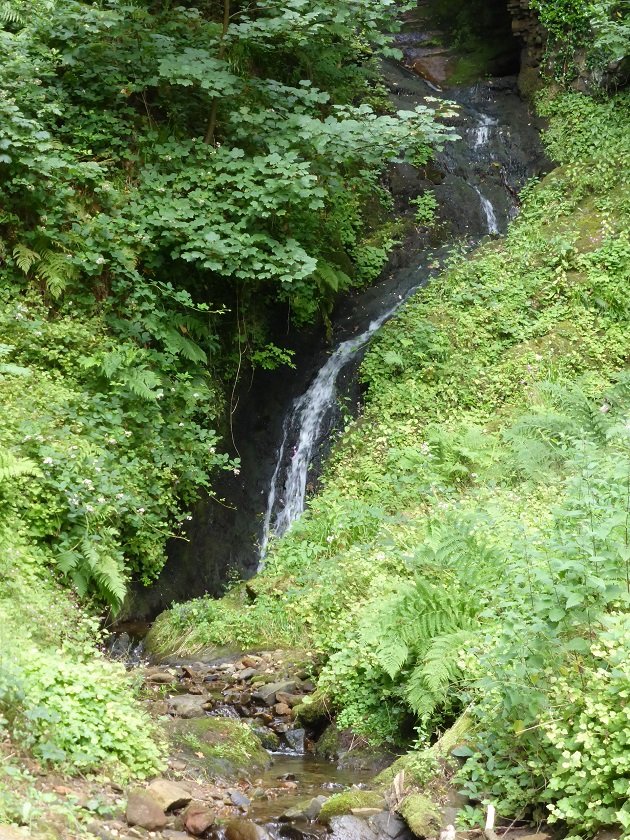 The Glengoyne Burn tumbles down towards the Highland Line on its course from Scotland's Lowlands to Highlands.
Glengoyne is generally considered a Highland whisky these days, even if its recipes lean south toward Lowland tastes in their deliberate avoidance of the peat-smoked barley more commonly used in the north in favor of clean-tasting, air-dried malts associated with softer, lighter Lowland single malts. "NEVER PEAT" the Glengoyne bottle lettering claims in bold, and for a long time, the distillery went by a slogan that promised "The authentic taste of malt whisky untainted by peat smoke".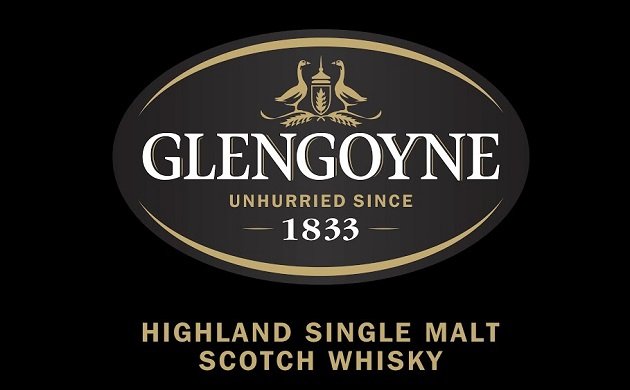 Glengoyne is also noted for its use of Golden Promise malt, a traditional variety equally prized by brewers. The distillery follows a variety of aging regimens for its products, using a combination of first-fill and refill bourbon and sherry barrels, made of both American and European oak. Half of Glengoyne's 15-year-old whisky is vatted in oak refill casks, with the remainder split between first-fill American oak bourbon barrels and first-fill European oak sherry butts. All this wood imbues Glengoyne 15 with a lovely golden hue and the bourbon barrels in particular impart a bright and fruity aroma of candied citron that even edges towards the tropics with hints of pineapple. The fragrance of ripe pears blends well with sweet and biscuity aromas that build in sugary intensity with each breath, showing hints of shortbread, caramel corn, and butterscotch. The sweet, malty palate is silky and oily, spiced with cinnamon and allspice, and rounded with the flavors of toasted walnuts and sherry. More subtle sherry influence comes through in the finish, which is oaky and drying, providing a pleasing end to this delicate and refined dram. To top it all off, the 15-year-old Glengoyne is a great value, and bottles can be found for just a few dollars more than the distillery's younger expressions.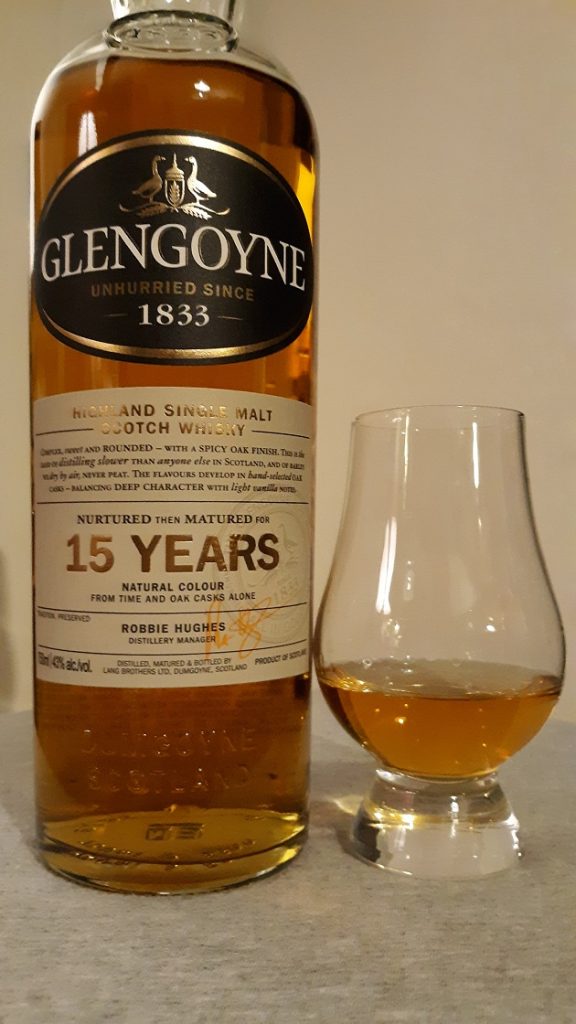 Good birding and happy drinking!
---
Glengoyne 15 Year Old Highland Single Malt Scotch Whisky





Five out of five feathers (Outstanding)