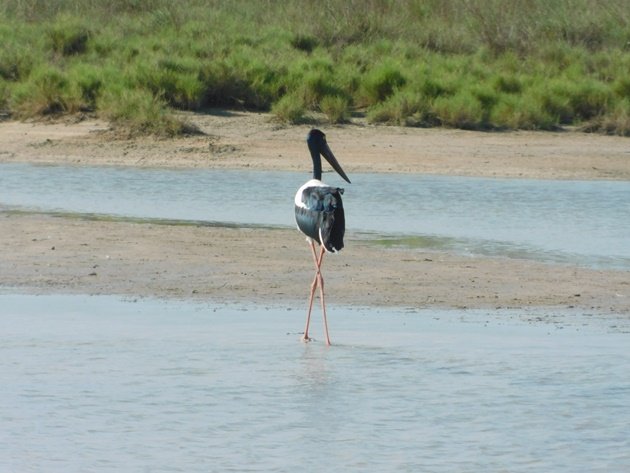 After spending Christmas Day birding around Broome and observing 92 species we spent the week making a mental note of what bird species were where. When you are planning to do a list exactly one week apart it is constantly on your mind. Every time the weather changes or you observe a bird you did not see on Christmas Day you wonder where it will be on New Year's Day. Then you take into account that the tides will be completely different and it is a whole new game!
January 1st had a much larger tide than December 25th and there was no point going to the coast until mid-morning or the shorebirds would be too far away to observe feeding on the mud. After observing a few birds in our garden we headed off into the bush out the back of our home. We had only gone about 1 1/2 kilometres from home when we discovered a pair of Black-necked Storks. The female bird with the yellow eye is in the header photo above. Even a lone Australian White Ibis was present close by and we had not seen one the previous Friday, but every day since! We managed to not observe Straw-necked Ibis or Glossy Ibis all day, but had seen both species a week ago! This is exactly why birding is such an interesting pastime. You can't presume that a common bird will be seen on one particular day!
Golden-headed Cisticolas were showing off along the fence-line! Horsfield's Bushlarks were also plentiful and Black Kites and Whistling Kites soared overhead. A Brown Quail nipped along the dusty track in front of us and the Australian Magpies were seeking shade, but being hassled by a Nankeen Kestrel. Rufous-throated Honeyeaters were getting moisture from the long grass and the Zebra Finch were making the most of all of the fresh seed.
We continued along the bush track to reach part of Roebuck Bay and add a few of the many shorebird species as the tide pushed them in. We knew we would not get all of the species in one day, but at least add a few to the list! Eastern Curlew, Whimbrel, Common Greenshank, Bar-tailed Godwit, Great Knot, Grey-tailed Tattler, Ruddy Turnstone, Grey Plover, Golden Plover, Red-capped Plover, Common Sandpiper, Red-necked Stint, Greater Sand Plover, Pied Oystercatcher were soon on the list. Crested Terns, Caspian Terns, Whiskered Terns and Silver Gulls were also onto the list and we headed back to town.
We had to let a Common Blue-tongued Skink cross the bush track. We waited in case it had a problem with the steep sides, but it was soon up and over. We had been lucky enough to have a young one in our garden this week too!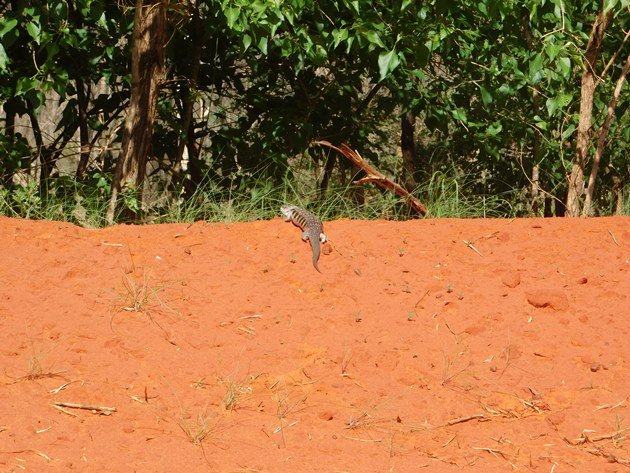 We stopped by Streeter's Jetty for the Red-headed Honeyeaters, Yellow White-eyes, Mangrove Golden Whistler and a Mangrove Fantail. There is an Australian Hobby nest in town and thankfully they have not completely fledged yet and were an easy one to add to the list. Our next stop was the Poo Ponds, where there are very few ducks now we have had some rain. We did find a family of Dollarbirds, though and it was the first time I had photographed four together!
We had not found a single Royal Spoonbill on Christmas Day, but we did find a lone bird at the Poo Ponds on New Year's Day and also a lone Little Curlew.
There were several Masked Lapwings and Black-winged Stilt that appeared to be breeding and also Black-fronted Dotterel. It is a time of new life around Broome at the moment.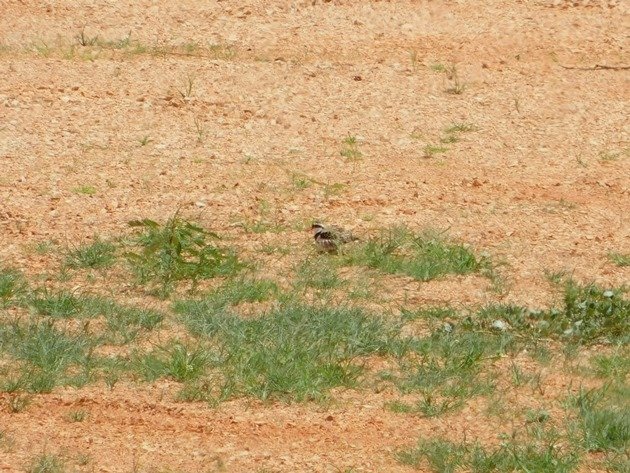 Frill-necked Lizards have been very visible in recent weeks around Broome and one watched us enter and leave the Poo Ponds!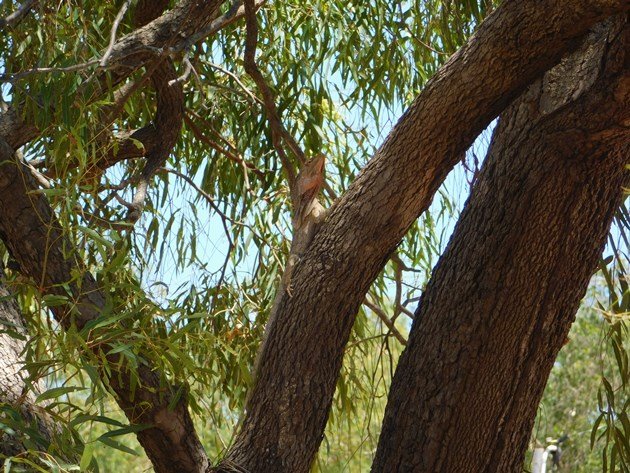 Nearby we discovered a family of White-breasted Woodswallows and the young had made it beyond the nest, but were still rather unsteady and fluffy! We had observed Black-faced Woodswallows earlier in the day.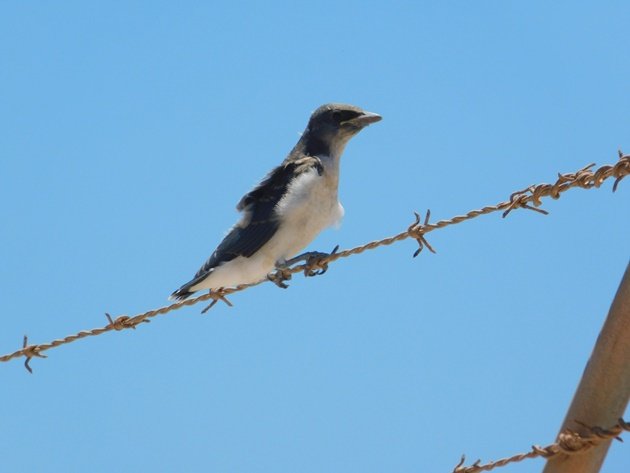 Around the port of Broome we soon added Brown Booby, Pied Cormorant, and Osprey. We headed to Gantheaume Point for Eastern Reef Egrets and Sooty Oystercatchers. A pair of Magpie-larks at the port had worked out an ideal location for a nest. Regardless of the weather they were well protected!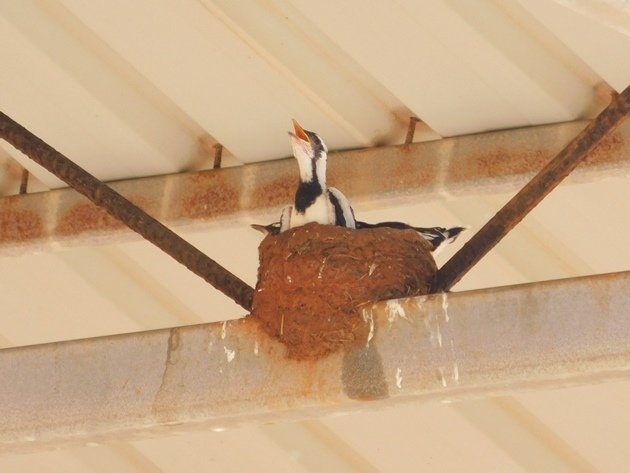 Heading out of town we observed a pair of Sacred Kingfishers on the power line. We had not seen any for a while, so it was a great addition to our list. We also observed White-winged Trillers, which we had also not seen for some time.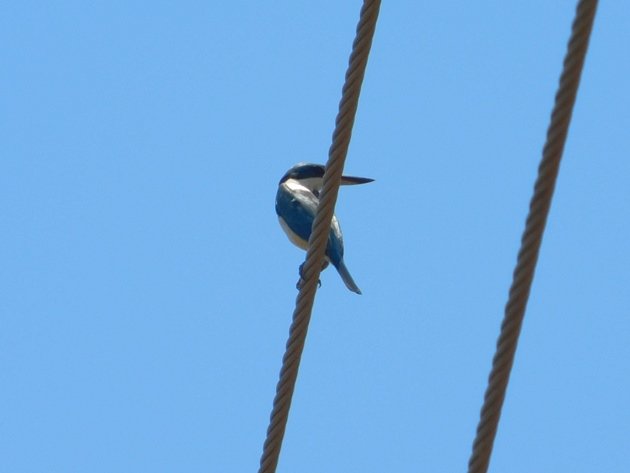 A bit further from town we soon added Wandering Whistling Ducks and Magpie Geese to the list, but no longer were there a handful of birds. The numbers have grown exponentially in the last week and there were over four hundred Magpie Geese. Judging by the size of the "knobs" on their heads they are here to breed! They know a whole lot more about upcoming weather than we do!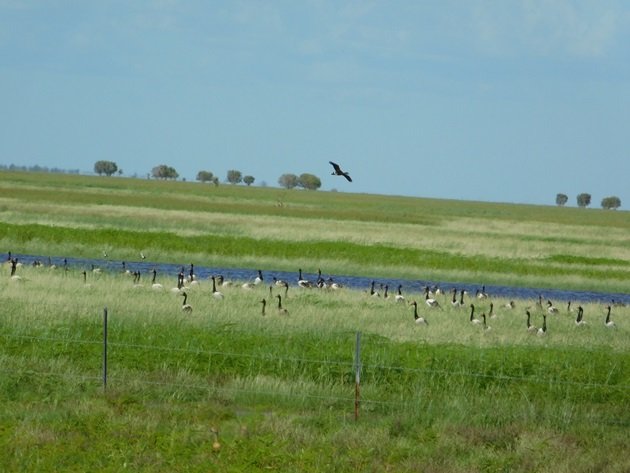 We added Paperbark Flycatcher and Long-tailed Finches to the list and there was a lone Brolga to add before the end of the day. We had 105 bird species for the first day of 2021 and we had witnessed many birds that are breeding or considering breeding.
2021 may well not be a year that we observe many bird species beyond Broome under current travel restrictions, but we are more than grateful that we live where we do with the huge variety in nature on our doorstep.
As hard as it is with the health of the world at the moment we all need to try and be positive about the future and enjoy what nature can share with us. Look for the little surprises around you whether they are birds, animals or plants.