October 2007 has been a phenomenal month for 10,000 Birds. Can you believe some (brilliant) computer science students at Carnegie Mellon identified this site as one of the top 100 most informative blogs in the world? Me neither!
Another highlight was the creation of our new photo galleries page, affectionately entitled 10,000 Clicks. If you haven't lost hours browsing our bird images from around the world, clear your calendar and dig in.
We've all been rather busy of late. Mike finally made the pilgrimage to Cape May for Autumn Weekend, meeting up with a bevy of bird bloggers and professionals while avoiding the contentious feral cats. Corey took an amazing trip to Germany yet still found time to hit Long Island hotspots. Charlie, of course, is always traversing the globe; this month, the winds of fate carried him to NYC for some Central Park birding with Mike.
What would 10,000 Birds be without birds? Recently, we've been paying particular attention to avians like Eurasian Collared Doves, Mauritius's Pink Pigeons, Common Indian Mynas, Sharp-tailed Sparrows, Song Sparrows, Yellow-throated Warblers, Wood Ducks, Wood Thrushes, Pochards, House Crows, Eurasian Coots, Brown Pelicans, Pectoral Sandpipers, and Yellow-rumped Warblers. We also tackled tough topics like little brown jobs (LBJs), the differences between Sharp-shinned and Cooper's Hawks, and what the heck that immature thrush in Central Park actually was.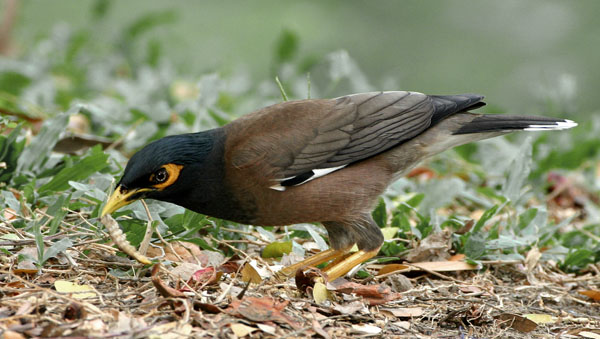 The topics that continue to draw record readership to this site are seahawks, sexy redheads, mockingbirds, milkweed, and mallards both manky and hybrid. That's quite a legacy we're leaving. The most popular posts of the last month were Charlie's mystery thrush and Eclipse Plumage piece along with Mike and Charlie's collaboration on the fine art of pishing, which was also the most heavily commented post of the month. Corey's trip reports from Germany were all well-regarded but one of them seems to command much more search engine traffic than the others. I wonder why…
Believe it or not, this has only been a partial review of our 90 or so posts in October 2007. What was your favorite?