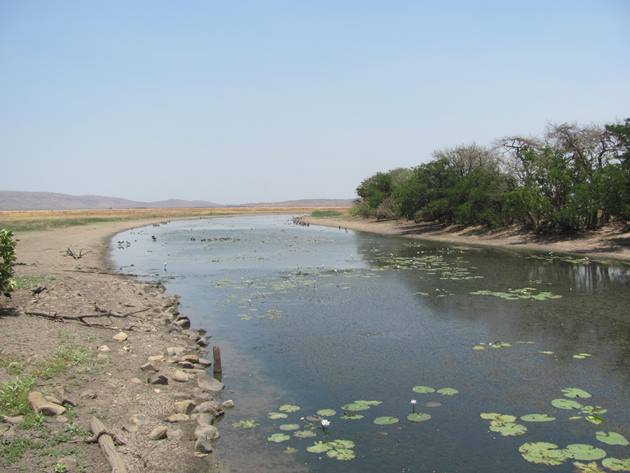 Last month we decided to head north to go camping and birding and top up the 2018 Year List. It is now very hot and dry inland and the temperature does not drop much at night, so you go to bed early and get up early like the animals and birds. We were woken by birds at 4am every day, so we were inside our tent early each night! Whenever we go north we visit Parry's Lagoon Nature Reserve, but we had never gone there so late in the year before. We knew that the water level in Marlgu Billabong would be low, but that would only concentrate the birds into a small area. The closest town to Marlgu Billabong is Wyndham and they had 22mm of rain on April 7th 2018 and there had been no rain since then when we visited on November 10th. This week Wyndham had rain on December 5th and they received a welcome 35mm. That is a very long time without rain and the reason for the water level being so low. Once the rains come the land will flood and there will no longer be a billabong, but a floodplain. The header photo shows the remains of Marlgu Billabong on November 10th 2018 looking left from the shelter.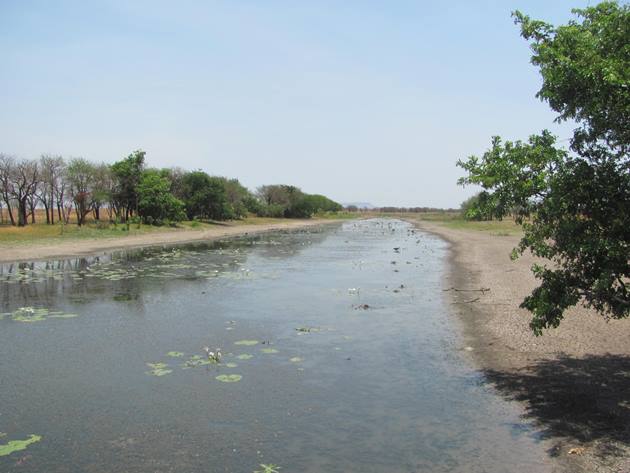 Marlgu Billabong looking right from the shelter
We soon arrived at the car-park after driving across the dry dusty landscape and there was no shade at all for our vehicle. We soon positioned ourselves in the shelter to watch the birdlife and there was no denying it was a hot and dry day and the shade was appreciated. Heat haze is always a problem when it is around 45c/113f all day, but the humidity was around 15% making it bearable! There were no other visitors to Parry's Lagoon Nature Reserve that day and even in the tourist season there are very few people. Overnight the temperature did drop to around 30c/86f!
Our bird list for Parry's Lagoon Nature Reserve was soon adding up and there was plenty to observe. All of the birdlife was dependent on the water and had to choose between drinking, swimming, feeding or roosting in the shade on this hot day. Zebra Finch, Star Finch, Double-barred Finch, Masked Finch, Pictorella Mannikins, Peaceful Doves, Diamond Doves, Bar-shouldered Doves and Crested Pigeons were constantly dropping to the water's edge to drink. There were numerous Magpie Geese and Wandering Whistling-Ducks on the bank with Yellow Chats running among them to drink. Black-fronted Dotterels, Red-kneed Dotterels, Masked Lapwings, Wood Sandpipers, Marsh Sandpiper, Common Greenshank, Straw-necked Ibis, Black-winged Stilt and Magpie-larks wandered the muddy edges.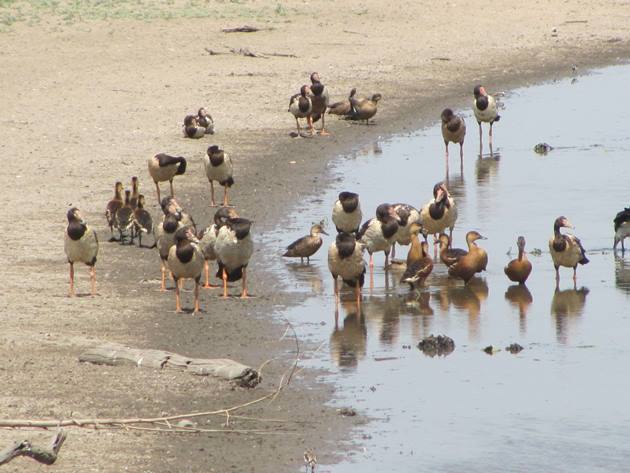 Magpie Geese and Wandering Whistling-Ducks
As we sat watching the birds there were several Black-tailed Native-hens that wandered down from the nearby bush and they joined the Australasian Swamphens. Great Egrets, Little Egrets, Intermediate Egrets, White-faced Herons, Pied Herons and Glossy Ibis fed in the billabong quite close to the shelter due to the low water level. The line of vegetation in the photo below is from a crocodile and we know they eat the Magpie Geese in Marlgu Billabong.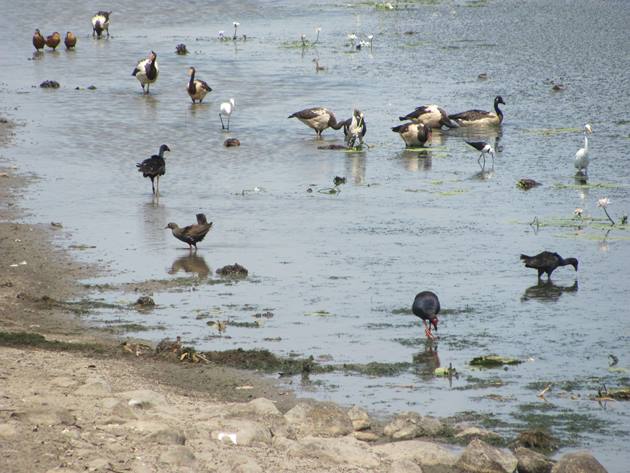 Birds feeding close to the shelter
To the right of the shelter there were Brolga coming in to drink and feed on the lotus flower roots and a Black-necked Stork and Australian Pelican flew in during our visit. The Radjah Shelducks, Pacific Black Ducks, Grey Teal, Pink-eared Ducks, Plumed Whistling-Ducks and Hardheads were mostly stood in the shade on the far bank. Australasian Grebes, Royal Spoonbills and Eurasian Coots were feeding among the lily-pads and the Comb-crested Jacanas were feeding on the lily-pads.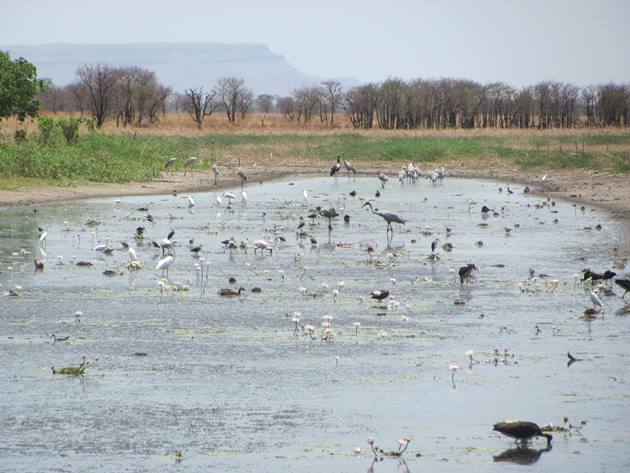 Birdlife in the Marlgu Billabong
All of the trees along the banks of the billabong were productive too. We had Black-faced Woodswallows, Red-backed Fairy-wrens, Rufous-throated Honeyeaters, Bar-breasted Honeyeaters, Brown Honeyeaters, White-winged Trillers, Cockatiels, Rainbow Bee-eaters, Willie Wagtails, Black-faced Cuckoo-shrikes, Australasian Darters, Little Black Cormorants, Grey Shrike-thrush, Blue-winged Kookaburras and Paperbark Flycatchers. We also had a surprise visit by a lone Arafura Fantail, which we had never encountered there in our previous visits. An Australasian Swamphen kept us amused for some time while as it pulled up the vegetation and dragged it to the edge of the water.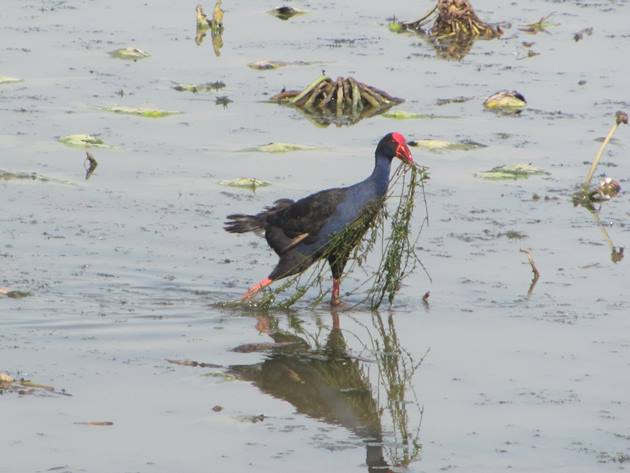 Australasian Swamphen carrying vegetation
There were several Black-tailed Godwits that had returned from their migration to the northern hemisphere to breed. It was delightful to watch them swimming through the lily-pads in the afternoon as they fed.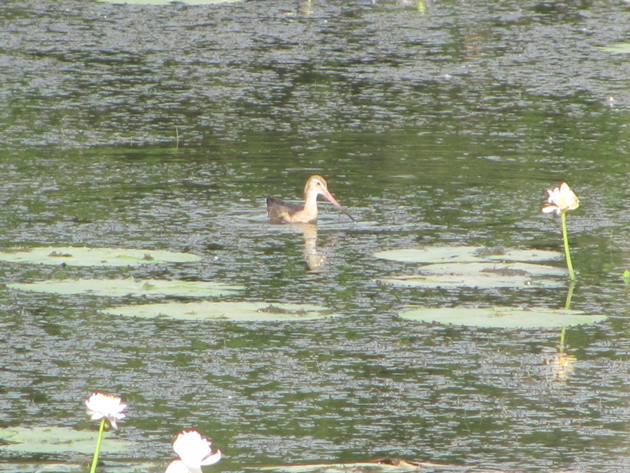 Black-tailed Godwit swimming
There were several raptors in the area during our visit and they included Whistling Kites, Black Kites, Spotted Harrier, Swamp Harrier, Brown Falcon and White-bellied Sea-Eagle. Whiskered Terns and Fairy Martins swooped across the water and Australian Pratincoles also dropped in during the few hours that we were there. Golden-headed Cisticolas, Eastern Yellow Wagtails and Australasian Pipits came down to the water as the day heated up. We had encountered seventy six species of birds during our visit to Marlgu Billabong. We were quite surprised to not see any Green Pygmy-geese on this visit, because they have been an easy species to find on other occasions.
We had a beautiful sunset camped beneath the boab trees between Wyndham and Kununurra. It was a beautiful spot to wake up to as well!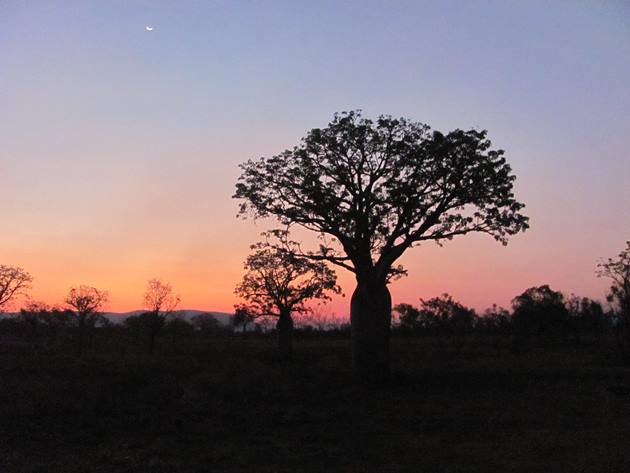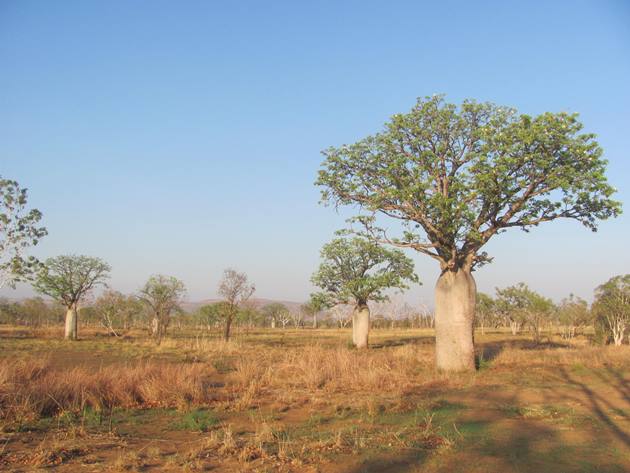 Camp spot under the boabs
The rains are now coming to the north of Australia and much of the land will soon be flooded once again. It is definitely worth visiting Marlgu Billabong just before the rains come and when the birdlife is concentrated around the remaining water.