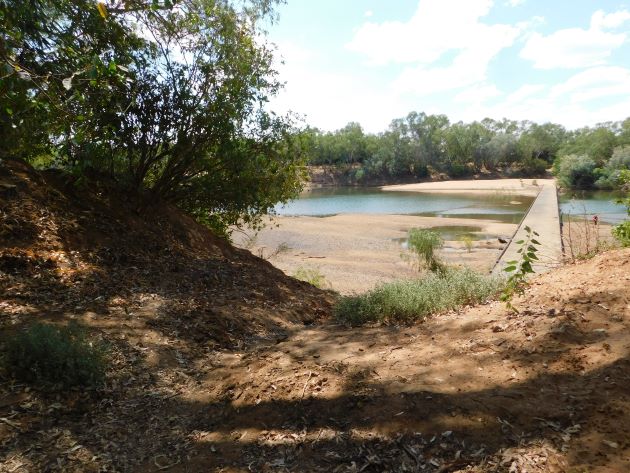 Whenever we visit Geikie Gorge we make a detour to visit the Low level crossing at Fitzroy Crossing if the weather permits. Having observed the beautiful Purple-crowned Fairy-wrens in Geikie Gorge we hoped to add another bird species to our 2022 year list. There have been a lot of changes over recent years at the low level crossing and after some serious erosion a few years ago the track down to the river was closed to vehicles. The crossing itself is still holding up, so you can walk down the dusty track and observe the bird-life up and down stream. Since I last wrote about the crossing in 2015 we have visited every year and as you can imagine there is always something new to see. At different times of year there are different birds to see and the water level is extremely variable. By September each year it is usually at its lowest level and on this recent visit it was already past 1pm and a hot and dry 43c.
As you can see in the header photo it is now quite a steep and dusty descent to the Fitzroy River. When it is very hot you have to wear closed-in shoes or you risk burning your feet. There were numerous Black Kites and Whistling Kites soaring in the thermals over the river. We could hear Grey-crowned Babblers in the dense bush as we made our way down.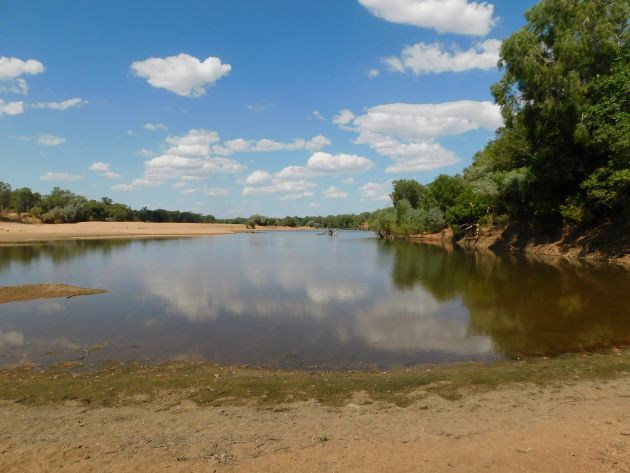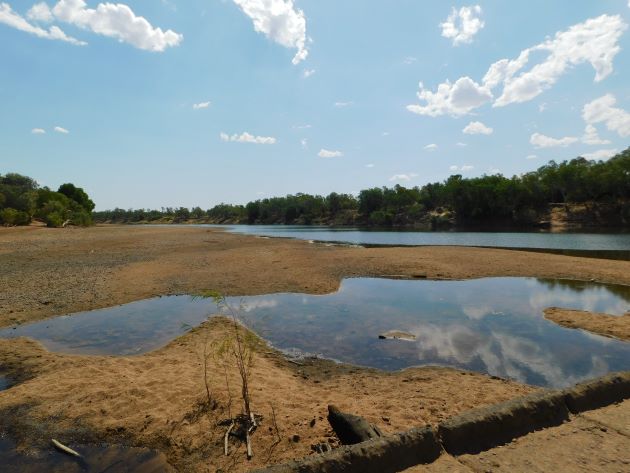 Fitzroy River from the low level bridge
The first birds that we observed were Straw-necked Ibis drinking at the river and then Magpie-larks and Black-fronted Dotterels. Several trees were in flower and they were attracting Little Friarbirds, Rufous-throated Honeyeaters, White-gaped Honeyeaters and Yellow-tinted Honeyeaters. Fairy Martins were dipping into the water and also Rainbow Bee-eaters swooped down catching insects and returning to perch on the branches overhanging the river. There was quite a raucous sound and the Sulphur-crested Cockatoos were in the trees and coming down to drink.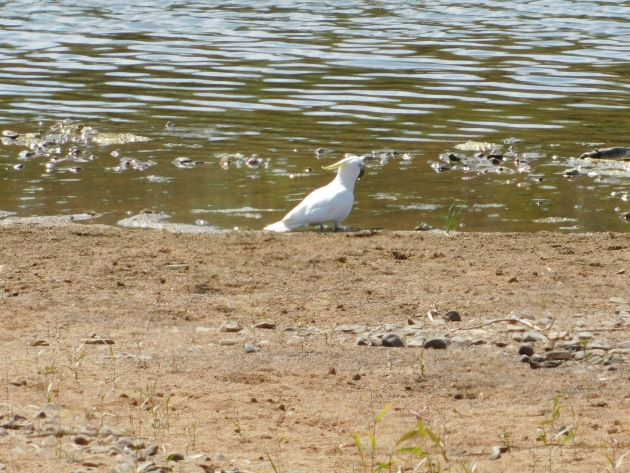 Sulphur-crested Cockatoo
We wandered across the low level bridge to see what was beside the water in each direction and soon added Brolga, Peaceful Doves, Little Pied Cormorants, Masked Lapwings and Bar-shouldered Doves to the list for the location. There were other raptors including Brown Falcon and Brown Goshawk. Looking back towards the trees we soon noticed additional birds including Long-tailed Finch, Rufous Whistler, Yellow-throated Miner, Paperbark Flycatcher, Black-faced Cuckoo-shrike, Great Bowerbird and White-winged Triller. I had noticed a very small pool of water that was attracting the Double-barred Finch and I could hear something else in the nearby dense bushes. It didn't take long and suddenly there were Star Finch at the edge of the pool drinking. We hadn't observed Star Finch yet in 2022, so standing out in the sun was worth it! The Star Finch knew how to cool off!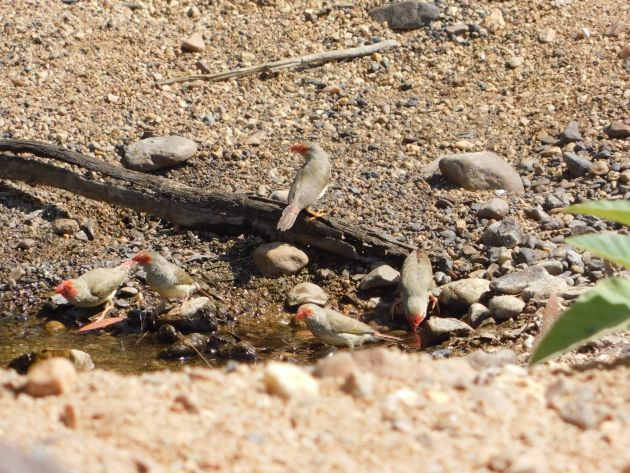 Star Finch
When the Star Finch bathed they almost became invisible until they stood up and their red bills gave them away.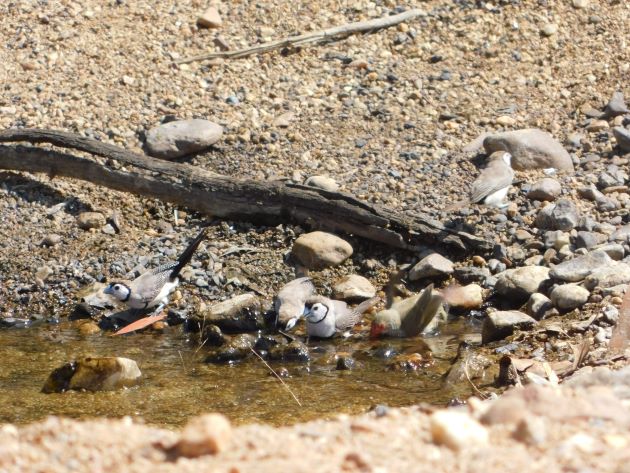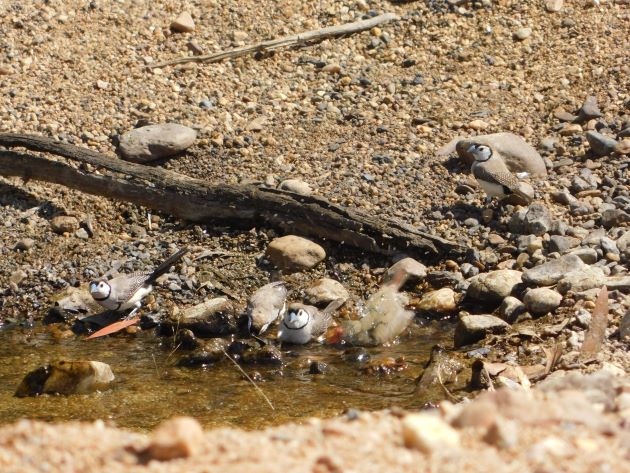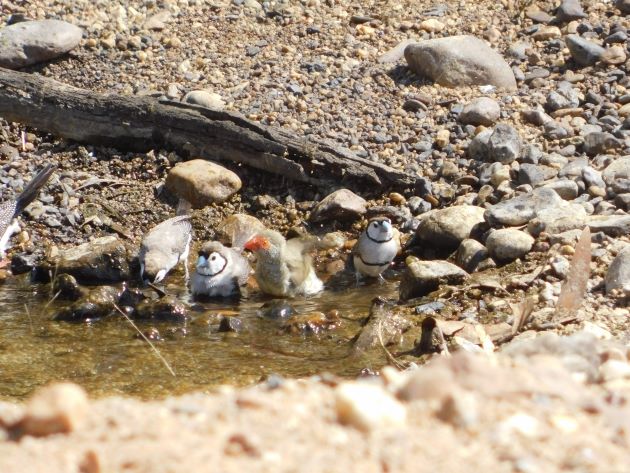 Star Finch and Double-barred Finch bathing and drinking
As we climbed back up the steep dusty slope to the car we noticed we were being watched by a couple of agile wallabies. They were staying in the shade for obvious reasons and once the sunlight started to fade they would make their way down to the water to drink.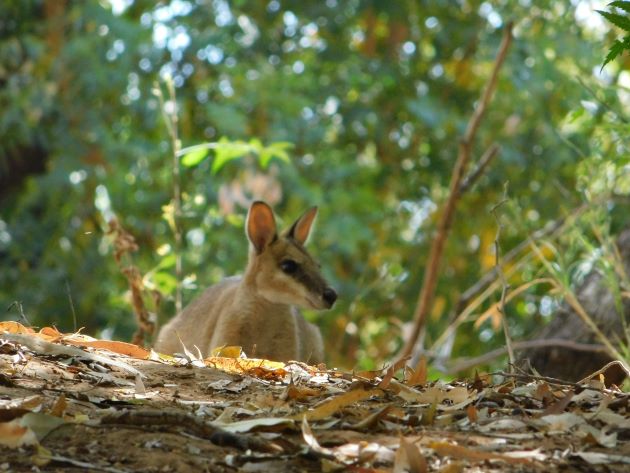 Agile wallaby
The weather can be challenging at the best of times, but the rewards for venturing out in the middle of the day can also be rewarding. Many of the finch species need to drink throughout the day and if you can also do that in appropriate clothing and footwear you may well observe a bird species you haven't seen yet this year.