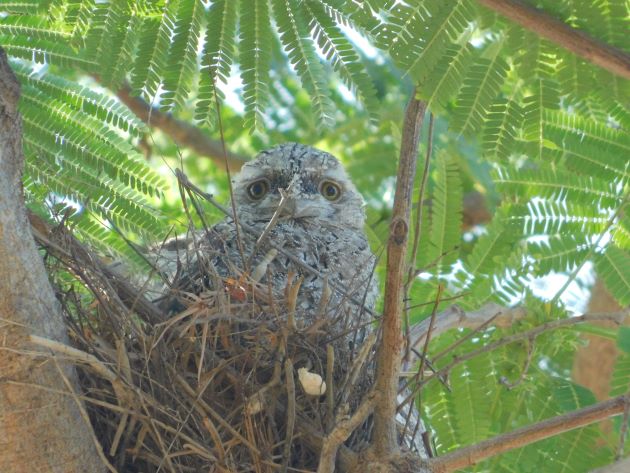 With the end of the year approaching you could consider where you would like to go birding in Australia in 2023. As you well know we are a huge continent with many outlying islands and a huge variety of bird-life. Despite all of the dangers we have-snakes, spiders, crocodiles, deadly jellyfish, deadly fish, leeches, ticks, mosquitoes and then a pandemic-we still have a population of almost 26 million people. The majority of the population hugs the coast around the capital cities, but the bird-life is spread throughout the continent. Wherever you dare to go in Australia you won't be disappointed by the birds that you encounter. The choice of places to go and birds to see is worrying, which is what we interpret the face of the young Tawny Frogmouth above as!
Having written weekly for this website since late 2010 and this being my 642nd post I thought I could summarise some of the posts that I have done from various places around Australia that you might have missed over the years. Maybe you will be inspired to visit a capital city or visit a remote location off the beaten track! Some places around Australia we only visited for a short time and others for much longer.
In 2010 I had a very basic camera and I now own a Nikon B500 Coolpix. The reason for this particular camera is that I need a camera that takes AA batteries for when we are away from power for weeks on end and is not too large for travelling. There are Japanese made Eneloop Pro AA batteries that will last for over 1000 photos quite easily nowadays, so this is my ideal camera.
If you want to leave the mainland of Australia then we would highly recommend Lord Howe Island and Norfolk Island for a great nature based holiday. We have been to both of these islands, but that was before I started to write here. Our next holiday island was Tasmania as we moved to bigger islands! I wrote about our second holiday in Tasmania in 2011 and I would recommend a few weeks travelling around the island to truly enjoy all that it has to offer. I would advise travelling outside of school holidays to avoid crowds and check the weather too, because it can be quite a cold destination depending on the time of year. Even the Pink Robins look cold in summer in Tasmania!
Pink Robin
The articles that I wrote on Tasmania are below with the links:-
Tasmania:Another great birding holiday destination!
Tasmania:rarely seen road signs
Flying to Tasmania usually means travelling through Sydney or Melbourne, so what better excuse than to incorporate some bird-watching in either of those capital cities? I know you all want to see Powerful Owls like the one below, so it is always worth a look! Tom saw a Powerful Owl on his visit and so did we, so go and look!
Powerful Owl
Around the Sydney area I have written about a few places over the past 12 years and here are the links:-
Powerful Owl in the Royal Botanical Gardens Sydney
Berowra and Mt Kuring-gai trails
Bass Point Reserve-New South Wales
Lake Illawarra-New South Wales
Australian Botanic Garden, Mount Annan
Mount Alexandra Nature Reserve-Mittagong
Autumn birding in the Blue Mountains
If you are interested in finding Rock Warblers then here are the places that we have observed them:-
Rock Warblers in the Blue Mountains
New South Wales is a good location to find the Superb Lyrebird too and I wrote about that too!
If you are looking for something more colourful then you can't go wrong with Australian King Parrots and Satin Bowerbirds and their bowers!
If you happen to find yourself in Melbourne then there are also plenty of places to go birding in the city itself or not far by public transport. We don't mind a long walk, so there are several walks that have been done in the area and all offer great views and birds. Of course it is always nice to find Gang-gang Cockatoos and I have photographed them in Victoria since I started to write here.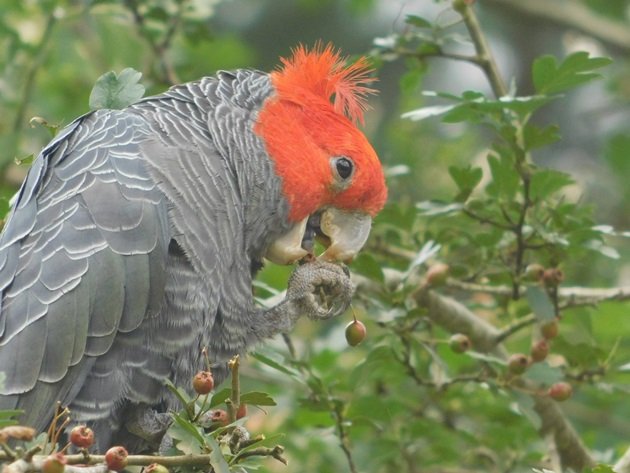 Gang-gang Cockatoo
Here are a few ideas and the links for you around Melbourne and Victoria from our trips over the years since I started to write here.
Birding Albert Park, Melbourne
Tiger Snake and birds under observation
Melbourne to Beaumaris along the coast
Sandringham to Mordialloc along the coast
Ferntree Gully-Dandenong Ranges National Park
One Tree Hill-Dandenong Ranges National Park
Geelong-Rippleside Park to Eastern Park
Echidna-egg laying mammal-500th post
Banded Stilt and Red-necked Avocets abound
Laughing Kookaburra in attack mode
Gang-gang Cockatoos-a Christmas wish
Rufous Fantail and other forest surprises
Spotted Pardalotes through a glass window
We have travelled to Queensland twice since I started to write here and the first time was by plane from Broome to Brisbane. We didn't go into Brisbane itself, but went exploring with a rental car and our tent for a month with no real route planned. We went where the weather suited our camping adventures and we saw what we saw! That's the way we travel! The second trip was by road from Broome and took us into more remote areas of Queensland to the north where we had not been before. We had hoped to find Sarus Cranes when we travelled further north and we were not disappointed.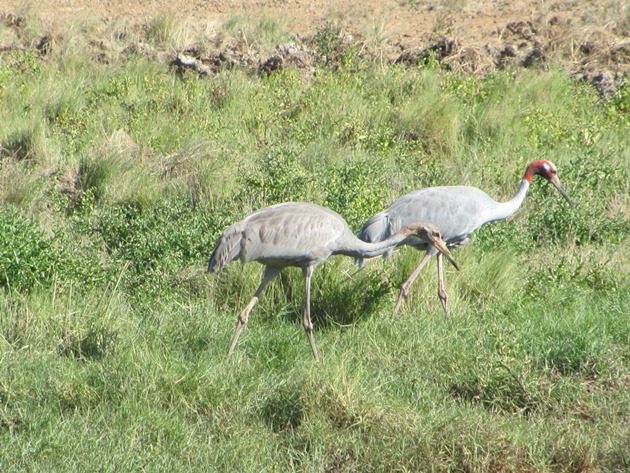 Sarus Cranes
Here are the links for places that we have been to in Queensland that you may also want to visit.
Birding across the north of Australia in July
Caranbirini Conservation Reserve
Due to the fact that we live in Broome we often travel North in search of birds and we are closer to the capital city of Darwin in the Northern Territory than we are to our capital city, Perth, in Western Australia. The Northern Territory is a huge territory and we have explored quite a lot of it over the years. I have not written about everywhere we have been over the years, but here are a few ideas for you to think about! You need to head north from Broome to find Purple-crowned Fairy-wrens, so why not!?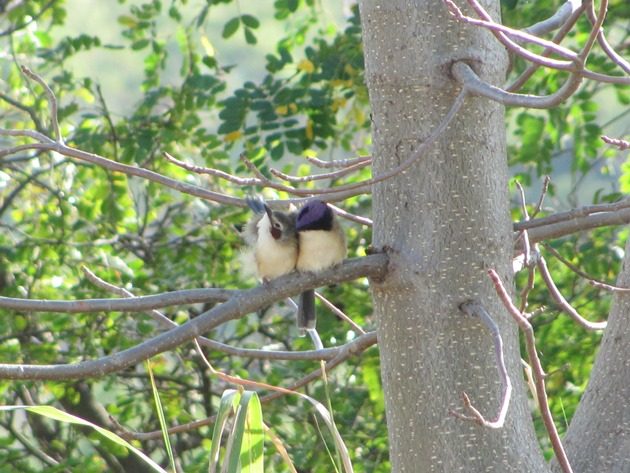 Purple-crowned Fairy-wrens
Cockatoo Lagoon, Keep River National Park
Great Bowerbird bowers-Keep River National Park
Knuckey Lagoons Conservation Reserve
McMinns Lagoon Recreation Reserve
Berry Springs Nature Reserve and Darwin River Dam
A Partridge Pigeon after too many years
Apostlebirds in the Northern Territory
Great Bowerbirds collecting blue items
Great Bowerbird bower-Katherine Gorge National Park
Brown Falcon foraging after a bush fire
Occasionally we have travelled to Perth over the years we have lived in Broome. We have travelled both by plane, which takes 2 1/2 hours and by vehicle, which takes 2 1/2 days and any time we are in the city we make sure that we visit Herdsman Lake. Herdsman Lake is easily accessible by public transport, but when we have visited by vehicle we have gone further afield to Yanchep National Park and the Perth Hills.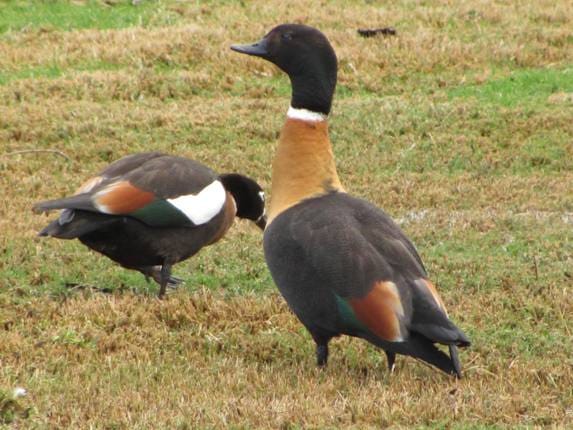 Australian Shelducks
We have travelled extensively around Western Australia over the years both north and south of Broome and I have written about some of those camping trips too. Here are the links to some of the locations we have travelled to or through since I started to write here. I have put up the most recent link for some locations, because there are links in those posts for older posts.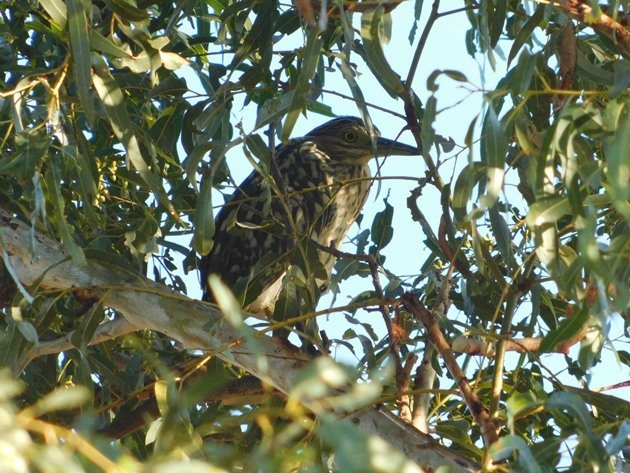 Juvenile Nankeen Night-Heron above our tent
Low level crossing at Fitzroy Crossing
Purple-crowned Fairy-wrens at Geikie Gorge
Munkajarra wetlands near Derby
Birdlife at the Fortescue River
Eighty Mile Beach Pied Oystercatchers
Birding a Kimberley quarry in 2020
Brolga feeding at Marlgu Billabong
Birding Kununurra late in the year
Conspicuous Cliffs and Peaceful Bay
Burra Rock Conservation Reserve
Of course then it brings us back to Broome, where we have lived for over twenty three years. More than three hundred bird species have been recorded in Broome and there is plenty of variety. Our garden has had an impressive number of birds visit over the years. Over time we have noticed changes in the bird species that visit and different times of year offer different species. We are living in one of the best places in Australia to observe migratory shorebirds and a huge variety of other species. We never tire of the bird-life that surrounds us at home and if we want a change we can easily hop in our vehicle and head out bush.
Buff-banded Rail in our garden
Around Broome itself there are plenty of opportunities to observe birds and here are some links to places that you can check out.
Weather and bird-watching at the Port of Broome
A few more birds and streetlights
Broome Poo Ponds-Barndarlmarda Hut
Over the years that we have lived in Broome there have been numerous bird species that appear unexpectedly. The bird species has either got lost on migration or arrived due to inclement weather. Here are some links to some of those bird species.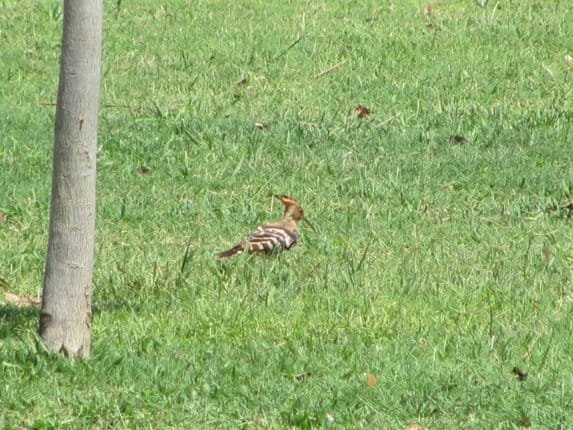 Hoopoe near Broome
Semipalmated Plover in Broome again
Australian Painted Snipe breeding near Broome once again
Fairy Pitta in Australia-a sad story
Greater Sand Plover with abnormal colouration
Wedge-tailed Shearwater at Cable Beach
Over the 642 posts I have written I have hardly touched the surface of the many observations that we have enjoyed over the years, but I hope it will inspire you to come and explore. I have written about birds that breed here and birds that we observe regularly as well as birds that we only see occasionally. There's no shortage of photos of Pied Oystercatchers that I have taken, though!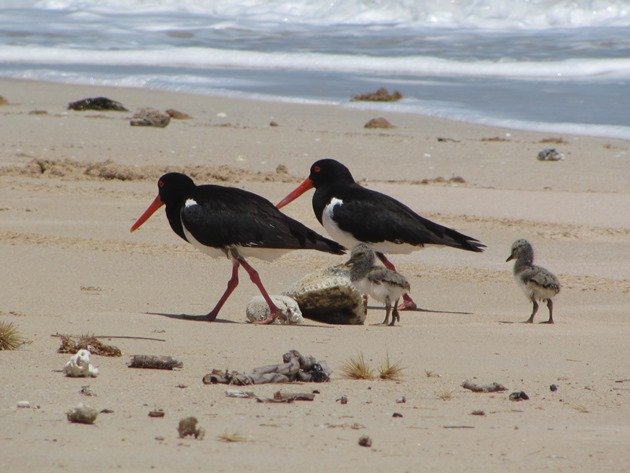 Pied Oystercatcher family
Despite writing weekly I don't appear to have run out of birds to share yet! If you search in the box on the right hand side of the website I am sure you will find some Australian birds of interest! There are Australian birds I have not photographed yet, so maybe that is my challenge for 2023! However, I am more likely to be focussed on looking at birds than trying to get the best photo!
If you are travelling to Australia from overseas then it is highly likely that you will have to come via Singapore. We spent three weeks in Singapore prior to the pandemic and we can highly recommend these locations that I wrote about and once again you can click on the link to see the post.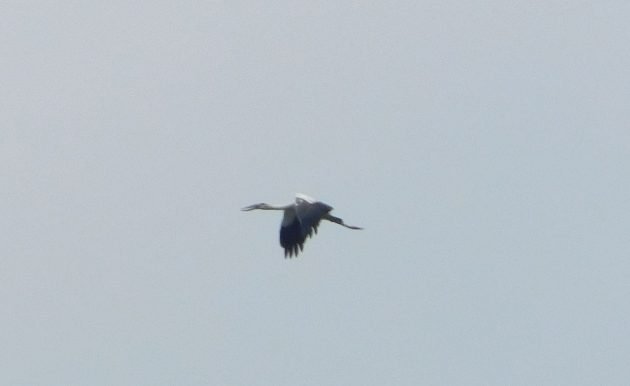 Asian Openbill
Central Catchment Nature Reserve Singapore
Bishan-Ang Mo Kio Park and Lower Peirce Reservoir Singapore
Birding the Changi Business Park-Singapore
Blue-winged Pitta in Singapore
White-crested Laughingthrush in Singapore
Sunda Pygmy Woodpeckers in Singapore
Nesting Oriental Pied Hornbills in Singapore
White-breasted Waterhens in Singapore
White-throated Kingfishers in Singapore
Finding an Asian Openbill in Singapore-second ever record!
So, with the last week of 2022 upon us and 2023 fast approaching it is time for us all to consider "Where could you go birding in Australia in 2023?".
All the best for 2023!
Enjoy all of the birds that you see and hear!